When it comes to purchasing hair dryers, many people prioritize factors such as wattage, heat settings, and brand reputation. However, one often overlooked consideration is whether the hair dryer contains a chemical called PTFE, commonly known as Teflon. PTFE is used in the coating of some hair dryer components and has been linked to various health concerns. In this blog post, we will explore the presence of PTFE in hair dryers and provide a list of PTFE-free blow dryers for those who are looking for safer alternatives.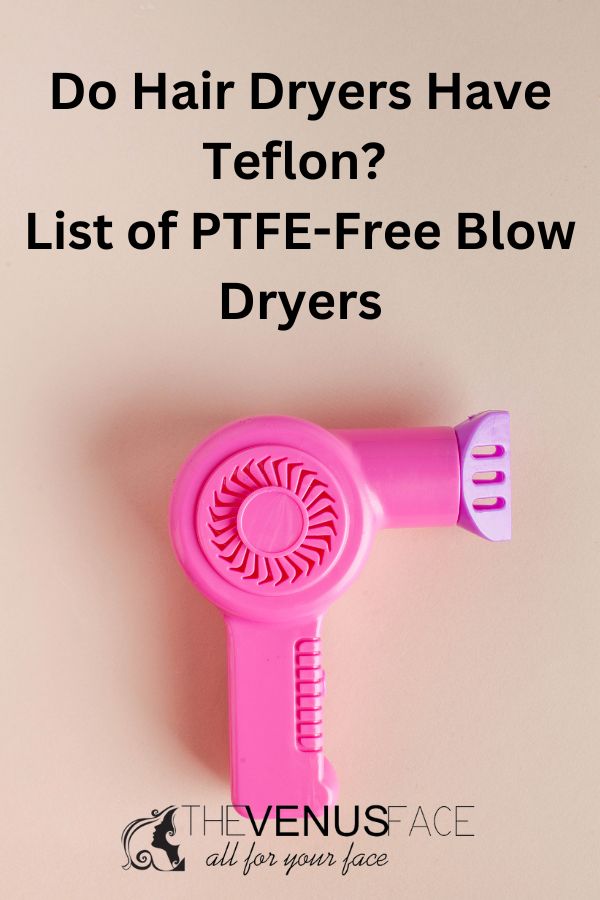 As an Amazon Associate, I earn from qualifying purchases.
Do hair dryers have Teflon?
Not all hair dryers contain Teflon. In fact, some hair dryers explicitly advertise that they are Teflon-free, such as the Conair Infiniti Pro hair dryer. Additionally, Teflon is not a necessary component of a hair dryer, as its main function is to change the structure of hair using heat delivered through heating coils covered by a ceramic, Teflon, or titanium coating in hair irons. Therefore, it is possible to find hair dryers without Teflon coating. It is advisable to double-check with the manufacturer or read the product labels to confirm if a hair dryer contains Teflon.
List of top-rated PTFE-Free Blow Dryers
More:
Does Conair 1875 have Teflon?
No, the Conair 1875 hair dryer does not have Teflon or PTFE in its construction. In fact, none of the Conair hair dryers are made with Teflon or PTFE.
What material is a hair dryer made of?
Hair dryers are made of a variety of materials including plastic, metal, and heat-resistant alloys. The outer casing is typically made of plastic that is insulated with a heat shield to prevent burns. The heating element, which creates hot air to dry hair, is made of a coiled wire usually made of a nickel and chromium alloy that is heat-resistant and able to withstand high temperatures. The airflow is generated by a small fan with spinning blades. Advances in plastic technology and new insulating materials have made it possible to create lightweight hair dryers, and modern hair dryers can produce up to 2000 watts of heat.
What are the main mineral ingredients in hair dryers?
Hair dryers do not typically contain mineral ingredients as part of their components. Hair dryers consist of various engineering elements, including a heating element (usually made of nichrome wire), a fan, a motor, switches, and a polarized plug for safety. The external casing is often made of plastic, and there might be a heat shield made of insulating mineral mica to prevent burns. The technologies used in hair dryers, such as ceramic, ionic, and tourmaline, are not mineral ingredients themselves but rather specific design and material choices that enhance drying efficiency and reduce frizz. For instance, tourmaline, a semi-precious mineral, can be used in the construction of dryer components to emit negative ions when heated, promoting faster drying and smoother hair. Ionic technology, while not a mineral ingredient, generates negative ions to reduce frizz. Ceramic materials emit far-infrared heat for preserving hair moisture. Therefore, while minerals are not directly used as ingredients, certain technologies and materials can incorporate mineral-based properties for improved hair drying results.
Does the Dyson hair dryer have Teflon?
The only Dyson product that contains Teflon is the Supersonic hair dryer. Other Dyson hair dryers, including some models of the Dyson hair dryer, do not contain Teflon.
What is Teflon called now?
Teflon is now known as polytetrafluoroethylene (PTFE). PTFE is a synthetic fluoropolymer of tetrafluoroethylene that was discovered in 1938 and was first used commercially in the early 1940s. PTFE is a fully fluorinated thermoplastic that is resistant to chemical attack and is extremely stable over a very broad temperature range, earning it the nickname "The Incredible High-Temperature Polymer". PTFE is also used as a non-stick coating for cookware and is commonly known by the trademarked name Teflon.
What is the difference between PTFE and Teflon?
PTFE (polytetrafluoroethylene) and Teflon refer to the same thing. Teflon is actually the trademarked brand name owned by Chemours for PTFE. PTFE is a type of synthetic polymer containing carbon and fluorine, which possesses unique characteristics such as high resistance to heat, chemicals, and corrosion. The main difference between PTFE and Teflon lies in their names, with PTFE being the chemical name and Teflon being a brand name.
What material is the heating element in a hair dryer?
The heating element in most hair dryers is typically made of a coiled metal wire. The wire is usually made of a nickel and chromium alloy called nichrome. Nichrome is known for its ability to resist high temperatures and oxidation, making it a suitable material for the heating element in hair dryers. The heating element in modern hair dryers can produce up to 2000 watts of heat energy.
How often should you replace your hair dryer?
The lifespan of a hair dryer can vary depending on its quality and frequency of use. On average, a hair dryer can last anywhere from two to seven years. However, if you use a cheap hair dryer on a regular basis, its shelf-life can be as short as 2-3 years. According to one source, most hair dryers on the market can last for 600 – 1000 hours of use, which equates to about 5 years if you use it for 20 minutes a day to blow dry your hair. Another source states that the average lifespan of a hair dryer is around 800 hours. Thus, how often you should replace your hair dryer depends on how frequently you use it and the quality of the product. If you have a cheap hair dryer that you use frequently, it may need to be replaced as often as every 2-3 years. However, if you have a high-quality hair dryer and use it less frequently, it could last up to 7 years or more. It is important to pay attention to any signs of wear and tear, strange noises, or reduced performance, which could indicate that it is time to replace your hair dryer.