T3 has been at the forefront since its inception in 2003. Born as a unique amalgamation of technology and beauty, this pioneering brand embarked on a mission to revolutionize the hair care industry. With a firm commitment to superior performance and exceptional results, T3 introduced a new breed of hair tools that combined cutting-edge technology, incredible speed, and a focus on nurturing healthy hair. Over the years, T3 has become synonymous with advanced heat styling technology, delivering beautiful and lustrous results for women worldwide. In this T3 hair dryer review, I delve into the remarkable features and performance of the T3 hair dryer, a testament to its commitment to excellence in hair care.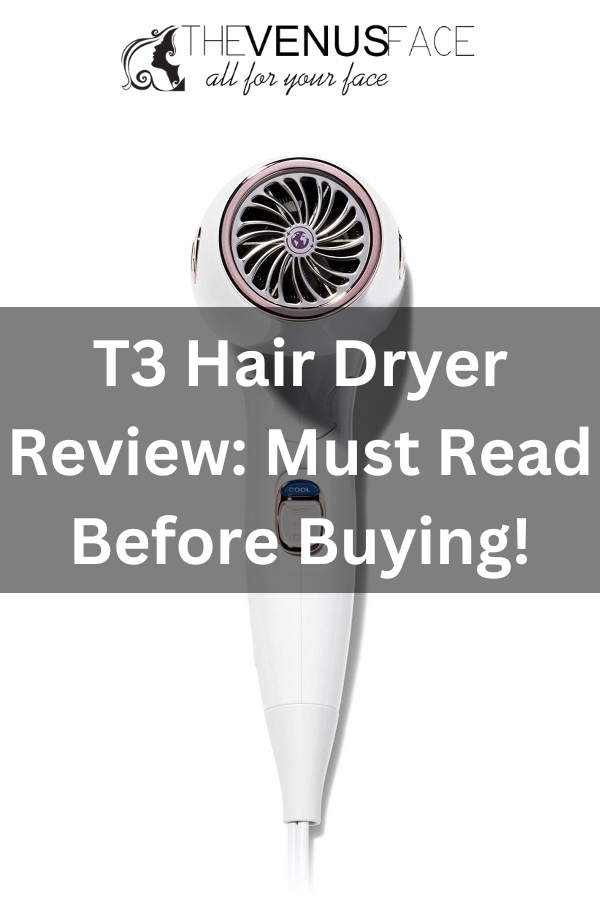 T3 Aireluxe hair dryer review
Pros
Lightweight and long cord
Impressive result
Cons
Easily mistaken cool shot button
My rating
9.5/10
My review
I recently had the opportunity to try out the T3 Aireluxe hair dryer, and I must say, it left quite an impression. From the moment I turned it on, I was pleasantly surprised by its noise level. It wasn't whisper-quiet, but it struck a good balance, neither too loud nor super quiet.
One of the standout features of the Aireluxe hair dryer is its lightweight yet sturdy design. It feels comfortable to hold, and I never experienced any strain, even during extended drying sessions. This combination of lightness and durability makes it a reliable companion for everyday use.
As someone with thick, long hair, I always appreciate a hair dryer that can significantly cut down on drying time. The T3 Aireluxe delivered on this front, effortlessly sped up the process while evenly distributing heat. I found that even the high-speed setting felt more like a medium setting, which was perfect for achieving the desired results without excessive heat.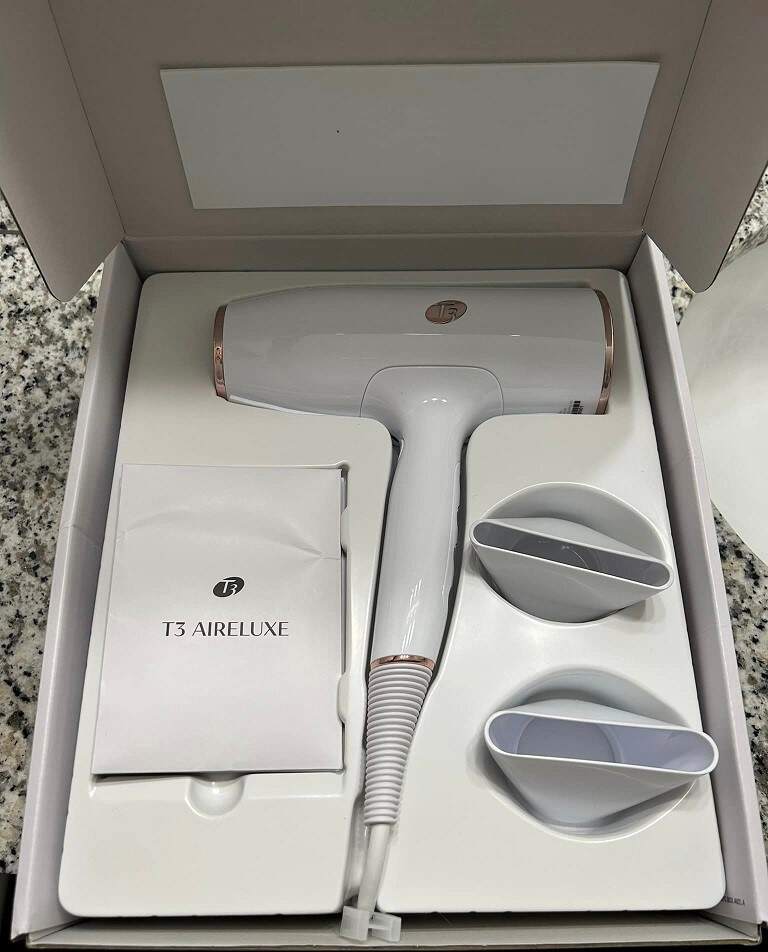 What impressed me the most about the Aireluxe was its ability to deliver smooth, shiny results without compromising the health of my hair. The incorporation of negative ions in the dryer helped reduce frizz, leaving my hair noticeably smoother and more manageable. I also appreciated the lightweight design, as it allowed for easy maneuverability while drying, thanks in part to the generous 9-foot-long cord.
One small drawback I encountered was that the cool shot button was placed in a position where it was easy to mistakenly press it during use. However, once I became accustomed to the dryer, this became less of an issue.
The T3 Aireluxe hair dryer comes equipped with five heat and 3-speed settings, offering a range of options to suit different hair types and styling preferences. It also includes two attachments—a wider and a narrower one—that further enhance its versatility. Additionally, the volume boost switch and the lock-in cool shot button provide additional control and convenience during the styling process.
After using the T3 Aireluxe, I was delighted to find that my hair felt incredibly soft and silky. The dryer worked wonders in smoothing my hair and minimizing split ends, leaving me with a noticeably healthier-looking mane. It truly lived up to its promise of delivering salon-quality results in the comfort of my own home.
T3 Featherweight Stylemax review
Pros
Comes with multiple nozzle attachments
Pre-programmed settings allow quick styling
Cons
The attachments of the hair dryer may be tough to detach
My rating
9.5/10
My review
The T3 Featherweight Stylemax offers a range of features that make it stand out from the crowd, providing exceptional results and a delightful user experience.
First and foremost, the T3 Featherweight Stylemax excels in its primary function, leaving my hair 50% less frizzy and 50% shinier. As someone with curly and coarse hair, I found the high heat and coarse hair selection to be a godsend. It delivered fast and gentle drying, leaving my locks looking smooth and perfectly styled. The included drying concentrator enabled quick yet gentle drying, while the styling concentrator allowed for precise and polished styling. The soft-touch diffuser added volume to my hair, creating a beautiful fullness, and the smoothing comb enhanced the overall sleekness of my style.
One of the standout features of this hair dryer is its lightweight design. Even during extended styling sessions, I didn't feel any strain on my arm or hand, making it a joy to use. The multiple nozzle attachments provided great versatility, allowing me to achieve a wide range of styles effortlessly.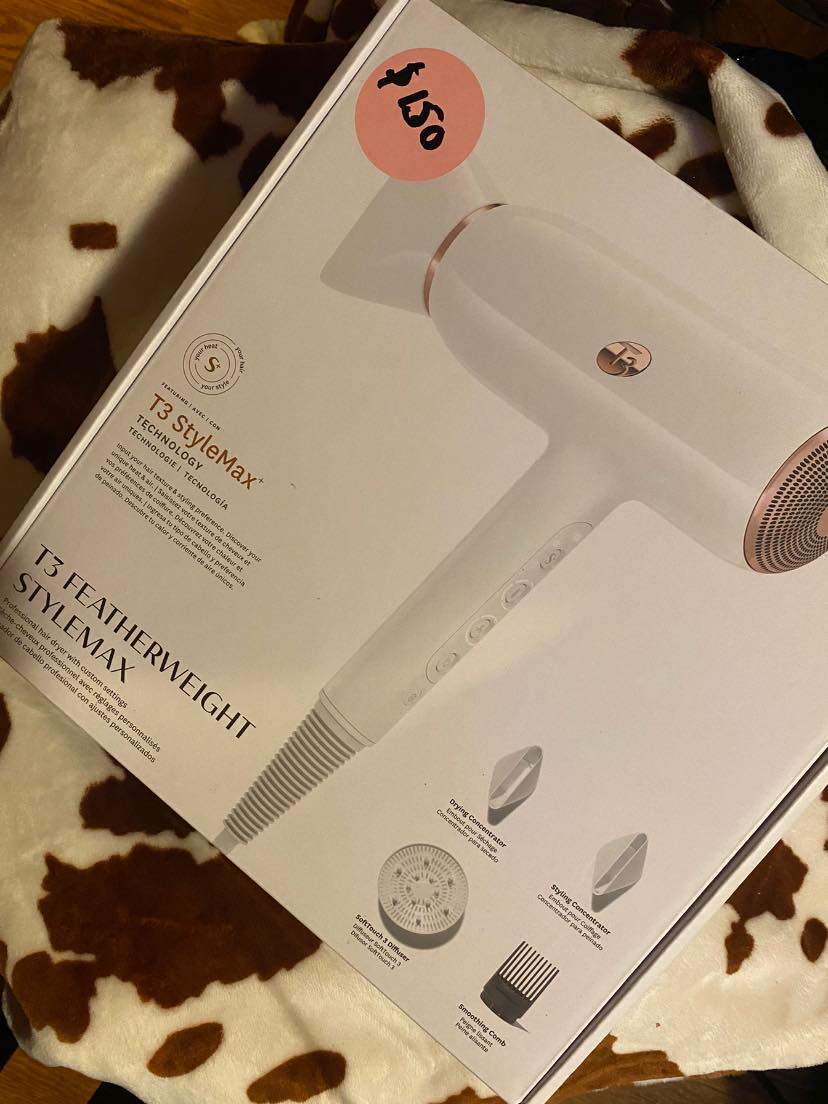 T3 Featherweight Stylemax hair dryer offers convenient controls through its well-placed buttons. With options for heat temperature, speed, and style modes, I had complete control over my drying and styling experience. Additionally, the buttons are thoughtfully inset, preventing accidental changes while using the dryer.
The hair dryer delivered impressive performance while maintaining a relatively quiet operation. It was much quieter than many other dryers I've used, allowing for a more peaceful environment while getting ready. The long cord was another highlight, providing ample length to maneuver without any tangles or restrictions.
However, I did encounter a minor drawback when it came to removing the attachments. They were a little tough to detach, requiring some extra effort and caution. While this was a small inconvenience, it didn't significantly impact my overall experience with the hair dryer.
T3 Featherweight Stylemax also boasts some pre-programmed settings that offer quick access and convenience. This feature made it easy to switch between different drying and styling modes without having to manually adjust the settings each time.
Lastly, the cool air button on this hair dryer deserves special mention. With just a light press, it remained activated, allowing for a refreshingly cool blast of air when needed, without the need to continuously hold the button down.
T3 Fit hair dryer review
Pros
Petite size, suitable for travel
Cons
Low-quality concentrator attachment
Extremely hot at the highest heat setting, requiring caution during use
My rating
7.5/10
My review
Although the T3 Fit hair dryer has its positives, there are a few drawbacks that I'd like to share in this review.
Firstly, let's talk about the heat settings. The highest setting on this hair dryer gets really hot, so it's crucial to exercise caution while using it. On the positive side, this high-heat option does aid in quick drying. However, I did notice that my hair seemed frayed after using it, which was a disappointment.
Another aspect that didn't meet my expectations was the noise level. Despite being lightweight, this hair dryer wasn't as quiet as I had hoped. It emits a high-pitched whirring sound that can be a bit bothersome, especially if you prefer a more peaceful drying experience.
The concentrator attachment that comes with the hair dryer is disappointingly cheaply made. It feels "tinny" in my hands and doesn't inspire confidence in its durability. However, on the plus side, the hair dryer does come with a single concentrator connection, though it's worth noting that the diffuser is sold separately.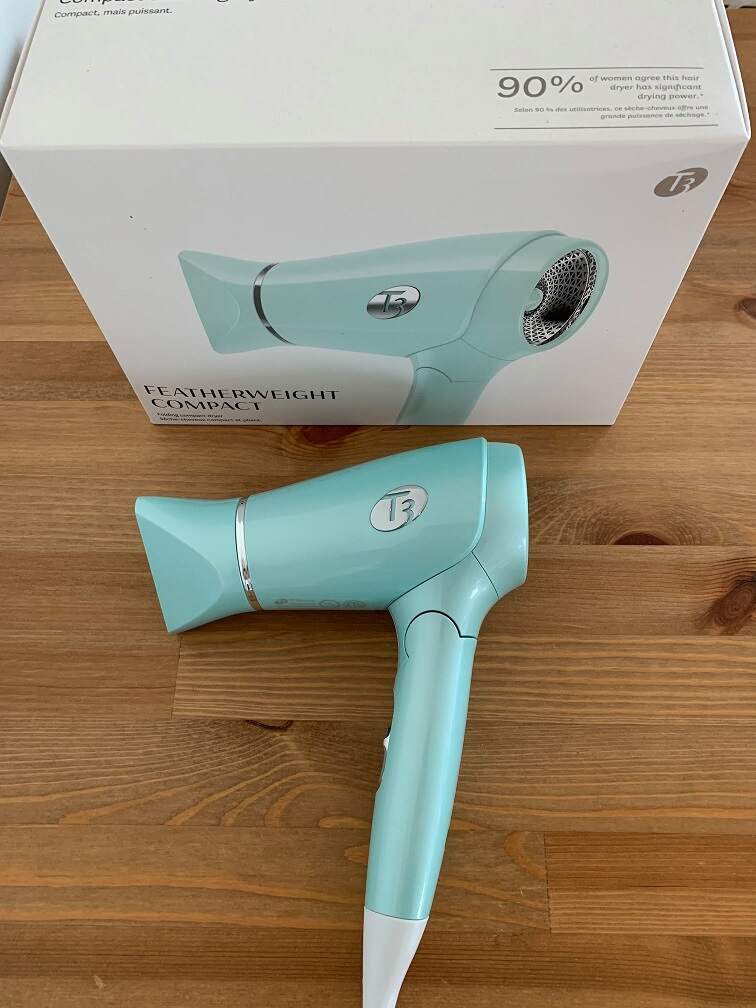 In terms of functionality, the hair dryer offers three temperature settings and two-speed settings, which provide a decent range of options for different hair types and styling preferences. The drying performance itself is adequate, but it didn't wow me either. However, I did appreciate that my hair didn't become frizzy after using this dryer.
One feature that I truly loved about this product is its petite size, making it perfect for travel. It's lightweight and doesn't take up much space in a suitcase or travel bag. Additionally, the velcro on the cord is a thoughtful addition, as it helps keep the cord neat and tangle-free.
One convenient aspect of the hair dryer is the cool shot button. Unlike some other dryers where you need to hold the button down, you only need to press the cool shot button once to activate it. This makes it easier and more comfortable to use during the styling process.
Overall, my experience with the T3 Fit hair dryer was a mixed bag. While it has its positive aspects, such as being lightweight, travel-friendly, and having a convenient cool shot button, the quality of the concentrator attachment and the noise level left something to be desired. If you prioritize these aspects in a hair dryer, you may want to explore other options before settling on this one.
T3 Afar hair dryer review
Pros
Works internationally thanks to its dual voltage
Foldable design, suitable for traveling
Cons
Heavier and less compact than some travel dryers
My rating
9.0/10
My review
After trying the T3 Afar hair dryer, I'm excited to share my thoughts on this stylish hair tool. First off, let me start by saying that the rose gold color of this dryer is absolutely stunning. It adds a touch of elegance to my beauty routine and stands out among other hair dryers.
One of the standout features of the T3 Afar is its ability to work internationally. Thanks to its dual voltage capabilities, I can confidently take it with me on my travels without worrying about compatibility issues. This is a major convenience for frequent travelers like myself.
When it comes to performance, I must say that the T3 Afar delivers excellent results. It generates enough heat to dry my hair quickly and efficiently, leaving it smooth and free from frizz. Even with my thick, curly hair, I was amazed at how this dryer managed to dry my locks in under 10 minutes. The result? Soft and bouncy hair that looks salon-worthy.
In terms of settings, the T3 Afar offers versatility with its three heat settings and 2-speed settings. This allows me to customize my drying experience based on my hair's needs. Additionally, the cool shot button is a great feature for setting my style in place and adding a boost of shine.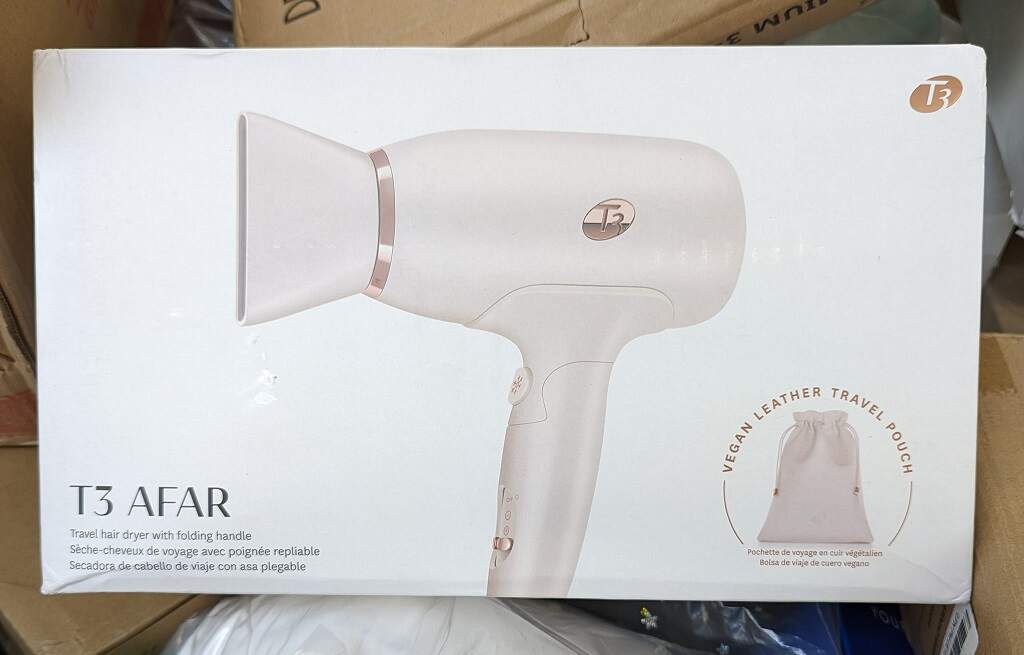 While the T3 Afar is heavier than most travel dryers and doesn't fold as compactly, it still manages to be fairly portable. It comes with a leather pouch that helps protect the dryer during travel, which is a nice added bonus. I also appreciate the inclusion of a concentrator attachment, as it helps me achieve precise styling and control over my hair.
In terms of noise level, the T3 Afar is surprisingly quiet compared to other hair dryers I've used in the past. This is a welcome feature, especially for those early morning or late-night drying sessions when I don't want to disturb others.
Although the T3 Afar isn't particularly super lightweight or small, its foldable design adds a level of convenience and makes it easier to store when not in use. While it may not be the most compact option out there, it still offers a good balance between portability and functionality.
Overall, I am highly satisfied with the T3 Afar hair dryer. It combines style, performance, and versatility, making it a great investment for anyone looking for a reliable and efficient hair-drying tool.
TL;DR: How to choose T3 hair dryers
Now you have read my review of the 4 T3 hair dryers and may feel overwhelmed. Now let me summarize:
Final thoughts on T3 hair dryers
After thoroughly examining and testing four T3 hair dryer models, I am confident in drawing a conclusion about their performance and quality. Each model showcased unique features and capabilities, making it challenging to determine the best option. However, based on my analysis, I have come to a final recommendation.
The T3 hair dryers reviewed in this comprehensive analysis—Aireluxe, Featherweight Stylemax, Fit, and Afar—all demonstrated different performances and delivered different results. These hair dryers exhibited powerful airflow, cutting-edge technology, and user-friendly designs, catering to a variety of hair types and styling preferences.
While all four models excelled in their respective areas, one particular T3 hair dryer stood out among the rest. The T3 Featherweight Stylemax proved to be a standout performer, offering an unrivaled combination of speed, precision, and advanced features. Its robust motor generated a remarkable airflow, resulting in faster drying times without compromising hair health. Additionally, the innovative heat and ionization technologies in this model contributed to smoother, frizz-free results that lasted throughout the day.
In terms of usability and convenience, the T3 Afar showcased an ergonomic design, lightweight construction, and intuitive controls, making it effortless to handle and operate. The inclusion of multiple heat and speed settings further added to its versatility, enabling users to customize their styling experience according to their unique needs.
Furthermore, the durability and build quality of the T3 Aireluxe were remarkable, assuring a long-lasting investment for users. Its thoughtful construction and premium materials not only enhanced its aesthetic appeal but also contributed to a reliable and enduring performance.
Not all models are good, right now I cannot recommend the T3 Fit because of its imperfection. However, it's important to note that individual preferences and hair types may vary, so I encourage readers to carefully consider their specific needs before making a final decision.
In conclusion, the T3 hair dryers reviewed in this comprehensive analysis provided an array of impressive features and performance. After careful evaluation, the T3 Featherweight Stylemax emerged as the top recommendation due to its exceptional performance, advanced technologies, user-friendly design, and overall value. With this hair dryer, you can elevate your hair styling experience to new heights, achieving salon-quality results in the comfort of your own home. Hope my T3 hair dryer review can help you choose the suitable one for your need!
More: