Shark® is a house-care brand developed by SharkNinja Operating LLC, a leading company in the housewares industry, known for providing highly functional, innovative products that cater to the lifestyles of busy people worldwide. With a wide range of products from cutting-edge vacuums to at-home coffee systems, SharkNinja positively impacts people's lives every day in homes across the globe. Founded by Mark Rosenzweig and headquartered in Needham, Massachusetts, SharkNinja prides itself on innovation, ease of use, and competitive pricing. Their products are widely distributed through major retailers and specialty stores, as well as online through their websites. In this article, I will be giving my review of this Shark HyperAir hair dryer, a promising addition to their range of household appliances.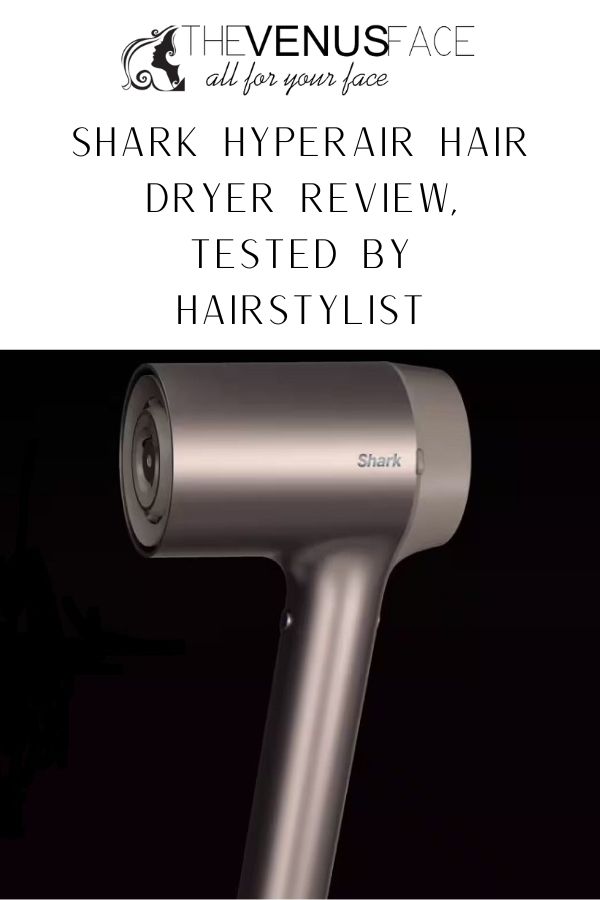 As an Amazon Associate, I earn from qualifying purchases.
How I test
I put the Shark HyperAir hair dryer through rigorous testing to ensure that they meet my high standards. One of the key aspects of our testing process is evaluating how this blow dryer performs on different hair types. Specifically, I test the Shark this product on my black 4c hair, and my friend's Afro hair to ensure that they are effective across a wide range of textures.
I recognize that these hair types can be particularly challenging to dry and style, and I want to make sure that the Shark hair dryers we recommend are up to the task. I, as a hairstylist for years, have extensive experience working with different hair types and textures, and I know how to assess the performance of a blow dryer based on factors like heat distribution, airflow, and ease of use.
By putting this product through these rigorous tests, I believe that I can provide you with an objective evaluation of how well they work on different hair types, and help you make an informed decision about which one is right for you.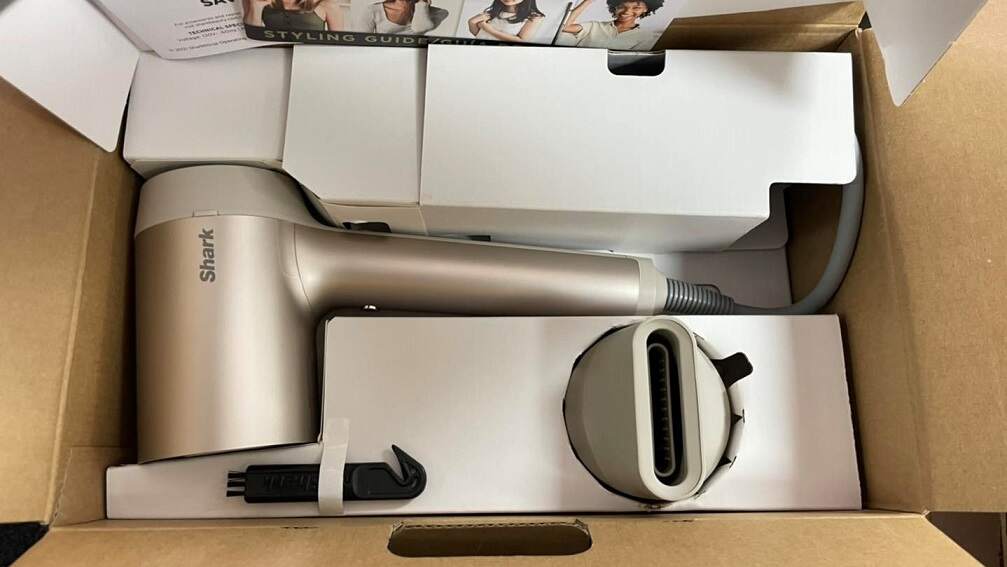 Shark HyperAir hair dryer review
Pros
Simple yet effective with high-tech features
Cons
Only 120V supported
My rating
4.5/5
My review of the Shark HyperAir hair dryer
Design and features
The design of the Shark HyperAir hair dryer doesn't disappoint. One of the first things you'll notice when you pick it up is that it doesn't feel cheap or flimsy. It has a solid build quality that gives it a durable feel, so you can be confident that it will last you for years to come.
The sleek, minimalist design is another standout feature of this blow dryer. It has an understated elegance that looks great in any bathroom. But it's not just about aesthetics – the ergonomics of the design make it comfortable and easy to hold, even for extended periods of time. The simple, intuitive controls are easy to use, so you can quickly adjust the heat and speed settings to your liking.
Another great thing about this blow dryer is that it's medium-weight and compact, making it a great option for travel. The medium size is just right – it's big enough to get the job done quickly, but small enough to fit comfortably in a suitcase or carry-on bag. And with a cord length of 8.2 ft that swivels, you'll have plenty of flexibility to move around while you're drying your hair.
When it comes to features, the thing I love the most is the dual optical sensors, which automatically recognize your hair type and style, and intelligently set the heat and airflow accordingly. This means you don't have to spend time figuring out which settings to use – the blow dryer does the work for you.
To me, the ion generator should be the standard of all blow dryers, and this Shark HyperAir blow dryer certainly sets the bar high with its impressive negative ion generator technology that helps to reduce static and frizz, leaving hair smooth and shiny. This is especially useful for those with hair that tends to be prone to static or frizz, as it can help to tame flyaways and leave your hair looking sleek and polished.
In addition to these high-tech features, the Shark blow dryer also has some more traditional features that you'd expect from a quality blow dryer. The cool shot button is a particularly useful feature, as it allows you to quickly set your style and give your hair a blast of cool air to help lock it in place. And with three heat and three airflow settings, you can adjust the settings manually to low, medium, or high, depending on your needs.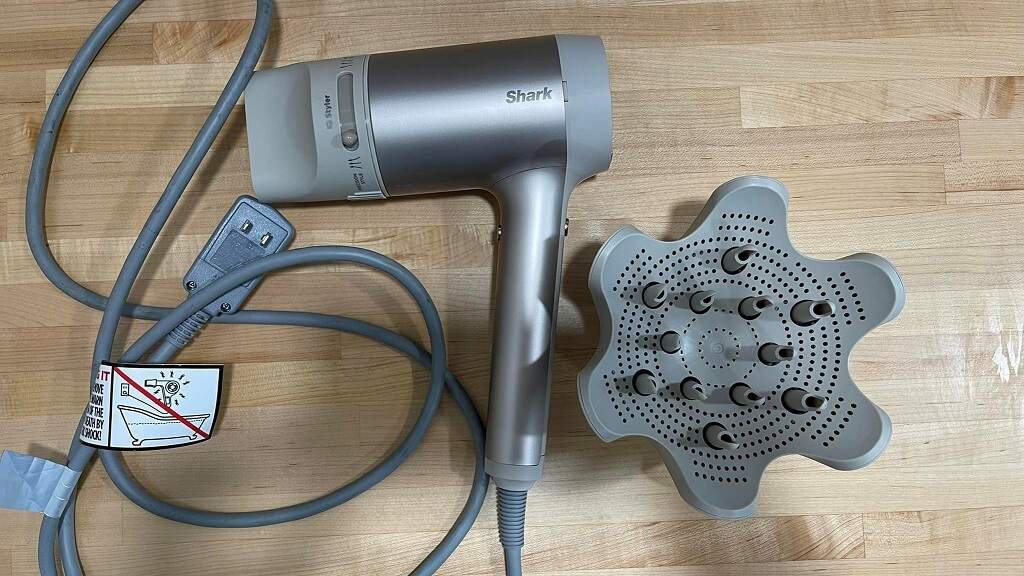 Attachments
The Shark HyperAir blow dryer comes with 4 useful attachments that allow you to achieve a variety of hairstyles. These attachments include a concentrator, a brush, and a diffuser.
1. The concentrator is perfect for anyone who wants to dry and style their hair in just a few steps. It's designed to focus the airflow, allowing you to style your hair with precision and control. The concentrator attachment is also ideal for creating sleek and straight styles.
2. The brush attachment is another great option for achieving a variety of hairstyles. It can be used to dry, straighten, and shine your hair all at the same time. This attachment is perfect for anyone who wants to create a smooth and polished look.
3. If you're looking for a fast and efficient way to dry your hair, then the diffuser attachment is the way to go. This attachment is designed to evenly distribute the airflow, reducing frizz and enhancing your natural curls or waves. The diffuser is ideal for anyone who wants to create a natural-looking, textured style.
4. The IQ AirWave attachment is an innovative idea of the Shark brand. Its main purpose is to create waves and curls in the hair by utilizing the dryer's airflow and heat. The attachment reduces the potential for heat damage and promotes hair health by drying the hair in place, without the need for tugging or excessive heat. This innovative technology is particularly suitable for creating beachy waves and other long-lasting styles with less heat.
The great thing about the Shark HyperAir blow dryer is that you can choose any combination of attachments when buying it. This means that you can customize your blow-drying experience to suit your individual needs and preferences.
Performance and experience
The Shark HyperAir blow dryer has been a game changer for my super thick, curly hair that normally takes forever to dry. This dryer gets my whole head mostly dry in about 15 minutes with more curl definition than I used to have! I absolutely love the adjustable diffuser that helps lift the roots, giving my hair more volume.
While the Cool-shot button setting is a bit inconvenient as you have to hold it down, it's a minor issue considering how lightweight, quiet, and efficient this dryer is. My favorite perk about it is that it leaves my hair incredibly shiny. Even though it doesn't seem to get super hot like some of my previous dryers, it dries my hair so fast that my bathroom mirror fogs up from all the water it puts in the air, which is a unique experience.
I've never seen a dryer like this before. I used the brush attachment to straighten my hair, and it looks great with only a bit of straightening. My hair is left feeling soft and silky, and it truly helps keep the frizz down because I can use the lowest speed and heat and still only takes me 10-12 minutes to dry and style my hair. The diffuser is adjustable to the length of my hair, which is another great feature that makes styling my hair much easier.
Keep in mind that I tested this blow dryer on my black 4c hair, which is the most challenging hair type to dry and style, and it worked wonders. So, if you have easier-to-manage hair, you can expect even better results and a faster styling time with this dryer.
As a hairstylist and a professional reviewer, I'm really impressed with the Shark HyperAir blow dryer's performance and experience. It's definitely worth the investment for anyone looking for a high-quality hair dryer that can handle thick, curly hair.
Pricing and warranty
When it comes to pricing, I must say that the Shark HyperAir blow dryer is not cheap. However, it's worth every penny in the long term, especially considering its performance and quality.
Another great thing about purchasing this blow dryer is that the manufacturer offers a full refund or replacement within 30 days of receipt, which gives you plenty of time to test it out and decide if it's the right fit for you.
Additionally, the Shark HyperAir blow dryer comes with a warranty of up to 5 years, which is a testament to its durability and quality. It's always reassuring to know that a product is backed by a solid warranty in case anything goes wrong.
My final thoughts on the Shark HyperAir hair dryer
After careful evaluation of the features, benefits, and cost of this product, I personally believe that the price/performance ratio of this product is excellent. From its sleek design to its advanced functionality, this product truly delivers on all fronts. Moreover, the price point at which it is being offered is quite reasonable, making it an outstanding value-for-money proposition. In my opinion, if you are looking for a reliable and high-performing product that won't break the bank, this is an excellent choice that I highly recommend. I hope my Shark HyperAir hair dryer review gives you more insight into the product and helps you make an informed decision about whether it's the right hair dryer for your needs.
More: 7 Best Blow Dryers for Black Hair: I Bought & Tested All!
F.A.Q
Is the Shark hairdryer as good as the Dyson?
The Shark Hyperair employs a short, wide-barrel design, aiming to dry hair quickly, and is more budget-friendly. Users have noted it delivers satisfactory results. The Dyson, on the other hand, is praised for its attachments and styling capabilities, resulting in defined curls and voluminous hair. The Dyson Supersonic may have an edge in terms of performance and versatility, but the Shark Hyperair can still offer a quality drying experience. Ultimately, your choice might hinge on your styling needs and budget considerations.
Does Shark HyperAir cause heat damage?
Shark HyperAir hair dryer does not cause heat damage as it features HyperAIR IQ technology that uses high-velocity heated air and ionized air to provide fast drying without damaging hair.
What is special about the Shark hair dryer?
It has a compact and comfortable design with adaptable, intelligent attachments for drying, diffusing, curling, straightening, and smoothing hair.
Is Shark HyperAIR quiet?
The Shark HyperAIR hair dryer is not a quiet device as it is powerful and with that comes noise, however, it is not uncomfortably loud.
How much does the Shark HyperAir blow dryer weigh?
It weighs around 1.65 lbs to 1.77 lbs depending on the attachments that come along with the blow dryer.
Is the Shark hair dryer good for fine hair?
Yes, it is. The Shark HyperAir is generally good for any hair type since it has dual optical sensors, which automatically recognize your hair type and style, and intelligently set the heat and airflow accordingly.
More: