I've compiled this list of the best lightweight hair dryers for arthritis as someone who also has arthritis.
If you're like me and have arthritis in your hands, you know that even seemingly simple tasks like drying your hair can be a real challenge. Using regular blow dryers with arthritis in my hands is incredibly uncomfortable and inconvenient. The weight of the dryer strains my wrists, the slippery handles make it hard to grip, and the tiny buttons are nearly impossible to manage. It turns a simple task into a painful ordeal, and I'm determined to find a better solution.
That's why I've spent a lot of time researching and trying out various hair dryers to find the best ones that are suitable for my condition. I've been through the struggle of dealing with heavy, awkward, or hard-to-grip hair dryers, and I'm here to share my experiences and insights with you. In this guide, I will show you hair dryers specifically tailored to make your life easier and more comfortable.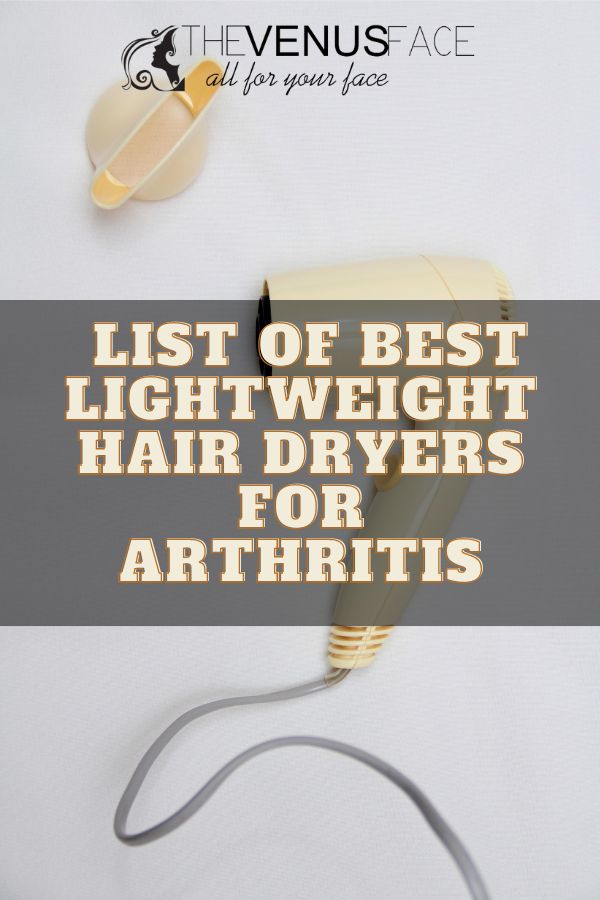 Too long; didn't read: my list of the best lightweight hair dryers for arthritis
All of the hair dryers reviewed in this article meet all the important criteria for arthritis, which means they all have short nozzles, ergonomic designs, and are the lightest that I could find during my research. This list of best lightweight hair dryers for arthritis includes:
The differences in weight among these products are practically unnoticeable, so you can confidently pick any of them and never go wrong. Whichever one you choose, you'll be taking a significant step towards making your daily hair care routine more manageable and comfortable, despite the challenges of arthritis.
Which hair dryer aspects to consider if you have arthritis?
Let me share some tips based on my own experience when it comes to choosing the right blow dryer for arthritis-friendly hair care. It can make a world of difference:
Important aspects
Weight: The most important aspect! When shopping for a blow dryer, prioritize a lightweight model. Heavy dryers can strain your hands and wrists, so opt for one that won't add unnecessary pressure.
Nozzle length: A short nozzle is a must! There is a huge difference between short nozzles and long nozzles if you have arthritis. Also, compact models help you easier to handle.
Handle design: Ergonomic matters! A comfortable, non-slip handle is a must. I found that models with padded or contoured handles offer better control and reduce hand fatigue during use.
Optional aspects
These aspects are optional, it's ideal if you can choose a blow dryer that has these features:
Controls: Select a hair dryer with large, easy-to-use buttons or switches. Avoid models with small, fiddly controls that may be difficult to operate if you have limited dexterity.
Cord Length: Ensure the cord is long enough for your needs and allows you to use the dryer comfortably without straining your hands.
Heat and speed settings: Choose a dryer with multiple heat and speed settings to match your hair type and styling needs. This not only helps you style more effectively but also reduces the time you need to hold the dryer.
Cool Shot Button: A cool shot button is a handy feature. It helps set your hairstyle and minimizes the need for high heat settings, reducing hand strain.
Ionic Technology: Consider an ionic hair dryer. It can reduce frizz and cut down on drying time, meaning less time holding the dryer.
5 best hair dryers for arthritis, sorted by weight
All the hair dryers featured in this article adhere to the essential criteria for arthritis-friendly usage, boasting short nozzles, ergonomic designs, and ranking as the lightest models I uncovered during my research. Here's the compilation of the top choices among the best lightweight hair dryers for arthritis:
Loveps hair dryer: the most lightweight hair dryer for arthritis
Why is the Loveps hair dryer suitable for arthritis?
Lightweight: 0.77lbs (350g)
Short nozzle: yes
Ergonomic design: yes
Loveps hair dryer review
This is the lightest hair dryer that I have ever used and it works like a charm for me! Its magnetic attachments make it easy to switch between different styling options without the need for dexterity and fine motor skills, which can be challenging for people with arthritis. The strong magnetic connection ensures that the attachments stay securely in place, eliminating the frustration of struggling with attachment mechanisms. Additionally, the hair dryer's lightweight and compact design, coupled with its quiet operation, make it a user-friendly choice for those with limited hand and arm strength. Furthermore, the ability to set and maintain the desired temperature without constant adjustments, as well as the option for a gentle cool air mode, adds to the dryer's ease of use for individuals with arthritis. I personally love the Loveps hair dryer as it offers a combination of practical features that can make the hair-drying process more manageable and comfortable for individuals dealing with arthritis. I personally rated this as the best lightweight hair dryer for arthritis.
Cosy Companions hair dryer
Why is the Cosy Companions hair dryer suitable for arthritis?
Lightweight: 0.82 lbs (373g)
Short nozzle: yes
Ergonomic design: yes
Cosy Companions hair dryer review
Weighing in at just 0.82 lbs (373g), it's incredibly easy to handle and hold for extended periods. Although the Loveps is 23g lighter than this hair dryer, the Cosy Companions has still significantly reduced the strain on my hand and arm, making the task of drying my hair far less painful. It's amazing how such a small detail as the weight of a hair dryer can make a world of difference for someone with arthritis.
The ergonomic design of the Cosy Companions Hair Dryer is another feature that I've come to appreciate greatly. The comfortable grip it offers allows me to maintain better control, and it minimizes the discomfort and pain that often accompanies the use of traditional hair dryers. I no longer dread the thought of holding a heavy, awkwardly designed dryer.
The simple button controls of this hair dryer have made my life much easier. Even on days when my dexterity is limited, I can easily operate it without struggling. Adjusting the settings is a breeze, and I no longer need to worry about complex manoeuvres to get the heat and airflow just right.
One standout feature is the magnetic attachment for the diffuser. It might seem like a small detail, but for someone with arthritis, it's a big deal. Magnetic attachments are effortless to secure and remove, eliminating the frustration I used to experience with traditional clip-on attachments.
Lastly, the low noise level of the Cosy Companions Hair Dryer has been a pleasant surprise. At just 51db, it's significantly quieter than most hair dryers. For someone like me who is sensitive to loud noises and doesn't want to disturb others, especially in close living quarters, this hair dryer has been a blessing. It contributes to a more peaceful and less stressful hair-drying experience.
Maxfoxe hair dryer
Why is the Maxfoxe hair dryer suitable for arthritis?
Lightweight: 0.82lbs (373g)
Short nozzle: yes
Ergonomic design: yes
Maxfoxe hair dryer review
I found the Maxfoxe hair dryer to be a suitable choice for my arthritis hands. Here's why:
Compact and lightweight design: The Maxfoxe hair dryer is not on the large side and is lightweight, making it ideal for travel. This is a significant advantage for individuals with arthritis, as it reduces the strain on the hand and arm when holding it for extended periods. The smaller size and lighter weight make it easy to handle.
Ergonomic button placement: The buttons on this hair dryer are well placed and easy to see and reach with a single hand. This feature is particularly important for those with arthritis, as it minimizes the need for complex hand movements and ensures comfortable operation.
Easy temperature and fan speed control: Operating the Maxfoxe hair dryer is straightforward, as you can easily choose the right temperature and fan speed that you prefer. This ease of use is beneficial for individuals with arthritis, as it reduces the effort required to customize the settings to their comfort.
Cold air function: The hair dryer includes a button for cold air, providing relief if your arthritis symptoms are triggered or aggravated by heat. Quick access to cold air is a valuable feature for individuals with arthritis who may need temperature adjustments during use.
Magnetic attachments: The attachments of the hair dryer are easily attached and removed thanks to the magnetic design. This feature simplifies the process of changing attachments, reducing the strain on your hands and making it more convenient for individuals with arthritis.
Long power cord: The hair dryer comes with a long power cord, which is essential for flexibility in use. It ensures that you can use the dryer comfortably without having to stretch or strain your hands due to limited cord length.
Air intake cleaning: The removable strainer for easy cleaning of the air intake is a practical feature. Maintaining the appliance is important for its longevity and efficient operation, and this design makes it accessible and manageable for those with arthritis.
Surome hair dryer
Why is the Surome hair dryer suitable for arthritis?
Lightweight: 0.82lbs (373g)
Short nozzle: yes
Ergonomic design: yes
Surome hair dryer review
I stumbled upon the Surome hair dryer after reading reviews from other users, and I'm here to share why this hair dryer is a blessing for those with arthritis.
First and foremost, this hair dryer has some serious drying power. Unlike my old dryer, I don't need to part my thick, coarse hair into tiny sections anymore, which used to be such a pain for my achy hands. With the Surome hair dryer, I can cover larger sections, and it dries my hair surprisingly quickly. This means less time spent holding onto the dryer, and that's a huge relief for someone like me.
One of the features I absolutely love is the magnetic attachments. They snap on easily, so you don't have to struggle with clips or buttons. Plus, there are three levels each of hot and cool heat, and you can use them in combination to find the perfect setting for your hair. It's all about customization, and when you have arthritis, having control over the heat and airflow is essential.
Now, here's the kicker – this hair dryer is not as noisy as the standard ones. It's not going to wake up the whole house, which is fantastic for those early morning routines. Plus, it's lightweight and compact, making it a great travel companion for when you're on the go. Trust me, you won't want to leave home without it.
I know, many folks rave about those high-end hair dryers, but they come with a hefty price tag. I couldn't justify spending hundreds of dollars on one, especially when I had to replace my old dryer frequently. So, I gave the Surome a shot, and I'm blown away by how fast it dries my hair. It used to be a 35-minute struggle, but now I'm done in just 7 minutes. That's a massive time-saver, and it's less exhausting on my hands.
And guess what? It's not just fast; it's also incredibly lightweight and quiet. Even my cat, who hates noise, sleeps through the process. That's how gentle this dryer is on your ears, and for someone with arthritis, that's a real blessing.
DrSpee hair dryer
Why is the DrSpee hair dryer suitable for arthritis?
Lightweight: 0.83lbs (380g)
Short nozzle: yes
Ergonomic design: yes
DrSpee hair dryer review
I've been using the DrSpee hair dryer, and as someone with arthritis, I can confidently say it's a fantastic choice.
Safety is crucial when you have arthritis. Unlike some cheaper hair dryers that can be hazardous, this one has a design that won't suck your hair in or cause any accidents. That alone is a huge relief.
Additionally, its impressive power and digital display make it user-friendly. I found that it dried my hair in about the same amount of time as my old dryer but with a lot less frizz, which is a big win for me. Sometimes I accidentally pressed buttons while using it, but I think that's something you can get used to over time.
One of the most significant benefits for me is how it's easy on my wrist. Its weight is just right – not too heavy to strain my wrist, yet not so light that it feels cheap. This feature is a lifesaver for people like us dealing with arthritis.
Another notable aspect is the magnetized attachments that are easily interchangeable. It's a time-saver, especially when you're getting ready in the mornings, and it eliminates the need for strenuous twisting and turning.
Compared this dryer to higher-end ones, like Dyson brand, this DrSpee hair dryer holds its ground and might even outperform the pricier competition.
Moreover, it's compact and relatively quiet, making it a convenient and non-intrusive tool to have in your daily routine.
The customizable settings and the magnetic blowing attachment are fantastic features, but the real game-changer is how your hair feels and looks after using it. It leaves your hair soft and not frizzy, which, as someone with arthritis, I can appreciate.
If you're skeptical about investing in a new hair dryer, don't hesitate. Many reviewers with different hair types, including those with thick, wavy hair like mine, have seen amazing results. It's efficient and reduces the time you spend on high-heat settings, which is especially beneficial for your arthritis.
Read more of my hair dryer reviews
I have written many reviews for different hair dryer brands, which you can read more about here: