Elchim has long been renowned for its commitment to innovation and excellence in the realm of hair care technology. With decades of experience, their dedication to producing high-quality, professional-grade hair dryers has made them a favorite among hairstylists and beauty enthusiasts alike. In this Elchim hair dryers review, we will take an in-depth look at five remarkable models from Elchim's arsenal:
2001 High Pressure
3900 Healthy Ionic
Milano Ceramic
Dress Code
8th Sense Run
Now let's delve into the fantastic lineup of Elchim blow dryers, each boasting its unique features and capabilities.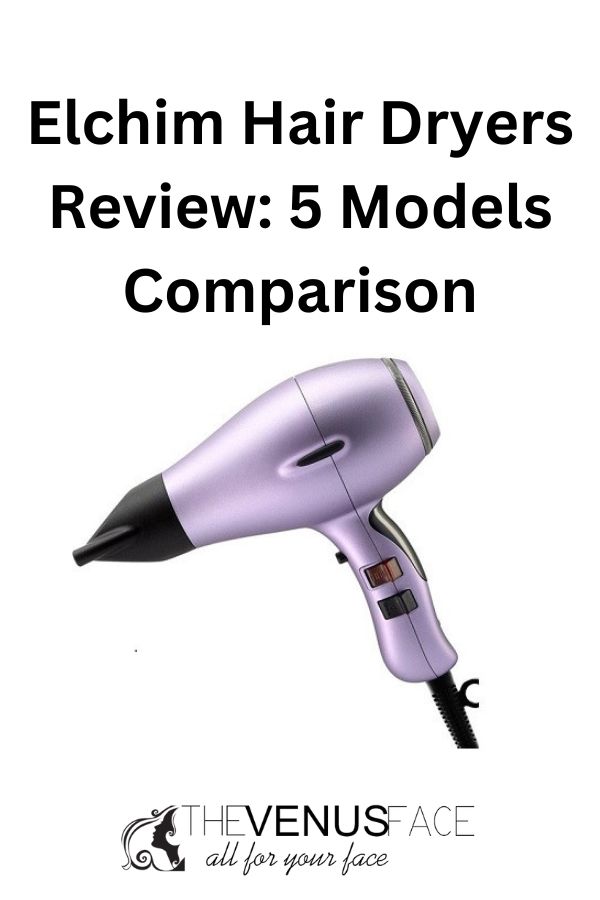 Elchim 2001 High Pressure blow dryer review
Pros
Low noise level, making it one of the quietest dryers available
Cons
The power button is prone to accidental switching on and off during handling.
The highest heat setting might not be hot enough for some users who require intense heat for styling.
My rating
9.0/10
My review
I must say, after using the Elchim 2001 High Pressure blow dryer a couple of times, I am genuinely impressed with its performance. This Italian-made, professional-grade hair dryer boasts several outstanding features that set it apart from others in the market.
One of the first things I noticed is its lightweight design, which makes it easy to handle and less straining on my arms during extended use. In addition, the low noise level surprised me – it's undoubtedly the quietest dryer I've ever owned. Now I can confidently dry my hair before going to bed at night without fearing to wake the entire household.
The variety of heat and power settings is a definite plus. With three heat settings (cool, warm, and hot) and two power settings (low and high), it offers great flexibility for different hair types and styling needs. Moreover, the power and heat output are exceptional, ensuring that my hair dries quickly and efficiently.
I appreciate that the Elchim 2001 comes with a concentrator, which helps in achieving more precise and targeted airflow for styling purposes. Additionally, the hottest setting, while not excessively hot, is actually beneficial for hair health, reducing the risk of heat damage.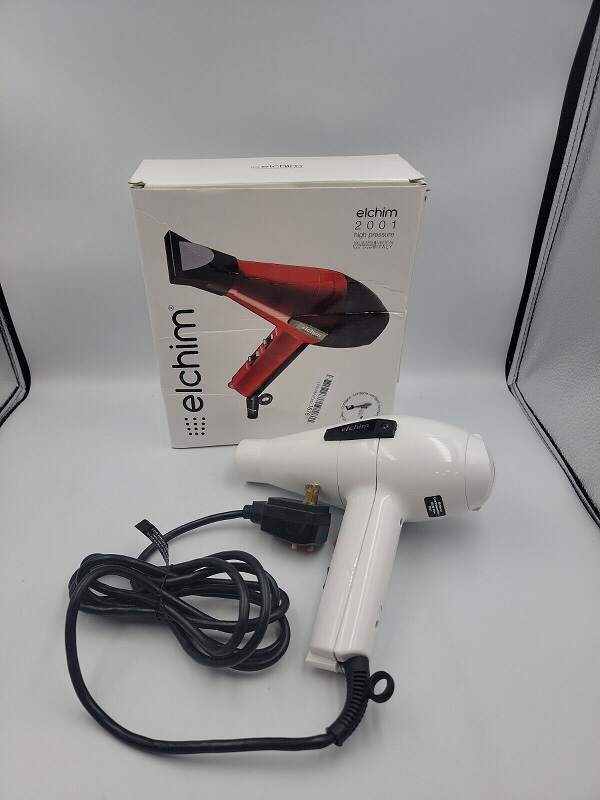 However, there are a few minor drawbacks that should be mentioned. The buttons on the dryer are not clearly marked for temperature or airflow settings, which caused some initial confusion. It took a little while to get used to them. Furthermore, I found that the power button is easy to accidentally turn on and off while handling the dryer, which can be a bit annoying.
Another concern is the thick and inflexible power cord. While it might be durable, it does inhibit easy movement and maneuverability during use, making it less ideal for those who prefer hassle-free styling.
One notable missing feature is the lack of ionic technology, which could have helped in reducing frizz and enhancing the overall shine of my hair.
I think the Elchim 2001 High Pressure blow dryer is a formidable hair tool that delivers impressive power and heat while maintaining a lightweight and quiet profile. Its professional-grade quality is evident in its performance, and the added concentrator is a nice touch for more precise styling. However, improvements in button labeling and cord flexibility, as well as the inclusion of ionic technology, would elevate this dryer to near perfection. Despite these minor shortcomings, I still highly recommend the Elchim 2001 for its exceptional drying capabilities and overall reliability.
Elchim 3900 Healthy Ionic blow dryer review
Pros
Smoother hair thanks to the ionic technology
Cons
Not lightweight, weighing approximately 1.47 lbs
My rating
9.0/10
My review
The Elchim 3900 Healthy Ionic Blow Dryer has truly impressed me with its performance. As someone with short hair, I've been seeking a reliable blow dryer that can quickly and efficiently dry my locks without causing any damage or frizz. And I'm thrilled to report that this blow dryer has exceeded my expectations.
First and foremost, the drying time has been significantly reduced since I started using this Elchim 3900. It's packed with lots of power, delivering a strong airflow that swiftly dries my hair in no time. This not only saves me precious minutes in my morning routine but also spares my hair from unnecessary heat exposure.
The ionic technology it boasts has worked wonders for my hair. After a couple of uses, I've noticed that my hair looks much smoother and silkier. It's like I've just stepped out of a professional salon! The low heat setting is incredibly gentle, almost like cool air, which is perfect for maintaining hair health while still effectively drying it.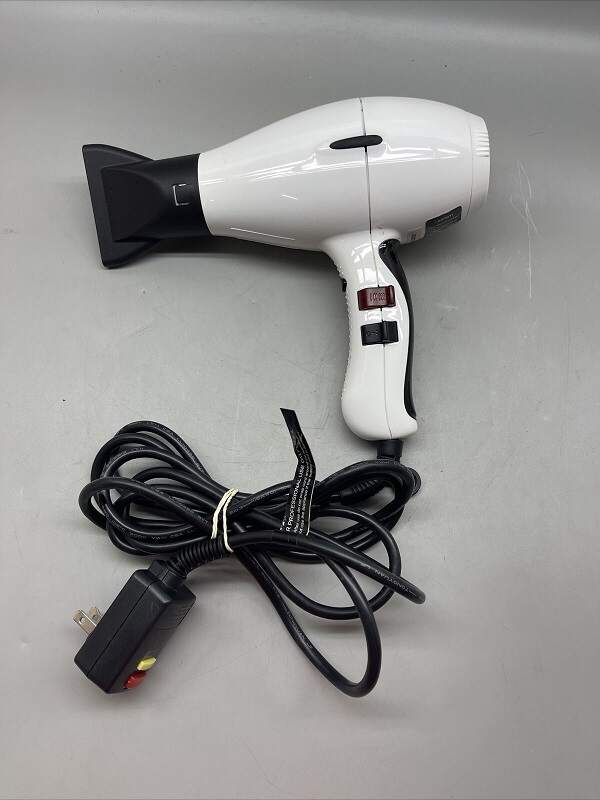 One of the standout features for me is how this blow dryer manages to maintain a consistent airflow without tangling or causing any frizz in my hair. My strands are left feeling like silk and looking super shiny, which gives me a confidence boost throughout the day.
I also appreciate the overall build quality of the Elchim 3900. It feels very sturdy and durable, a testament to its high quality. However, I should mention that it's not the lightest blow dryer on the market, weighing in at 1.47 lbs. It's not a deal-breaker for me, but those with specific preferences for lightweight options might want to consider this aspect.
An unexpected bonus of using this blow dryer is that it has eliminated the need for me to use a flat iron to achieve a polished look. My hair now naturally falls into place and looks much healthier than before. It's evident that this blow dryer is designed with hair care in mind.
In conclusion, the Elchim 3900 Healthy Ionic Blow Dryer has been a game-changer for my hair care routine. From quickly drying my short hair to leaving it feeling silkier and healthier, it's proven to be worth every penny. If you're looking for a high-quality blow dryer that delivers outstanding results and salon-like finishes, I wholeheartedly recommend giving this one a try. You won't be disappointed!
Elchim Milano Ceramic hair dryer review
Pros
Operates quietly
Sufficiently powerful airflow
Cons
My rating
9.5/10
My review
I've been using the Elchim Milano Ceramic blow dryer for a while now, and I gotta say, I'm pretty impressed. First off, one thing that stands out is how low the noise it is, which is a huge plus in my book. No more feeling like I'm standing next to a jet engine while trying to dry my hair!
The controls are straightforward and easy to use, making it a breeze to switch between different settings. And speaking of settings, this blow dryer has some serious drying power! My hair is frizzy as heck, but this bad boy gets the job done and straightens it out like a pro.
I'm all about that cool shot button too. It's a handy feature to lock in the style after the drying is done. As for the three temperature options, they're just perfect for my casual needs. Sometimes you don't need a whole array of complicated settings, right?
Now, let me mention that this blow dryer doesn't have ion technology or far infrared heat technology. While some might find that a drawback, I haven't really noticed a huge difference. The warm setting is just right for me – not scorching hot, but still provides a good amount of heat to get the job done efficiently.
It's worth noting that this blow dryer is not the lightest out there; it weighs around 18 ounces. So, if you're someone who prefers a more lightweight option, this might not be the best fit for you. But I personally don't mind the weight because it makes up for it with its super-fast drying time.
All in all, I'm really happy with the Elchim Milano Ceramic blow dryer. It suits my frizzy hair and delivers great results without making a racket. If you're looking for a strong hair dryer with easy controls and no-fuss functionality, this could be a solid choice for you too!
Elchim Dress Code hair dryer review
Pros
Removable lint catcher for easy cleaning and maintenance
Cons
My rating
9.5/10
My review
The cool shot button is a neat feature. It's perfect for setting my hairstyle and giving it that extra touch of finesse. Plus, the removable lint catcher is a lifesaver! Cleaning out the hair dryer has never been easier, and it keeps the whole thing running smoothly.
One thing that really impressed me is how fast this dryer dries my hair. And the best part? Less frizz! My hair looks smoother and more polished, which is a huge plus for me.
I also noticed that it's lighter in weight compared to some other blow dryers I've used. But don't let that fool you; it's got a bit more power packed into its compact design. High heat and super powerful airflow make my hair-drying experience efficient and effective.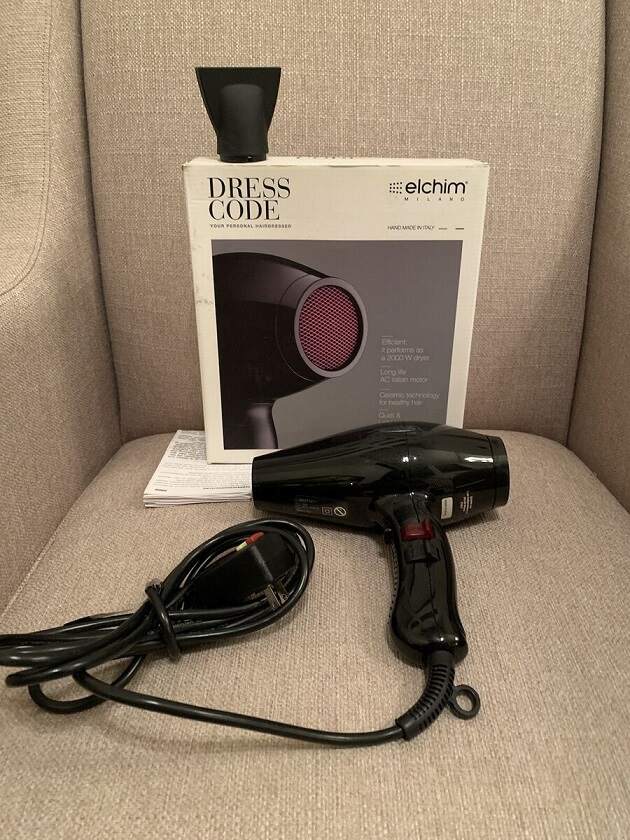 This little gem has definitely shortened my drying time and completely eliminated frizz, which is a game-changer for those rushed mornings.
Oh, and speaking of mornings, it's not too loud. Trust me, I've had my fair share of noisy hair dryers that make me cringe every time I turn them on. The Elchim Dress Code blow dryer keeps things pleasantly quiet while still getting the job done.
All in all, I'm loving this blow dryer. It's got the cool shot button, easy-to-clean lint catcher, fast drying with less frizz, lighter weight, a bit more power, high heat, and it's not obnoxiously loud. It's been a game-changer for my hair care routine, and I highly recommend giving it a shot!
Elchim 8th Sense Run hair dryer review
Pros
The "turbo" button provides an extra boost of airflow for quick and efficient drying when needed.
Cons
The hair dryer comes with a steep price tag, making it an expensive investment
Build quality lacking, with a significant reliance on plastic components, which may feel flimsy or cheap.
My rating
7.0/10
My review
My experience has been a mix of positives and negatives. While it delivers impressive hair-drying results and boasts some handy features, it falls short in terms of build quality and design, especially considering its premium price tag.
Performance and features: The hair dryer comes with one concentrator, which is quite useful for precise styling. Its lightweight design is a definite plus, as it feels comfortable and easy to handle during use. The presence of separate controls for air strength and heat, along with a "turbo" button, offers great flexibility and customization options for different hair types and styling preferences.
The hair dryer operates at a reasonable noise level, making it less obtrusive during use. One of its main strengths is the ability to dry hair quickly, thanks to its powerful motor and well-dispersed airflow. Moreover, the 8th Sense Run hair dryer stands out for its ability to prevent excess heat, safeguarding the hair from potential damage and leaving a beautiful shine.
Talking about build quality and design, the standout feature of the impressive performance is somewhat overshadowed by its build quality and design concerns. One major drawback is the steep price tag, which may give some potential buyers pause, especially when considering the overall product quality.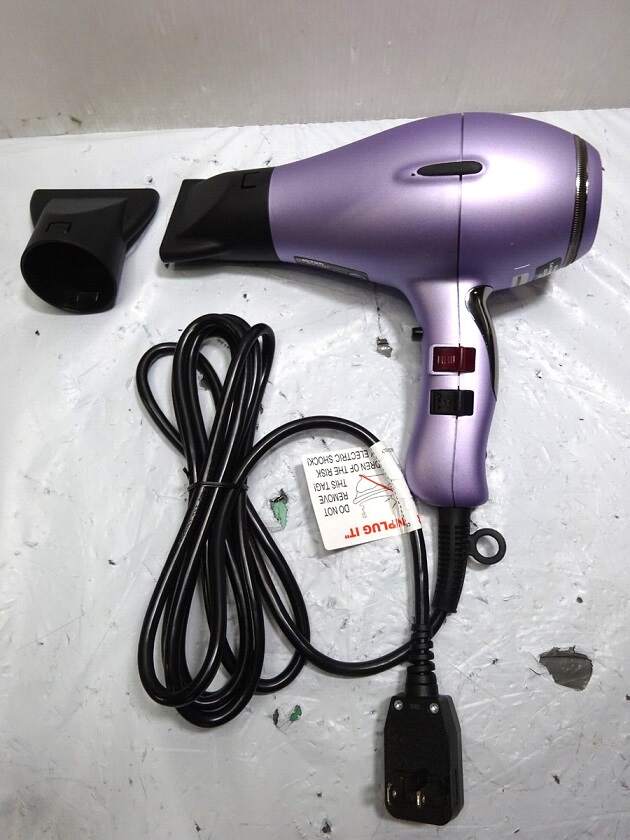 Upon use, I noticed that the hair dryer's top button for heat levels lacks tactile feedback, making it difficult to know if the setting has been adjusted correctly. This lack of precision is disappointing for a high-end product, and it feels rather cheap in hand.
The overall craftsmanship of the hair dryer leaves much to be desired. While it doesn't feel flimsy, the heavy reliance on plastic components gives it a thin and lightweight feel, which doesn't align well with its premium positioning. Additionally, the presence of crooked stickers on the product indicates a lack of attention to quality control during manufacturing, which is unacceptable for a hair dryer in this price range.
In short, the Elchim 8th Sense Run hair dryer offers a powerful and efficient performance, delivering quick drying while protecting the hair from excess heat. Its customizable controls and lightweight design are commendable features. However, the high price, coupled with subpar build quality and design issues, brings the overall impression down.
For customers who prioritize performance and aren't too concerned about build quality, the 8th Sense Run might be a reasonable choice. Nevertheless, for those seeking a top-tier hair dryer that matches its premium price, there are better options available in the market.
Final thoughts
Ok, my Elchim hair dryers review highlights both their strengths and weaknesses.
The Elchim 2001 High-Pressure blow dryer stands out for its low noise level and powerful airflow, though the power button can be accidentally switched on and off during handling.
The Elchim 3900 Healthy Ionic blow dryer impresses with its ionic technology for smoother hair, but it is not lightweight.
The Elchim Milano Ceramic blow dryer offers quiet operation and efficient drying, but its weight might be an issue for some users.
The Elchim Dress Code blow dryer receives high praise for its cool shot button, easy cleaning, and fast drying, but it also lacks ion technology.
Lastly, the Elchim 8th Sense Run hair dryer boasts excellent performance with a turbo button for quick drying, but its high price and plastic-heavy build quality may deter some customers.
When choosing an Elchim blow dryer models, it's essential to consider individual preferences and priorities. Each model offers specific features and benefits, so users should weigh their importance against any potential drawbacks. Overall, Elchim offers a range of options suitable for various hair types and styling needs, making it possible for users to find the perfect match for their requirements.
More: