The Rusk Speed Freak blow dryer has gained significant popularity among hairstyling enthusiasts and professionals alike. With its powerful performance, advanced technology, and user-friendly design, it has become a go-to choice for achieving salon-quality blowouts at home. In this Rusk Speed Freak blow dryer review, we will delve into the key features and benefits of this hair tool, analyze its performance and efficiency, discuss the user experience, and explore customer feedback.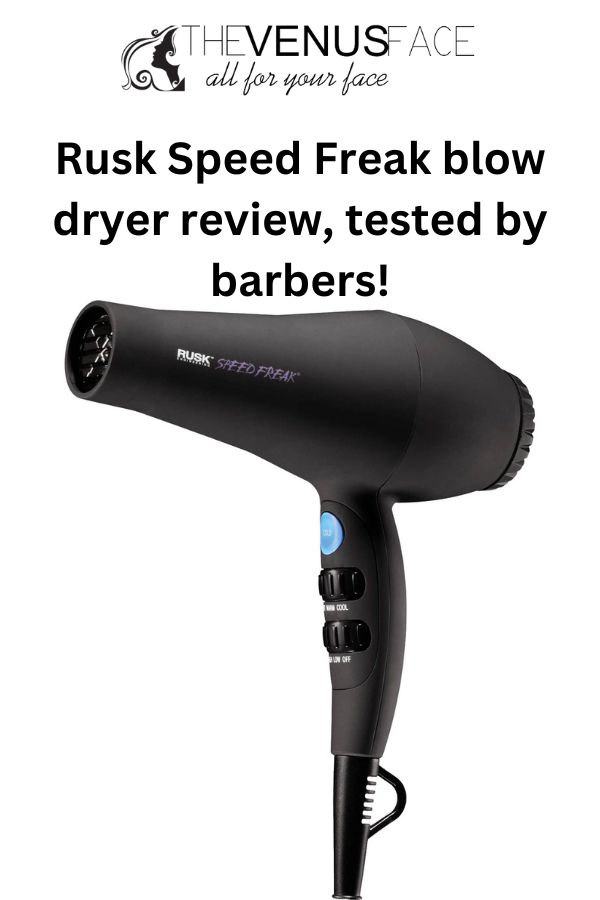 Rusk Speed Freak blow dryer review
Pros
The removable filter allows for easy cleaning and maintenance
High-end technology with a reasonable price
Cons
My rating
9.5/10
My review
The design
After unboxing the Rusk Speed Freak blow dryer, I must say it left quite an impression on me. The first thing that caught my eye was its sleek black color, which exudes a sense of sophistication and elegance. It instantly felt like a high-end beauty tool that would elevate my hairstyling experience.
The ergonomic design of the Speed Freak blow dryer further added to its appeal. The handle fits comfortably in my hand, allowing for a firm grip and precise control. This thoughtful design made it easy to maneuver the dryer without any discomfort, even during extended styling sessions.
Upon picking up the Speed Freak, I was pleasantly surprised by its lightweight nature. Despite its powerful performance capabilities, it felt incredibly light, reducing the strain on my arm during usage. This feature is particularly beneficial for those with long or thick hair who often spend a significant amount of time blow-drying.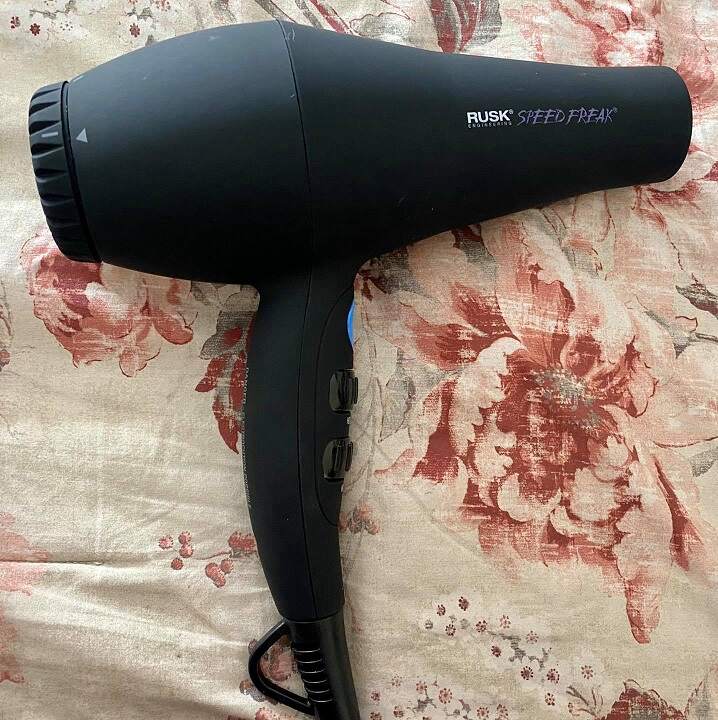 The inclusion of one concentrator nozzle with the blow dryer was appreciated. The nozzle helped to direct the airflow precisely where I needed it, enabling me to create sleek and polished hairstyles. However, I was disappointed to find that there was no diffuser included. This might limit the dryer's versatility for those with curly or wavy hair who rely on diffusers to enhance their natural texture.
The 9-foot power cord provided ample length and flexibility, allowing me to move around freely while styling my hair. It was a relief not to feel restricted by a short cord, providing convenience and ease of use.
Overall, my initial impression of this hot tool is highly positive. Its black color and ergonomic design create an upscale aesthetic that makes me feel like a professional stylist in the comfort of my own home. The lightweight build and long power cord add to its user-friendly nature, enhancing the overall experience. While the absence of a diffuser may disappoint some potential users, those in search of a high-quality, powerful blow dryer will find the Speed Freak to be a valuable addition to their hairstyling routine.
Performance and experience
After using this hair tool a couple of times, I was thoroughly impressed with its performance. I will cover the various aspects of the blow dryer, highlighting its strengths and weaknesses based on my experience.
One of the standout features of this product is its ability to dry hair quickly. From the moment I turned it on, I couldn't believe how efficiently it dried my hair. The combination of multiple heat settings and a powerful airflow ensured that my hair was dried in no time, without subjecting me to the feeling of sitting on the surface of the sun. The dryer strikes a perfect balance between speed and comfort, making the overall drying experience pleasant.
In addition to its speedy performance, this hair dryer also impressed me with its ability to leave my hair silky and smooth. Unlike other blow dryers that can leave the hair feeling dried out and brittle, this model maintained the moisture in my hair, resulting in a lustrous and healthy finish. Furthermore, the blow dryer effectively combated frizz, leaving my hair looking sleek and polished.
However, there were a couple of drawbacks that I encountered during my experience. One issue I faced was the tendency of the blow dryer to swirl my hair into knots if I didn't angle it correctly. It reminded me of how wind can tangle long hair on a windy day. While this can be frustrating, it can be easily avoided by paying attention to the direction of the airflow.
Another minor inconvenience was the placement of the adjustment buttons. Unfortunately, they are located where most people would naturally hold the dryer, which led to accidental changes in power or heat settings. It would have been more user-friendly if the buttons were positioned elsewhere to prevent such unintentional adjustments.
On the positive side, the Rusk Speed Freak blow dryer is relatively lightweight, allowing for extended use without causing fatigue. I found it comfortable to hold for up to 10 minutes of continuous drying without any discomfort. Additionally, the low noise level of the blow dryer was a pleasant surprise, making the styling process more enjoyable.
One aspect that may disappoint some users is the absence of a diffuser. If you rely on a diffuser for specialized styling, you may need to consider alternative options or purchase a separate diffuser attachment. However, if you primarily focus on straightening and smoothing your hair, this hot tool should meet your needs.
Another minor issue I encountered was with the control mechanism. Instead of a simple switch, the blow dryer features a click dial, which requires a bit more effort to adjust the settings. While it may not be the most convenient option for on-the-go use, I found it manageable and even somewhat comfortable to turn the dial compared to flipping a switch.
To summarize, this product offers impressive drying power and versatility, drying hair quickly while maintaining its silkiness and preventing frizz. It is lightweight, comfortable to hold, and operates with a low noise level. However, users should be cautious to avoid hair tangling and accidental adjustments due to button placement. Additionally, the lack of a diffuser and the slightly less user-friendly control mechanism may be minor inconveniences for some.
Overall, I highly recommend the Rusk Speed Freak blow dryer for those seeking a fast and powerful styling companion that delivers excellent results without compromising hair health and manageability.
The features
This blow dryer has certainly impressed me with its advanced features and performance capabilities. Let's dive into the details in this Rusk Speed Freak blow dryer review:
The inclusion of tourmaline and ceramic-infused grills is a noteworthy feature of the Speed Freak. These materials work in harmony to emit negative ions that help to reduce frizz and enhance the overall smoothness of the hair. As a stylist, I understand the importance of using tools that promote healthy hair, and the tourmaline and ceramic technology in this blow dryer aligns perfectly with that goal.
The ionic generator is a game-changer when it comes to reducing drying time. By emitting negative ions, this feature helps to break down water molecules on the hair surface, allowing for faster evaporation. This not only saves time during the styling process but also minimizes potential heat damage to the hair. It's a significant advantage for both clients and stylists who value efficiency.
With a powerful 2000 Watts motor, this blow dryer delivers exceptional airflow and heat output. This enables quick and effective drying, even for thick or long hair types. As a professional, I appreciate tools that provide ample power to ensure efficient and professional results.
The removable filter is a practical addition to the blow dryer, as it allows for easy cleaning and maintenance. Keeping the filter clean is crucial for the optimal performance and longevity of the dryer. It's a thoughtful feature that adds to the overall durability and functionality of the Speed Freak.
Having three heat levels and two-speed levels provides versatility for various hair types and styling needs. It allows for customization and precision in heat and airflow control, which is essential for achieving desired styles. Additionally, the cool shot button is a handy feature for setting the style and adding a final touch of shine. It helps to lock in the hairstyle and provides a refreshing burst of cool air.
The far-infrared heat technology is another notable aspect of the Rusk Speed Freak blow dryer. This technology ensures gentle and even heat distribution, reducing the risk of heat damage to the hair. It also helps to maintain the hair's moisture balance, resulting in smoother, healthier-looking results. As a professional stylist, I prioritize tools that prioritize the health and integrity of the hair, and the far-infrared heat technology in this blow dryer meets those standards.
Pricing and warranty
The pricing and warranty of the Rusk Speed Freak blow dryer seem to be well received. Many customers expressed that the dryer is worth the price, suggesting that they believe it offers good value for the money. The overall consensus is that the price point is reasonable and doesn't break the bank account.
The positive feedback on the pricing indicates that customers feel they are getting a quality professional dryer for a good price. This sentiment is crucial, especially for customers who are seeking professional-grade performance without having to spend exorbitant amounts of money.
Additionally, the mention of a 2-year warranty is reassuring. A warranty provides customers with peace of mind, knowing that they are protected against any potential manufacturing defects or malfunctions. It shows that Rusk stands behind the quality and durability of their product, which further enhances its value.
Considering the positive customer feedback and the combination of quality, performance, and a reasonable price point, it seems that this hair dryer offers a great balance. It satisfies customers' expectations by providing a professional-grade drying experience without being overly expensive. The inclusion of a 2-year warranty adds another layer of confidence in the product's longevity and reliability.
Final thoughts
The Rusk Speed Freak blow dryer offers an impressive combination of design, performance, and features at a very affordable price. I recommend this product to individuals looking for a powerful and efficient styling tool that leaves the hair smooth and frizz-free. It is suitable for a wide range of hair types and lengths. This hair tool is a worthwhile investment for those seeking professional-grade results without breaking the bank. It offers an enjoyable and effective hairstyling experience. I hope this Rusk Speed Freak blow dryer review provides you with valuable insights and helps you make an informed decision about whether it's the right hair dryer for your needs.
More: