In this Gem Force hair dryer review, I will dive deep into the features, performance, and benefits of this hair tool. I'll explore its advanced functionalities, discuss its innovative design elements, and share my firsthand experience after rigorous testing. By the end of this article, you'll have a clear understanding of whether this hair dryer is the right fit for your personal styling routine.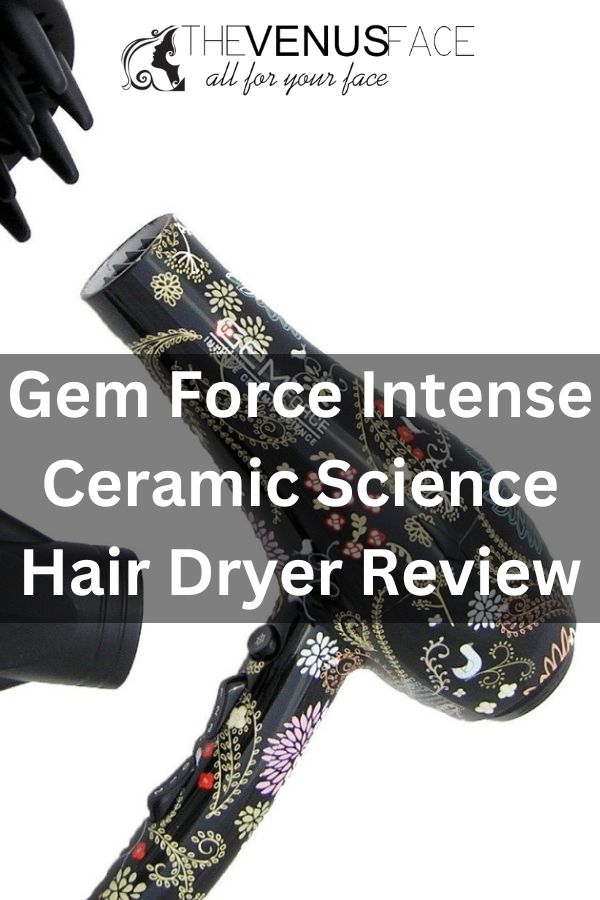 Gem Force Intense Ceramic Science Hair Dryer Review
Pros
Stylish design: many cute patterns to choose
Very affordable price
Cons
The hot setting may be too hot
Rating
9.0/10
Review
The design
I just unboxed the Gem Force hair dryer, and I couldn't help but be impressed right off the bat! As soon as I lifted it out of the box, I was pleasantly surprised by how lightweight it is. At just 1.8 lbs, it feels like a breeze to hold and maneuver.
And let's talk about the design! The cute pattern on the Gem Force is absolutely adorable. It adds a touch of personality to the dryer, making it stand out from the crowd. Who said hair dryers have to be boring, right?
Now, the cord length is worth mentioning too. A generous 12-foot cord gives me plenty of room to move around without feeling like I'm tethered to an outlet. It's such a relief not to have to worry about being confined to one spot while drying my hair.
The ergonomic design is a winner for me. It fits comfortably in my hand, allowing for a natural grip that reduces strain during use. It's clear that the Gem Force was designed with user comfort in mind.
Now, let's talk about attachments. The fact that it comes with a diffuser and a concentrator is a major bonus. I love having options when it comes to styling my hair. The diffuser is perfect for creating those beautiful, bouncy curls, while the concentrator helps me achieve sleek and smooth styles.
Oh, and don't forget about the cool shot button! This nifty feature is a game-changer when it comes to locking in my hairstyle. It gives that extra blast of cool air, sealing the cuticles and adding shine.
The variety of heat and speed levels is impressive too. With 3-heat levels and 3-speed levels, I can customize my drying experience to suit my hair type and style preferences. It's great to have that flexibility at my fingertips.
In terms of size, the dimensions of the Gem Force are quite reasonable. At 8.75″ wide, 10.0″ high, and 3.5″ deep, it's compact enough to store easily without taking up too much space in my bathroom.
All in all, my initial impression of the Gem Force hair dryer is overwhelmingly positive. Its lightweight design, cute pattern, generous cord length, ergonomic shape, and the inclusion of attachments and a cool shot button make it a winner in my book. I can't wait to put it to the test and see how it performs!
Performance and experience
I recently got my hands on the Gem Force hair dryer, and let me tell you, it's a true gem! This hair dryer is packed with power, yet surprisingly quiet, making it a dream come true for those early morning routines or late-night touch-ups.
First things first, the Gem Force hair dryer means business when it comes to drying your locks. Its powerful airflow is simply impressive. Within minutes, my hair goes from damp to dry, without compromising on the health of my tresses. And the best part? It doesn't get too hot, so you don't have to worry about damaging your precious mane.
Another standout feature is the hair dryer's lightning-fast heating capability. With just a push of a button, it's ready to go in no time, saving me precious minutes in my busy schedule. The efficiency is top-notch!
What really caught my attention is the dryer's lightweight design. I can hold it effortlessly, without feeling like I'm getting a workout while drying my hair. It's such a relief, especially during those marathon styling sessions.
Speaking of temperature settings, the Gem Force hair dryer offers a good range to choose from. The medium setting, while barely warm, is perfect for those days when I want a gentle drying experience. However, I must admit that the hot setting can get a tad too hot for my liking. It might be a minor inconvenience, but it's worth mentioning.
Durability is another key feature that sets this hair dryer apart. The Gem Force feels sturdy in your hand, and you can tell it's built to last. No more worrying about accidental drops or mishaps!
Overall, I'm beyond pleased with the Gem Force hair dryer. It dries my hair so fast without damaging it, and it's not too heavy to handle. Its powerful performance, coupled with its sleek and sturdy design, makes it a fantastic addition to any beauty arsenal.
The features
This beauty powerhouse is equipped with some impressive technology that will surely elevate your hair-drying experience.
First off, the Gem Force is designed with ceramic materials, which is fantastic news for your hair. Ceramics is known for its ability to distribute heat evenly, reducing the risk of hot spots and heat damage. With this dryer, you can have peace of mind knowing that your locks are in good hands.
But it doesn't stop there! The Gem Force takes it a step further with its Low EMF Ionic Ceramic Science. This means that it emits low electromagnetic fields, ensuring that your hair is exposed to minimal electromagnetic radiation during the drying process. Your hair deserves to be treated with care, and the Gem Force has got you covered in that department.
Let's talk about the Dual Air Control Setting. This feature allows you to customize your drying experience by adjusting the airflow to your liking. Whether you prefer a gentle breeze or a more powerful gust, you have full control.
And let's not forget about the Cool Shot Button! This little gem (pun intended) is a lifesaver when it comes to setting your style in place. A quick press of this button releases a burst of cool air, helping to seal the hair cuticles and lock in your desired look.
Now, let's dive into some serious technology. The Gem Force incorporates Super Heat technology, which means it heats up quickly and efficiently. No more waiting around forever for your hair dryer to warm up. This dryer gets the job done in no time!
But it's not just about heat; it's about airflow too. The Gem Force boasts Intense Air Flow technology, ensuring a powerful stream of air to dry your hair swiftly. Say goodbye to those lengthy drying sessions and hello to quick and efficient styling.
Negative ions are another fantastic feature of this hair dryer. They help to neutralize static and frizz, leaving your hair looking smooth, shiny, and frizz-free. It's like having your own personal anti-frizz superhero!
And let's not forget about the Far Infrared heat. This type of heat penetrates the hair shaft more deeply, resulting in faster drying times and less damage. It's a win-win situation for both efficiency and hair health.
Last but not least, the Gem Force hair dryer is equipped with a DC motor. DC motors are known for their lightweight and durable performance. You get a powerful and reliable hair dryer that won't weigh you down during your styling sessions.
Pricing and warranty
This dryer is very affordable. In fact, it's downright cheap! The Gem Force offers excellent value for its price point, making it an attractive option for those looking for a high-quality hair dryer without breaking the bank. You won't have to empty your wallet to get your hands on this beauty gem.
And here's the cherry on top: the Gem Force comes with a 1-year warranty. That's right, you get peace of mind knowing that your investment is protected for a whole year. It's always reassuring to have that safety net in case anything unexpected happens.
With its affordable price and a solid warranty, the Gem Force offers the best bang for your buck. It's one of those rare cases where you get more than you expected. You'll be pleasantly surprised by the quality and performance you'll receive at such a wallet-friendly price.
So, if you're in the market for a hair dryer that won't burn a hole in your pocket, the Gem Force is definitely worth considering. Its inexpensive price tag, coupled with a 1-year warranty, ensures that you get a fantastic deal and a reliable hair-drying companion. Don't underestimate the value of this gem—it offers more than meets the eye!
Gem Force hair dryer review: final thoughts
The Gem Force hair dryer is a remarkable product that excels in design, performance, features, pricing, and warranty. This dryer is a true gem that exceeds expectations with its quality, performance, and affordability, making it a worthy investment for anyone in search of an excellent hair-drying companion. I hope this Gem Force hair dryer review helps you make an informed decision about whether or not to purchase this product and achieve the fabulous hair you've always wanted!
More: