In the world of hair care, Solano is a brand that has earned a reputation for manufacturing top-tier styling tools trusted by professionals and enthusiasts alike. The Solano Forza Dryer continues this tradition, delivering an unrivaled combination of cutting-edge design, innovative features, and remarkable performance. Throughout this Solano Forza hair dryer review, we'll delve into the key aspects that set this hair tool apart from its competitors. We'll discuss its powerful motor, intelligent heat and speed settings, ergonomic design, and how it effortlessly tackles various hair types and styles. By the end, you'll have a comprehensive understanding of what makes the Solano Forza an exceptional blow dryer, enabling you to make an informed decision about whether it's the right fit for your hair styling needs.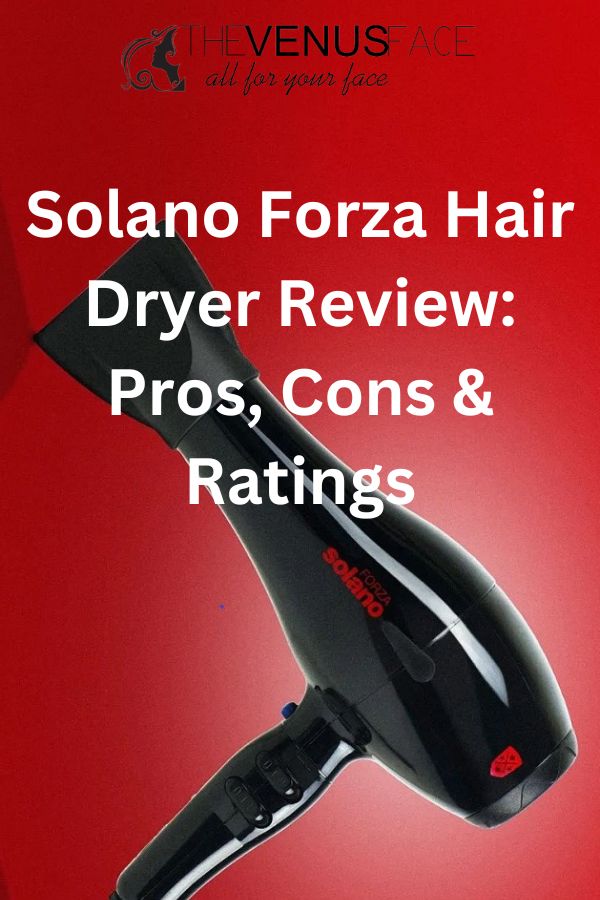 Solano Forza hair dryer review
Pros
Remarkably quiet operation
Very durable
Cons
Diffuser attachment is not included
My rating
9.5/10
My review
The design
As I unbox the Solano Forza dryer, my initial impression is quite positive. The black color gives it a sleek and sophisticated look, making it appear luxurious and high-end. The overall design feels expensive and well-crafted, further enhancing its appeal.
When I hold the dryer, I immediately notice its ergonomic design, which makes it comfortable to grip. The weight of the dryer falls in a good balance, not overly light but also not excessively heavy, providing a sense of durability without being cumbersome to handle.
Included in the package are two concentrators, which are essential attachments for achieving precise and controlled airflow during styling. However, I did note that a diffuser is not included, which may be a drawback for those who prefer or require diffused airflow for specific hair types or styles.
The dryer offers two-speed levels and three temperature levels, allowing for customization based on individual needs and hair type. This flexibility is certainly a welcome feature as it caters to various styling preferences and helps prevent hair damage caused by excessive heat.
I also noticed the presence of a cool shot button, which is perfect for setting hairstyles in place or providing a burst of cool air to seal the hair cuticles for added shine and smoothness. This feature adds to the versatility of the dryer.
Additionally, the Solano Forza dryer boasts a removable filter, ensuring easy maintenance and cleaning. This is important for maintaining optimal performance and prolonging the lifespan of the appliance.
Lastly, the 9 ft cord offers ample length, providing freedom of movement during styling sessions and reducing the need for an extension cord.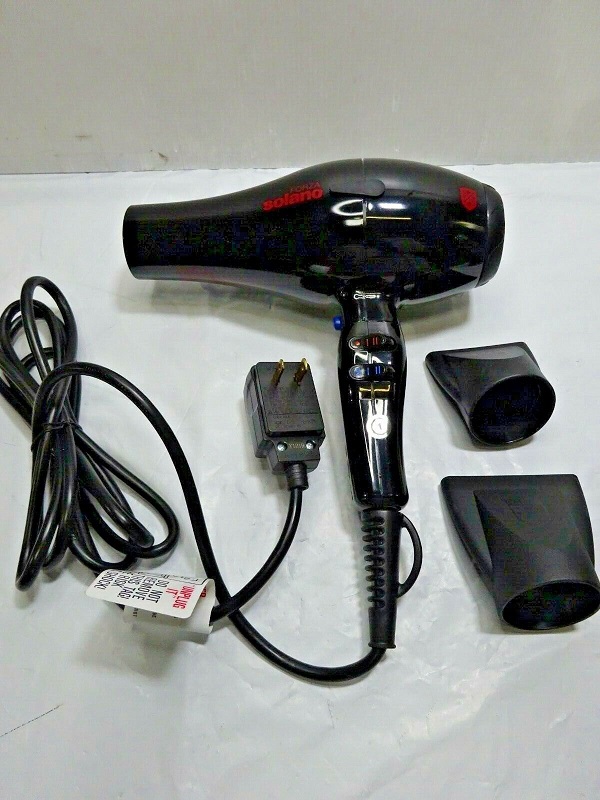 Now keep reading my Solano Forza hair dryer review: performance and experience.
Performance and experience
Have tested this blow dryer many times and I must say, it has exceeded my expectations in almost every way. As someone who values a quiet and efficient hair-drying experience, this dryer has truly impressed me.
First and foremost, this blow dryer boasts a remarkable noise level. Compared to other hair dryers I've used in the past, this one is significantly quieter. Even at its highest setting, it emits a mere 75 decibels of sound, allowing for a more peaceful and enjoyable hair-drying process.
One of the standout features of this dryer is its ability to effectively dry my hair without causing any damage or excessive dryness. It strikes a perfect balance between efficiency and hair health. This hair tool not only dries my hair quickly, but it also eliminates frizz, leaving me with smooth, silky locks. The end result is impressive, with my hair looking and feeling healthier than ever before.
Ergonomics play a vital role in any hair dryer, and the Solano Forza does not disappoint in this regard. The design is both ergonomic and comfortable to hold, allowing for easy maneuverability and reducing strain during use. While it may be a little heavier than some other dryers on the market, I found it did not cause fatigue or tiredness even during longer drying sessions.
The power delivered by this hair dryer is truly impressive. It generates a significant amount of airflow, which translates into faster drying times. In my experience, it dried my hair completely in just 7 minutes. This quick-drying capability is ideal for busy individuals who need to style their hair efficiently.
Additionally, I was delighted to find that this dryer leaves my hair incredibly shiny. The combination of power and technology used by Solano has resulted in a noticeable improvement in the overall appearance and shine of my hair. It's always a pleasure to have a salon-quality finish right at home.
Lastly, safety is a top priority, and this product excels in this aspect as well. I have not experienced any issues with overheating or burning during my usage. The dryer's temperature control ensures that it remains within safe limits, providing peace of mind while using it.
Long story short, the Solano Forza Dryer has proven itself to be a top-tier hair styling tool. With its impressive quietness, efficient and damage-free drying, ergonomic design, powerful performance, and safety features, it has quickly become a favorite in my hair care routine. Although it may be a bit heavier than some alternatives, the overall experience it provides outweighs any minor inconvenience. If you're looking for a professional-grade dryer that delivers outstanding results, I highly recommend giving this hair tool a try.
The features
The Solano Forza Dryer, formerly known as the SuperSolano 3600 Ion, is a powerful hair tool that offers an array of impressive features. Made in Italy, this dryer exemplifies the quality craftsmanship and attention to detail that Italian products are renowned for. In this review, we will delve into the various features that make the Solano Forza Dryer a standout option in the market.
First and foremost, the Solano Forza boasts an impressive power output of 2000 Watts. This high wattage ensures rapid drying and styling, saving precious time for individuals with busy schedules. Whether you have thick, long hair or just want to quickly dry your locks, Forza's power will undoubtedly meet your needs.
One of the standout features of this dryer is the utilization of Far Infrared Heat technology. Unlike traditional dryers that emit harsh heat, the Solano Forza uses gentle and efficient far infrared heat. This innovative technology penetrates the hair shaft, drying it from the inside out, resulting in faster drying times and minimizing damage to the hair. It's a game-changer for those who prioritize hair health and want to minimize the risk of heat-related damage.
Additionally, the Solano Forza incorporates Ionic + Tourmaline Technology. This combination ensures that the dryer emits negative ions and utilizes tourmaline gemstones to neutralize the positive ions in the hair. The result? Reduced frizz, increased shine, and a smoother finish. Say goodbye to unruly, static-prone hair and hello to salon-worthy results right at home.
Noise can often be a concern when it comes to hair dryers, but the Solano Forza addresses this issue with its internal silencer. This feature significantly reduces noise levels during operation, allowing for a more peaceful and enjoyable drying experience. Whether you're getting ready early in the morning or late at night, the Forza ensures that your hair routine doesn't disturb others around you.
Underneath its sleek exterior, the Solano Forza houses an A/C Italian Motor, designed for longevity and durability. With an impressive 1500-hour lifespan, this motor can withstand heavy use and ensures that the dryer will be a reliable companion for years to come. The Italian engineering and craftsmanship shine through in the performance and reliability of this dryer.
Pricing and warranty
The Solano Forza Dryer is undoubtedly a high-quality hair tool that offers exceptional performance and innovative features. As with any premium product, it comes with a higher price tag. While it may be considered expensive compared to some other dryers on the market, the Solano Forza is worth every penny.
When investing in the Solano Forza Dryer, you're making a long-term investment in the health and styling of your hair. The combination of its powerful 2000 Watt motor, Far Infrared Heat technology, and Ionic + Tourmaline Technology ensures that you achieve salon-quality results every time you use it. With faster drying times, reduced frizz, and increased shine, you'll notice the difference in the way your hair looks and feels.
One of the aspects that adds value to the Solano Forza Dryer is its warranty. The dryer comes with a 2-year factory warranty, which provides peace of mind and demonstrates the manufacturer's confidence in the product's durability and performance. Should any issues arise during this period, you can rely on the warranty to address them and have your dryer repaired or replaced.
Furthermore, Solano takes pride in its excellent customer service. In the event that you encounter any difficulties or have questions about the dryer, their knowledgeable and responsive customer service team will be there to assist you. This level of support ensures that you have a positive experience with your Solano Forza Dryer and can rely on their expertise whenever you need it.
Considering the exceptional performance, durability, and customer support, the Solano Forza Dryer is an investment that pays off in the long run. While it may require a larger upfront investment, the quality and features of this hair tool justify the price. If you're seeking a reliable and high-performing dryer that can handle your hair care needs, the Solano Forza is a worthwhile choice.
Final thoughts
If you're reading this review, chances are you've come across my previous product reviews, and I appreciate your continued interest in my insights. As someone who values quality and reliability, I strive to provide honest and informative feedback that helps you make informed purchasing decisions. I hope my Solano Forza hair dryer review has been helpful in guiding your choices. Thank you for your trust, and I look forward to sharing more valuable reviews with you in the future.
More: