Jojoba oil works very well for oily skin. It is a liquid wax and works great for the skin. It makes the skin feel as if it has enough oil so the skin does not produce any surplus oil. In this way, it makes the skin oil-free and gives balance to it. Jojoba oil gets easily absorbed in the skin, giving it a smooth and nongreasy effect. However, is jojoba oil good for oily skin?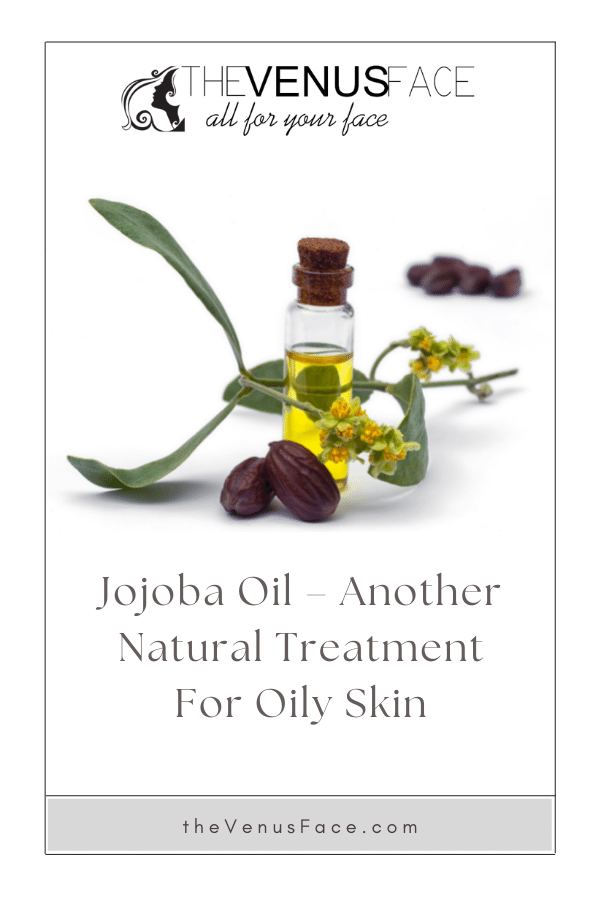 As an Amazon Associate I earn from qualifying purchases
Why is jojoba oil good for oily skin?
There are many reasons why this oil is considered a skin-loving ingredient for people with oily skin:
Dead skin cell gets removed easily.
Work as a moisturizer.
Soothing for inflamed breakouts.
Instead of using soap and cleansing milk, jojoba oil can be used as a make-up remover and cuticle oil which is very effective.
It minimizes blackheads.
It is a very good hydrating body oil.
It increases the elasticity.
The jojoba oil has linoleic acid, which helps in the regeneration of the cell. It also contains protein and vitamins that nourish the skin and protect the skin, making it soft. It gives your skin a healthy and glowing look.
To get the most out of it, don't apply jojoba oil directly to the skin. Always mix something with it before applying it to the skin. Fact: oily skin also gives you some advantages.
More: Is rosehip oil good for greasy faces?
Can jojoba oil be used on oily skin?
Yes, you can. In fact, applying it to the skin is the only way to go. It contains erucic acid, which is not safe to ingest. Therefore, it is best not to ingest the oil nor to put it in your mouth.
More: Is argan oil good for greasy faces?
Best jojoba oil for the skin
How to use jojoba oil for oily skin
Mix jojoba oil with an aloe vera gel, then fill the pump bottle partially. Then wash your skin with a deep pore cleanse.
Take a little jojoba oil and aloe vera gel on your palm. Rub it then mix it and blend it together. Then put the cream on your face and the area of acne. Dab off the excess mixture.
Jojoba oil, along with aloe vera gel, is a perfect combination
Jojoba oil can also be used in a variety of homemade skincare treatments for oily skin, which is very easy to make:
Other uses
Pre-moisturizer
After the acne treatment, the skin may get dry for the first few weeks. Jojoba oil can work great on your dry skin. Squeeze a little amount of aloe vera gel and jojoba oil on your palm. Blend it and apply it to your face, neck, hands, and other parts of your body. Press the mixture while applying it. But don't rub it. Then quickly remove it with water. Pat it dry with a clean towel. It results in opening the pores. But don't skip this process of moisturizing. Make it a routine during your acne treatment. Read this to have an idea of the suitable moisturizer for oily skin.
For shaving
Apply the mixture of jojoba oil and aloe vera gel to your face. Then take a little liquid soap and apply it together to the face. But remember to never rub the application. Press the mixture softly on your skin. Then rinse off. Don't rub your face with a harsh towel for wiping out the water.
More: Is Dove soap good for greasy skin?
Jojoba oil is good for shaving
Use for the treatment of pimple spot
First, clean your face with mild soap and pat it dry. Mix tea tree oil with jojoba oil on a cotton ball and dab it on the skin. Five drops are just enough for it.
If your skin is not affected by acne, then apply jojoba oil with coconut oil. It will work superbly on your skin. It can be used as creams, makeup remover, conditioner, and shampoos. There are some well-known home remedies for oily skin that works really well in some cases.
More: Is Shea Butter Good for Oily Skin?
Does jojoba oil clog pores?
No, it doesn't. In fact, it is non-comedogenic, so it is oily-skin-friendly. You can use it without worries. Pores are an uninvited friend of oily skin. People with oily skin often have their pores clogged and enlarged. Thus, knowing jojoba oil can clog pores or not is crucial. Anyway, this essential oil does not clog pores.
More: List of Natural Oils for Oily Skin & Their Superb Benefits
Final thought
Jojoba oil is a natural skincare product that can be used to manage and treat oily skin. It has many benefits, such as being safe for all skin types, containing linoleic acid which helps with cell regeneration, and providing your skin with protein and vitamins. It also contains erucic acid which is not safe to ingest or consume orally so it's best not to do this. The jojoba oil does not clog pores because it is non-comedogenic. There are various ways you can use this godsend oil. So, why not give it a try?