Many people have discussed just to find out the best moisturizer for oily skin; however, the answers are not always the same. In this post, we are going to go through some of the best products on the market.
Many of us suffer from this great headache, this constant barrier that keeps us from looking our best, this oily skin. Oils produced by our skin are supposed to be healthy, but too much of it can ruin your looks, your beauty and can result in diminishing your confidence too.
Like most, I happen to have this oily skin issue and for years I was unable to find a product that could suit me, either it was too drying or too smelly or it had other issues which kept me from using them as my daily driver. But then I stumbled upon some products and gave them a chance and I was pleased with the results. Below are some of the best moisturizers for oily skin that we spent months finding out.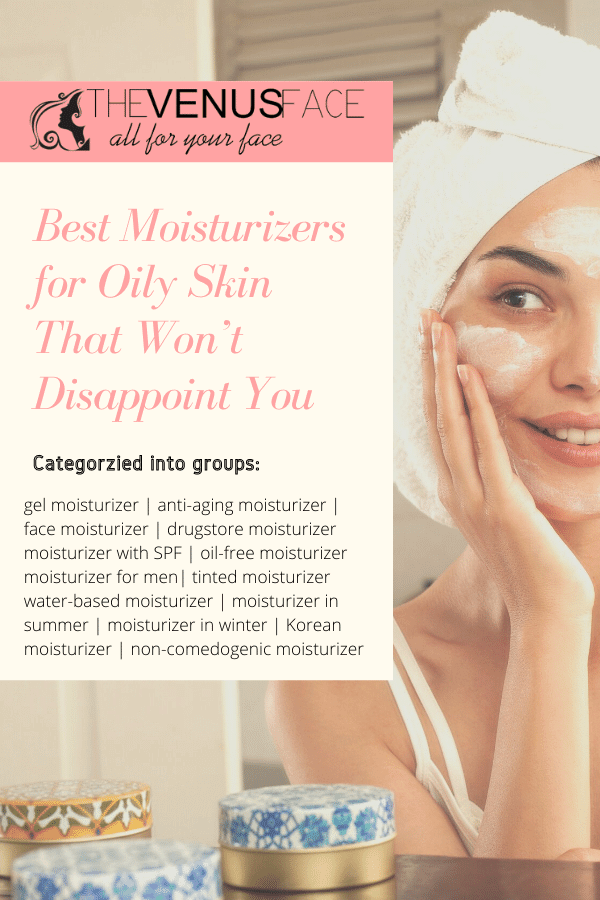 As an Amazon Associate I earn from qualifying purchases
Best moisturizer for oily, acne-prone skin
Dermalogica Active Moist
This product is a great example of what an oil moisturizing lotion should be. Even for people with skin oilier than normal, it really does a great job at tackling your oily skin issues. This fluid is not only manufactured using the best of chemicals to fight excess oils produced by your skin but also includes herbal ingredients such as astringents of lemon, cucumber, and burdock which are a blessing for your skin. This means that it has the ingredients that are not only actively fighting against the excess oils produced but will also make your skin feel very soft and smooth. You can feel the result on your very first try, at least I did. The lotion is very light in use and therefore does not clog any of the skin pores. This product will make your skin glow with the benefit of avoiding flaky skin. It is also free from any artificial fragrance or colors, which means an all-pure product. Considering many other expensive products in this category, Dermalogica Active Moist certainly provides the best compromise between your buck and its performance.
Neutrogena Rapid Wrinkle Repair Regenerating Cream
Intensely moisturizing and rich in pure retinol, a dermatologist-proven ingredient that fights fine lines, dullness, wrinkles, and dark spots. This formula helps reduce the look of deep wrinkles–including crow's feet on the forehead and cheek areas–with hyaluronic acid to add plumping moisture for hydration and rejuvenation. You'll see visibly younger skin after just one week!
More: Best blushes for oily skin that make your cheek warm.
SkinCeuticals Triple Lipid Restore
The SkinCeuticals moisturizer keeps your skin looking young and supple with maximum protection. The formulation contains clinically demonstrated amounts of essential lipids that are vital for maintaining moisture in the face all while locking in hydration to protect against environmental aggressors like pollution, free radicals, and visible aging. Keeps skin looking beautiful while delivering dryness relief for up to 24 hours through natural-sounding components. It is perfect for fighting premature signs of aging on dry skin types where you need the most moisture-boosting power.
Olay Age Defying Anti-Wrinkle Day Lotion SPF 15
Let your skin be hooked on Olay! This one is for wrinkle elimination. With Vitamin B3, Beta-Hydroxy, and Vitamin E, this lotion will moisturize your skin to its best potential. Don't let the sun beat you up any more than it already has with its harmful UV rays. Get some protection now by applying this product diligently every day; know that you are doing everything in your power to achieve younger-looking healthier-looking skin! You can smell fresh too because this lotion is free of pore-clogging oils – just imagine how light it will feel on your face all day long!
Best gel moisturizer for oily skin
Clinique Dramatically Different Moisturizing Gel
This gel moisturizer is an oil-free face moisturizer that lasts all day. It softens, smooths, and improves skin with nourishing ingredients that lock in moisture without leaving behind excess oil. Clinique Dramatically Different Moisturizing Gel works for any type of skin-balancing oily types while also being gentle on sensitive skins. This wonder product doubles as a primer before your makeup application because it absorbs quickly and will not clog pores or cause breakouts like other products may do! You won't be disappointed with this purchase!
Estee Lauder Daywear Matte Oil-Control Anti-Oxidant Moisture Gel Crème
This gel moisturizer breathes life into your makeup, while still controlling oil. Its lightweight, fresh gel-cream texture will leave you feeling wonderfully matte all day, but never dry or tight like other mattifying products. The powerful MoistureMatte Technology of this serum not only controls greasy skin and minimizes visible shine for up to ten hours; it improves the health of the skin by reducing pores and fighting signs of aging on contact! Plus it won't clog pores or cause breakouts since it's dermatologist-tested and fragrance-free. Apply liberally before foundation to get that healthy glow no matter how oily your skin may be!
Mary Kay Oil-Free Hydrating Gel
"You've found your long-lost friend." A beautyholic who's chronically on the hunt for the latest and greatest FOMO-inducing beauty products can't be mad at this one. It turns out you can never have too much hydration, even if it's an oil-free form. This refreshing gel soaks in quickly, delivers freshness for up to 10 hours, and leaves skin with a silky feel thanks to extracts of green tea extract, another ingredient that promotes collagen production. The product is ideal for those prone to oily skin since it prevents moisture accumulation on makeup while softening with the marine extract.
Bioelements Beyond Hydration Gel Moisturizer
Don't let oily skin drive you nuts. This refreshing gel moisturizer is perfect for those with oily skin because it absorbs quickly and offers continuous moisture-binding properties to fight dryness. Bioelements' Gel Moisturizer features a strengthening and balancing blend of herbs and essential oils like Rosemary, Peppermint, Sage, Thyme – all traditionally used in the Mediterranean region – that work together to keep your face feeling fresh and toned. The formula also includes phospholipids that hydrate the skin by binding water at the surface of pores without ignoring their shrinking tendency or producing any shine!
Kiehl's Ultra Facial Oil-Free Gel Cream
Kiehl's Ultra Facial Oil-Free Gel Cream is the ultimate solution for skin that is oily and blotchy. This oil-free gel cream not only deeply nourishes but also seals in moisture to help make your skin clear, balanced, soft, radiant, and healthy-looking. Here are some of the things you can expect when using this product: Reduces the shiny appearance caused by excess sebum; brightens up complexion while providing rich hydration balancing out both tacky or dry patches on your forehead or nose; skin appears smooth after application
Best anti-aging moisturizer for oily skin
Proactiv Green Tea Moisturizer
Refreshing and revitalizing, Proactiv Green Tea Moisturizer is a lightweight moisturizer enriched with green tea extracts and mineral and botanical extracts to hydrate and rejuvenate your complexion. This oil-free moisturizer leaves oily skin feeling soft and smooth while not clogging pores. Now you can wake up with healthy-looking skin! While it absorbs quickly into your skin, this moisturizer is never heavy or greasy which helps maintain hydration for hours on end. Hyaluronic acid that's present in Proactiv Green Tea Moisturizers stands apart from the rest by gently dipping into your dermal layers absorbing water molecules while keeping them there – making sure even at the end of a long day.
Eve Hansen Vitamin C Moisturizer
This lightweight moisturizer is designed to provide optimal hydration all day long while shrinking pores and promoting healthy skin. It improves elasticity and firmness, soothes sun-damaged skin, and relieves dryness and irritation. Why choose Eve Hansen? A healthier you means clearer, brighter skin – without harmful parabens, silicones, or sulfates that can cause allergic reactions or irritate delicate facial tissue. Make every step of the way count with this formula; goodbye wrinkles!
Pond's Rejuveness Anti-Wrinkle Cream
This Pond's anti-wrinkle face cream is formulated with alpha hydroxy acids and collagen for a smooth and youthful look. Watch your wrinkles start to disappear after just two weeks of use! Collagen helps make skin firmer, tighter, and more elastic while AHA gently exfoliates areas like the chin or cheeks where deep creases can form in later years. Say goodbye to unlacing your forehead when trying not to frown!
Origins Plantscription SPF 25 Power Anti-Aging Oil-Free Cream
This award-winning SPF moisturizer dramatically fights aging signs with everything they've got for a younger-looking you. With anti-aging skincare technology, nothing can permanently erase wrinkles. But this lightweight formula replenishes moisture at the cellular level to help prevent future signs of aging while delivering oil-free hydration "so your complexion looks fuller and more youthful with every application." Keep that clear beauty glow topped off by protecting from the sun–see 100% clearer, younger-looking skin in just four weeks with 83% showing an improvement in the appearance of lines and wrinkles!
Tatcha The Water Cream
This lightweight, water-based cream is the latest advancement in skincare technology. It provides powerful Japanese botanicals and deep hydration while controlling oil and clarifying your complexion with a gentle touch. The Clarity Water Cream has been designed to bond seamlessly with your skin: just one application will leave your complexion poreless and free of oils. With its diminishing formulation, it's not only effective—it's valuable too!
Best face moisturizer for oily sensitive skin
Neutrogena Hydro Boost Gel-Cream Extra-Dry
This is the cream to end all creams and gels. It's everything you dreamed of and more: it provides amazing moisture while also making your skin look better than it ever did before. Trust me, this will be your go-to moisturizer because come on – who doesn't deserve to have a little hydration in their life? If I just told you that there was something else out there beyond what nature has given us so far, would you believe me? Maybe – but if I showed you pictures of what could happen after using Neutrogena Hydro Boost Gel-Cream Extra-Dry, then we'd both know that this is real! This cream magically moistures without leaving behind a greasy or oily residue.
Cetaphil Daily Oil-free Hydrating Lotion
That's right. Your daily moisturizer just got a whole lot better. CETAPHIL Daily Oil-free Hydrating Lotion is the perfect lightweight formula that won't clog pores or cause breakouts. And to top it off, it even guards against dryness for up to 24 hours while hydrating your skin and preventing it from oiliness, too! Say hello to your new moisturizer go-to because you deserve nothing but the best for your sensitive combination/combo-skin after all, almost everyone has this type of skin one way or another! So get comfy with smooth skin and gorgeous skin—you're going nowhere anyways.
Skinceuticals Daily Moisture Lightweight Pore-minimizing Moisturizer
Go ahead, doll up your skin. This SkinCeuticals Moisturizer will hydrate and nourish so you can spend the day feeling confident. It includes our exclusive combination of natural extracts and high levels of pure vitamin E that the Brazilian sea algae deliver to rejuvenate your skin's elasticity, helping you achieve that youthful glow. And it doesn't just stop there; this product helps reduce the appearance of pores by smoothing out rough patches on your skin with long-lasting sebum control ingredients like manganese carbonate for all-around smoother looking skin– without clogging or drying it out!
Azure 24K Gold & Collagen Firming Day Cream
Gold has been used for centuries to reduce the signs of aging. Now you can use it in your day cream! With Azure 24K Day Cream, you can fight wrinkles and keep your skin looking young with this gold-filled treatment that is easily absorbed into the skin. Collagen helps tightens and builds back up worn or dry patches of skin restoring them to their youthful vigor. Add Hyaluronic Acid, Vitamin E, Aloe Vera, Beta-Glucan, Olive Fruit Oil, and Grapefruit Seed oil (loaded with antioxidants) to help renew elasticity and protect the surface membranes from toxins while infusing your body with nutrients that lead to less toxic waste byproducts.
Best moisturizer with SPF for oily skin
Cetaphil Daily Oil-Free Facial Moisturizer with SPF 35
You know that sunscreen is essential for protecting your skin from the sun, but what about all of the other things your skin comes in contact with on a daily basis? Pollution, smog, dirt—all of these can take their toll on your skin and make it look tired and dry. That's where Cetaphil Daily Oil-Free Facial Moisturizer comes in. It not only protects you from the sun with its broad-spectrum SPF 35, but it also nourishes and repairs your skin's barrier with edelweiss flower extract. And it's lightweight and fast-absorbing, so you won't feel weighed down or like you have a mask on.
Olay Complete UV365 Daily Moisturizer with SPF 15
Keep your skin looking young and hydrated all day long with Olay Complete UV365 Daily Moisturizer. It's lightweight, oil-free, and non-greasy, so you can wear it under makeup without feeling like a slob. Plus, it has Broad Spectrum SPF 15 to prevent premature skin damage. So go ahead and live your best life – Olay will make sure your skin stays healthy the whole time.
Jivi Moisturizer with SPF 12 Sun Protection
Jivi's Moisturizer with SPF 12 Sun Protection is the perfect summer essential. With natural ingredients like shea butter and cucumber peel, your skin will stay hydrated all day long. Plus, the matte finish helps to combat any redness you may have. And if that wasn't enough, this moisturizer also features SPF 12 mineral sunscreen to help protect your skin from the sun.
CeraVe AM Facial Moisturizing Lotion SPF 30
Sunscreen isn't just for the summer! Keep your skin protected from the sun's harmful rays all year long with this moisturizer. This oil-free and non-greasy formula is perfect for daily use, and it leaves a gentle, non-irritating finish on your skin. Plus, with hyaluronic acid to retain moisture and niacinamide to calm skin, this facial moisturizer is formulated with your needs in mind.
Best oil-free moisturizer for oily skin
Aveeno Positively Radiant Daily Moisturizer SPF 15
Looking for a moisturizer that will help you achieve natural-looking, radiant skin? Aveeno Positively Radiant Daily Moisturizer SPF 15 can help! In just one week, this oil-free, hypoallergenic formula promises to improve the appearance of skin dullness and dark spots, while fighting early signs of skin aging. Best of all, it won't clog your pores or leave your skin feeling greasy – ideal for those with oily skin. Plus, SPF 15 helps protect your skin from sun damage.
Clean & Clear Morning Burst Hydrating Gel Moisturizer
This water-based moisturizer is perfect for those who want to replenish their skin without feeling greasy or weighed down. With cucumber and green mango extracts, this ultra-lightweight formula will help to keep your face looking healthy and hydrated all day long. Best of all, it's oil-free and non-comedogenic, so it won't clog pores – perfect for those with sensitive skin.
Neutrogena Oil-Free Moisture Ultra Gentle Facial Moisturizer
Oil-free. Gentle. Hydrating. Nourishing. If you're looking for a facial moisturizer that does it all without making your skin feel weighed down, you've found it! This moisturizer is designed specifically for sensitive skin, and hydrates and nourishes your complexion with every use. The non-comedogenic, oil-free formula won't clog pores or cause breakouts, and the glycerin ingredient ensures optimal hydration for a soft, smooth appearance.
La Roche-Posay Toleriane Double Repair Face Moisturizer
Get this moisturizer, and keep your skin feeling great all day long! This moisturizer is perfect for those who want to avoid shine, and it hydrates and binds water to the skin to prevent moisture loss. Plus, it contains Prebiotic Thermal Water, Ceramide-3, Niacinamide & Glycerin to provide a refreshing, toning, and balancing combination. 
Final thought
When it comes to finding the best moisturizers for oily skin, you want one that will both balance your moisture and control oil production. With so many options on the market, we know how frustrating this can be!
Luckily, this list should give you some of the best moisturizers on the market to help make things a little easier.
These products are readily available on the internet at the convenience of your fingertips from the comfort of your home, so if you are asking yourself how to choose the best moisturizer for oily skin, those 3 products are obviously should be taken into account.
F.A.Q
What is the best moisturizer with sunscreen for oily skin?
This list contains some of the best moisturizers with sunscreen for oily skin. Basically, you should choose the appropriate SPF depending on the time of the day you usually sunbathe. On sunny days, you should use a higher SPF (30-60), while on cloudy days you can use a lower SPF (15-30).
Do I need moisturizer if I have oily skin?
Yes, you do. Some people think that oily skin doesn't need to be moisturized. In fact, this is a common misconception. The truth is that all types of skin need to moisturize, no matter what their skin type is. Oily skin still needs hydration, and when applying the right moisturizer, it can actually help to regulate sebum production and minimize shine.
Is oil-free moisturizer good for oily skin?
Generally, oil-free moisturizers are ideal for oily and acne-prone skin. They can be used in both the day and night time, depending on how much hydration your skin needs. Check this list of the best oil-free moisturizers for oily skin.
What is the best gel moisturizer for oily skin?
Check this list of best gel moisturizers for oily skin that are rated by real customers on the most reputable e-commerce platform. They are designed for oily skin and received a lot of positive reviews.
What is the best moisturizer for oily, acne-prone skin?
In this case, you may need oil-free or non-comedogenic moisturizers. Have a look at this list of best moisturizers designed for oily, acne-prone skin.
What is the best tinted moisturizer for oily skin?
We have compiled another list of best tinted moisturizers for oily skin, you can check it here. The list categorized moisturizers into groups so that you can browse them with ease.
What is the best drugstore moisturizer for oily skin?
Check this list of best drugstore moisturizers for oily skin. They are usually below $20 but still deliver decent results.