Check this list of the best natural essential oils for oily skin that you must know!
Natural oils for oily skin are an alternative to other products that can be harsh on the skin. There are several natural oils that work well with oily skin, from lavender and peppermint essential oils to tea tree or coconut oil.
There are many individuals who have oily skin and do everything they can to get rid of it. However, there are also oils that can be used for this purpose. These natural oils can provide relief by moisturizing the skin without clogging pores or causing breakouts. Besides that, each oil has its own unique properties that can influence other skin conditions.
The list below features ten different oil options that work well with oily skin types, along with their benefits!
What are natural essential oils for oily skin?
Simply explained, essential oils are natural oils that are derived from the leaves, bark, roots, flowers, and even fruit of certain plants. Essential oils are usually created through a process known as cold pressing; this is when the oil is extracted without the use of high heat or centrifugal.
In short, essential oils are concentrated plant extracts that maintain the natural scent and flavor, or "essence," of their origin.
There are several advantages of using essential oils on the skin, including reducing scars' visibility, reducing irritation, soothing the skin, decreasing signs of aging, etc…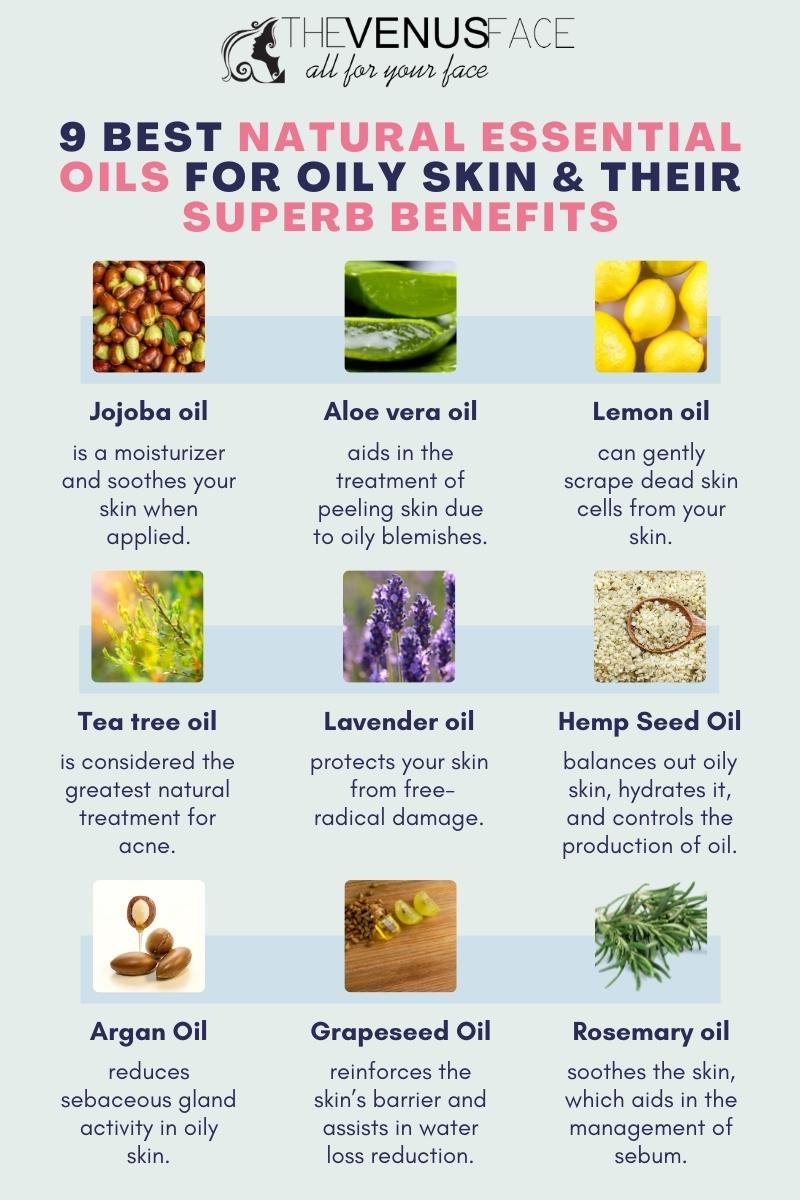 10 best natural essential oils for oily skin and their benefits
Jojoba oil
Jojoba oil is high in Vitamin E, which is helpful for the skin's maintenance (proven to help prevent aging-related changes). Vitamins A and D are also present. Jojoba oil also includes chromium, copper, and zinc as well as Omega 6 and 9 fatty acids.
Jojoba oil is a moisturizer and soothes your skin when applied. Your hair and sweat glands receive this message, telling them that your skin no longer requires additional sebum for moisture. This helps to prevent pimples by keeping the skin balanced and preventing clogged pores from producing oily conditions.
Aloe vera essential oil
Aloe vera oil is a rich source of vitamins A (beta-carotene), C, and E as well as vitamin B12, folic acid, and choline.
Aloe vera aids in the treatment of peeling skin due to oily blemishes. Aloe vera gel is used widely as an ingredient in cosmetic products.
Lemon oil
The lemon essential oil can destroy germs that may get trapped in pores and cause breakouts. The lemon essential oil can also gently scrape dead skin cells from your skin, which may accumulate in hair follicles and pores.
Tea tree oil
Melaleuca Alternifolia is a tree that grows in Australia and produces tea tree oil, which is a natural antiseptic. Tea tree oil is a wonderful skin remedy, and it's particularly beneficial for oily, acne-prone skin. This is why tea tree oil is considered the greatest natural treatment for acne.
Lavender oil
Vitamins A, C, and E are all present in lavenders. Lavender's antioxidants protect you from free-radical damage, which is linked to illness and aging.
The lavender essential oil can unclog your pores and cleanse your skin. It contains antibacterial components that can combat acne-causing bacteria. It also has anti-inflammatory qualities that assist with the redness and inflammation caused by acne.
Hemp Seed Oil
Hemp seeds are also high in vitamin E and minerals. Hemp seeds can be eaten raw, cooked, or baked. Hemp seed oil is also highly nutritious and has been used as a food and medicine in China for thousands of years.
Hemp seed oil can also be used to help balance out greasy skin, hydrate it, and control the production of oil.
Argan Oil
Argan oil is high in vitamin E, or tocopherol, a fat-soluble vitamin that acts as an effective antioxidant by reducing the harmful effects of free radicals.
The non-comedogenic nature of argan oil means it won't clog your pores, and the oleic and linoleic acids present in argan oil aid in skin balance. This implies that argan oil reduces sebaceous gland activity in oily skin.
Grapeseed Oil
Grapeseed oil is high in vitamin E, a powerful antioxidant that has been shown to help limit the damage caused by free radicals in the body.
Grapeseed oil contains a lot of linoleic acid, also known as omega-6 fatty acid, which, in addition to reinforcing the skin's barrier and assisting in water loss reduction, may aid with acne.
Rosemary oil
Rosemary essential oil is high in antibacterial, anti-inflammatory, antioxidant rosmarinic acid as well as anticancer effects. There's also a trace amount of vitamin A, C, and B6.
Rosemary oil soothes the skin, which aids in the management of sebum. It also has antibacterial properties, preventing breakouts.
Peppermint oil
Vitamin A is concentrated in mint, making it an excellent source of vitamins. It's also high in antioxidants.
The secretion of excessive oil is controlled by peppermint oil, making it the ideal option for both oily and combination skin since it prevents clogged pores. You may now stop worrying about acne breakouts thanks to this peppermint oil.
Final thought
If you have oily skin, it can be difficult to find the right products that won't break your face out or leave your skin feeling dry. But there are many natural essential oils for oily skin which work well with this type of complexion! The list includes 10 different oil options and their benefits- from aloe vera to grape seed oil- so check them out if you're interested in adding some variety to what kinds of oils you use on a daily basis. Besides that, you can apply oils as a moisturizer or carrier oil, or make your own DIY skin remedies and even use them on your hair!
Using essential oils as ingredients in homemade skin remedies is a great way to get the benefits of natural oils for oily skin while also getting your creative juices flowing. Using essential oils is a wonderful holistic practice that may help you make peace with your skin and feel beautiful from the inside out! If you decide to try this, be sure to do more research on what oils are best suited for your individual needs and how they should be used.