Can we use aloe vera gel as a primer for oily skin? Read on!
Oily skin is a problem faced by many women and men, especially those who live in hot and humid tropical countries.
There are several ways to make oily skin look less shiny. Some try to hide it with makeup, whereas some use skincare products to control oil production. Others try to use natural ingredients as a solution. Aloe vera gel is one of them.
Aloe vera has been known to have emollient, moisturizing, and antioxidant properties. These benefits make it useful in combating the signs of aging as well as reducing the appearance of stretch marks and fine lines.
More: Reduce fine lines and wrinkles using microcurrent devices
While this makes it an excellent ingredient in anti-aging creams and moisturizers, many wonder if "can we use aloe vera gel as a primer for oily skin".
The answer is yes! You can use aloe vera gel as a primer for oily skin as it is a simple and easy way to minimize the appearance of pores and shine on the face. It also moisturizes your skin without making it look oily.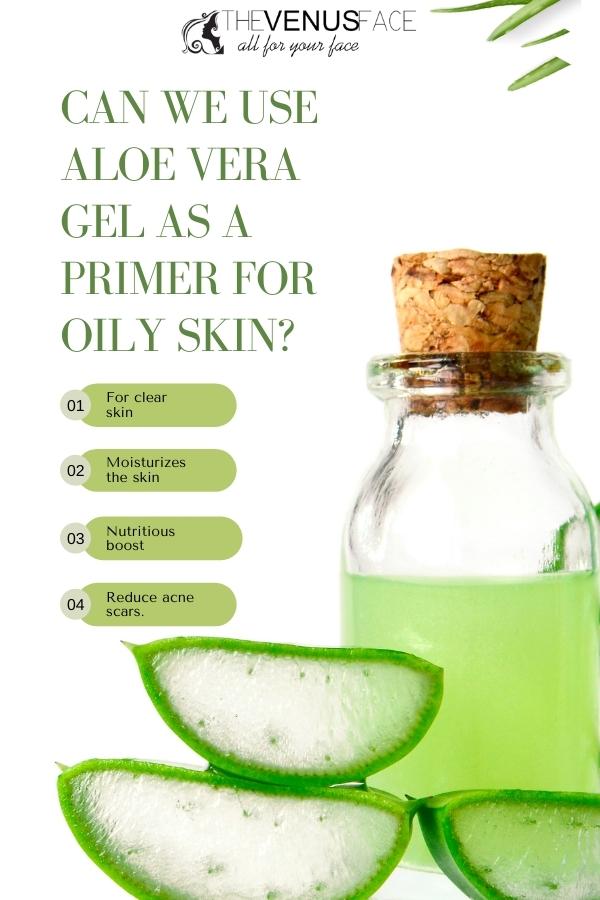 As an Amazon Associate, I earn from qualifying purchases
Does aloe vera help oily skin?
Yes, it does. Aloe vera is known to be a good moisturizer. Aloe vera gel can assist in softening dead skin cells and aid their removal, resulting in smoother, more radiant skin. It also has astringent properties that help tighten the skin pores and remove oil from the skin.
Will aloe vera gel make my skin oily?
No, it won't. Usually, applying aloe vera gel on the skin will not make it oily. It is a natural emollient that can help moisturize and nourish your skin. In fact, aloe vera is a godsend for those who want to treat oily skin naturally.
However, please note that as soon as you apply the aloe vera gel, it may look oily at first. This is normal because applying any gel will make your skin look oily for a few minutes. Wait 10-15 minutes until the aloe vera gel is absorbed completely into your skin, you will notice that your skin won't look oily anymore.
Best aloe vera gel for oily skin
How does aloe vera help oily skin?
Aloe vera's astringent qualities can assist with the dissolution of built-up oil. It has both natural astringency and a tightening and toning effect on pores.
Oily and blemish-prone skin has been found to have fewer antioxidants than healthy skin, which also makes it more susceptible to free radical damage.
Aloe vera is high in vitamins A, C, and E, all of which are antioxidants. Antioxidants defend the skin from outside irritants that induce inflammation, which can lead to wrinkles, acne, and a slew of other skin problems.
Is aloe vera gel a good moisturizer for oily skin?
Yes, it is. For people with oily skin, aloe vera gel is an excellent moisturizer. It hydrates your skin without making it look oily. Besides that, aloe vera gel also has soothing and anti-inflammatory effects, making it a powerful ingredient for treating redness caused by acne. Moreover, since aloe vera is non-comedogenic, it won't clog your pores.
With all these benefits, needless to say, aloe vera gel is not only a "good moisturizer" but also a very ideal moisturizer for oily skin.
How to use aloe vera for oily skin
Aloe vera can be used in a number of ways to help treat oily skin. You can use it as a skin-loving ingredient in many skincare recipes:
The use of these godsend leaves is not limited to topical application, you can also drink it as a detoxifying and cleansing juice. It is a good source of antioxidants, vitamins, minerals, essential oils, and enzymes that are essential for the overall health and beauty of your skin.
Homemade aloe vera moisturizer for oily skin
At this point, you may want to know how to make your own aloe vera moisturizer for oily skin. Here is a simple recipe you can use:
Ingredients:
How to make:
In a jar, add 1 tablespoon of aloe vera gel
After that, continue to add 6-9 drops of tea tree essential oil
Stir the mixture until well-blended. Store in a cool place
To know more moisturizer recipes for oily skin, you can check this blog post: 7 DIY Moisturizers for Oily Skin Recipes + 9 Great Essential Oils. This article will guide you on how to make the best moisturizers with easy-to-find ingredients for oily skin at home.
How to apply aloe vera on oily skin
It is easy to apply aloe vera gel on oily skin. Simply wash your face with a gentle cleanser and pat dry. Then, apply an even layer of aloe vera gel to your face and massage gently in a circular motion for 1-2 minutes. You can apply it before going to bed and wash your face after waking up in the morning.
Aloe vera gel can be used daily as a moisturizer for oily skin. The ideal time to use it is immediately at night time. Using aloe vera daily should give you cleaner, softer and well-moisturized skin, and you can notice the difference in about 4-8 weeks.
More: Best Primers for Oily Skin That You Must Know!
Final thought
Aloe vera is one of the favorite natural ingredients for those with oily skin because of its benefits. If you haven't tried this godsend herb yet, go grab a bottle of aloe vera gel and start using it daily. Or trying skincare/makeup products with aloe vera as the ingredient is a good idea as well.
F.A.Q
Does aloe vera clog pores?
No, it doesn't. Aloe vera has a comedogenic rating of 0 (non-comedogenic), which means it does not clog pores.
What can I mix with aloe vera for oily skin?
Depending on your skin type, you can mix aloe vera gel with natural ingredients such as honey, tea tree oil, lavender essential oil, lemon juice…Just make sure that you know the recipes before making them. Have a look at this blog post to know how to make facial masks with aloe vera and other easy-to-find ingredients.
Is it OK to leave aloe vera gel on the face overnight?
Yes, it is. You can leave it on for as long as you want. It is non-comedogenic which is why it will not clog your pores. In fact, this is the most effective way to use aloe vera gel on the skin.
References: https://www.ecowatch.com/8-health-benefits-of-antioxidant-rich-aloe-vera-1882032355.html