Let's be honest, we all have days when our skin is a mess. Whether it's because of the weather or an unexpected breakout, there are times when you need a quick fix for your complexion. Have you tried everything and still can't find a solution for your acne-prone, oily skin? Well, then it's time to try something new! Making your own face mask is the perfect way to save some cash while getting exactly what you need. This blog post will go over some of our favorite homemade face masks for acne and oily skin. Making homemade face masks for oily acne-prone skin is not as difficult as it seems. In fact, this will be a great opportunity to use up leftovers, so you'll learn how to make some DIY face masks with things found in your pantry.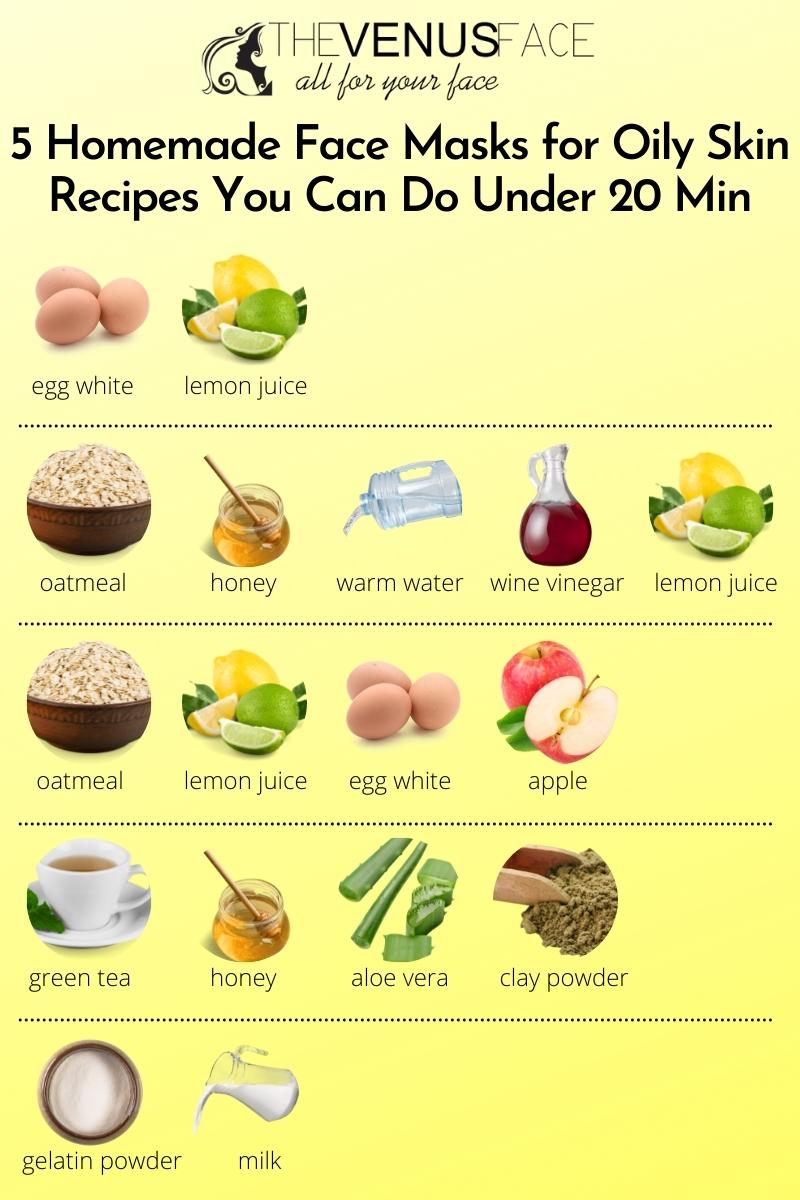 As an Amazon Associate I earn from qualifying purchases
DIY face mask for oily skin with eggs and lemons
Egg whites can be used as a homemade face mask to fight acne and greasy skin. Egg masks can also protect your face from sunburn and blisters. Moreover, eggs are high in protein, which aids in the healing and development of tissues as well as promotes wrinkle-free skin. Along with protein, eggs contain nutrients such as vitamins A, D, and E which may benefit the skin in more ways than one. The potassium content in egg whites is ideal for moisturizing your skin cells and keeping the moisture in them. The potassium content of one egg white is about 54 mg, which may assist with skin clearing.
Ingredients & tools:
How to make:
In a bowl, add 1 egg white and the juice of half a lemon together.
Whisk the mixture until it's frothy.
Before applying the mask, wash your face with lukewarm water.
Using a facial brush or cotton pad, apply a thin layer of the mixture to the face. Do not let the mixture get inside your eyes.
Allow 10-15 minutes for the face mask to be effective.
Finally, wash off your face with lukewarm water.
To separate egg whites from egg yolks, you can use the following methods:
Using a slotted spoon: this is the easiest method, simply put the slotted spoon over a bowl and then crack the egg into it, the spoon should hold the yolk while the egg white drip into the bowl.
Using a normal spoon: crack the egg into a bowl, then simply use a spoon to scoop the yolk out, this technique may not cleanly isolate the egg white from the yolk, but it is still acceptable since face masks need only the egg white and not the yolk.
Using an empty plastic bottle: crack the egg into a bowl, then squeeze an empty plastic bottle, while the bottle is being squeezed, place the bottle's mouth on top of the yolk, finally release your hand slowly, the bottle should suck the yolk into it, leave the egg white in the bowl.
More: Is Lemon Good for Oily Skin? 6 Lemon Juice & Lemon Oil Recipes
DIY face mask for oily skin with oatmeal
Colloidal oatmeal is a wonder food for the skin. First, it can help moisturize dryness and scaling by containing antioxidant properties that prevent cells from aging. Colloidally-extracted saponins in this ancient granular cereal not only provide nourishment but also act like soap, removing dirt and bacteria from your pores while leaving them cleanly moisturized! The ingredients found within colloidal oats include beta-glucans that absorb moisture making them quite beneficial for people who suffer from oily skins.
Ingredients & tools:
How to make:
In a bowl, add 3 tablespoons colloidal oatmeal, 1 teaspoon honey, ¼ cup of warm water, 1 teaspoon white wine vinegar, and 1 teaspoon fresh lemon juice
Stir the mixture until well-blended.
Before applying the mask, wash your face carefully with a cleanser.
Gently massage the mask over your skin, moving in circular motions as you go.
Leave the face mask for about 5 minutes.
Finally, carefully wash your face with warm water to remove any residue.
More: Is Honey Good for Oily Skin? How to Use It Properly?
Homemade face mask for oily skin with apple, lemon, egg, and oatmeal
Now you know how useful eggs and oatmeals are. What if you could combine them into a single recipe to get the most out of it?
Ingredients & tools:
How to make:
In a bowl, combine ½ cup oatmeal, 1 tablespoon lemon juice, 1 egg white, and ½ mashed apple
To make a paste, thoroughly stir the mixture until well-blended.
As usual, wash your face with lukewarm water before applying the mask.
Then apply the mixture to your face
Allow 15-20 minutes for the face mask to soak in.
Finally, wash your face thoroughly with lukewarm water as usual
By eliminating germs and extra oils, the apple's nutrients improve your skin's health. It has the ability to soothe the skin while also producing rosy cheeks! Apart from that, apple juice can be used to lighten greasy skin.
Besides that, lemon juice in this recipe cleanses and detoxifies your skin, while its citric acid acts as an astringent to help tone and control oily skin.
DIY face mask for oily skin and blackheads with green tea, honey, clay & aloe vera
Pimples, acne, blackheads – if you have oily skin and are struggling with these skin problems then this homemade face mask is for you. This mask will help get rid of any excess oil, clean out pores and prevent future breakouts! It's also great for all skin types but especially oily or combination skin. Check it out to see how to make your own at home:
This is one of the finest overall masks for moisturizing and softening the skin, improving suppleness, absorbing extra oil, and preventing breakouts and acne.
Ingredients & tools:
How to make:
In a bowl, add 2 teaspoons of green tea, 1 teaspoon of honey, 1 tablespoon of aloe vera gel, and 2 teaspoon clay
Stir all of the ingredients together until they are completely combined.
Wash your face with lukewarm water or with a cleanser
Apply the mixture to your face, and avoid eye areas.
Leave the mixture on your face for around 20 minutes
When the mask is dry and beginning to show cracks, use lukewarm water on your face to remove it.
Your skin should feel smooth, soft, and comfortable. It's kinda satisfying!
Aloe vera is a hydrating plant; it moisturizes the skin without leaving it greasy. It's ideal for people with an oily skin tone since it does not make their skin greasy. Besides that, it contains anti-inflammatory chemicals that help to destroy acne-causing germs. Moreover, aloe vera also helps to treat sunburn, prevent aging, and reduce stretch marks. More: Using aloe vera gel as a natural primer.
Clay masks remove extra oil from your pores by applying one to your face. Many people believe that green clay is the most effective at eliminating oil from their skin.
Honey is a well-known skin treatment in nature. Its antibacterial and antiseptic properties may help oily and acne-prone skin.
Green tea's antioxidant, anti-inflammatory, and antimicrobial properties might make it an effective treatment for both acne and greasy skin. The polyphenols in green tea, when applied to the skin, aid in the reduction of sebum production, which can cause acne. Moreover, tea tree oil is used widely to treat greasy skin.
More: List of top peel-off masks for greasy faces on the market
DIY face mask for oily skin and blackheads with gelatin powder & raw milk
One thing that you can use to reduce excess oil on your face, or any area of your body for that matter, is raw milk. Not only does this help to reduce excess oil, but it also helps fight against the bacteria that contribute to acne.
A gelatin face mask is perfect for those with acne or who want to clear up their skin. This ingredient pulls dirt and environmental pollutants from pores while also removing excess oil.
Now we are going to combine 2 great ingredients into 1 recipe to make a face mask that beat oily skin with blackheads.
Ingredients & tools:
How to make:
In a microwave-safe bowl, combine 1 teaspoon of gelatin powder and 1.5 teaspoons of milk. Stir the two ingredients thoroughly.
Heat the mixture for around 10 seconds on medium.
Take out the bowl, allow it to cool down for 5-10 minutes
As always, wash your face with lukewarm water or ideally, with a cleanser
Apply the mixture on your face, wait for about 30 minutes.
Finally, remove the face mask using lukewarm water
More: List of Best Store-Bought Face Masks for Oily Skin
Final thought
While there are many homemade face masks for acne, oily skin, and blackheads on the market today, try to make your own face mask once if you have spare time. Whether you have an allergy or sensitivity to certain ingredients in store-bought products or want more control over what goes into your mask, making one at home is a great way to customize treatment while saving money. We hope that this article has given you some ideas about how different ingredients might help with specific problems like breakouts and excessive oil production without leaving your skin feeling greasy or tight. If you need advice on which DIY mask recipe will work best for your needs then let us know!