Learn how to DIY facial scrubs for oily skin that are easy to make!
A facial scrub is a formulation that acts as a cleanser for the skin. The term "facial" is used as it is applied to the face. It usually consists of a cream-based product that contains little exfoliating pieces that, when massaged across the skin, help smooth the skin by removing all the dirt from your skin pores.
Facial scrubs can provide several advantages, including brighter skin tone and texture, unclogging pores, fading blemishes and scars, improving skincare absorption rate, and combating signs of aging.
Oily skin is usually the culprit of acne, so it's important to use a face scrub with anti-acne properties. People suffering from an oily complexion often experience clogged pores as their excessive sebum oil provokes blackheads and whiteheads. Thus, facial scrub is the ideal choice for oily skin, especially since it helps to dissolve and remove impurities.
In this guide, we will show you how to make your own DIY facial scrub for oily skin with simple ingredients that you already have in your kitchen or that you can easily purchase from your local supermarket.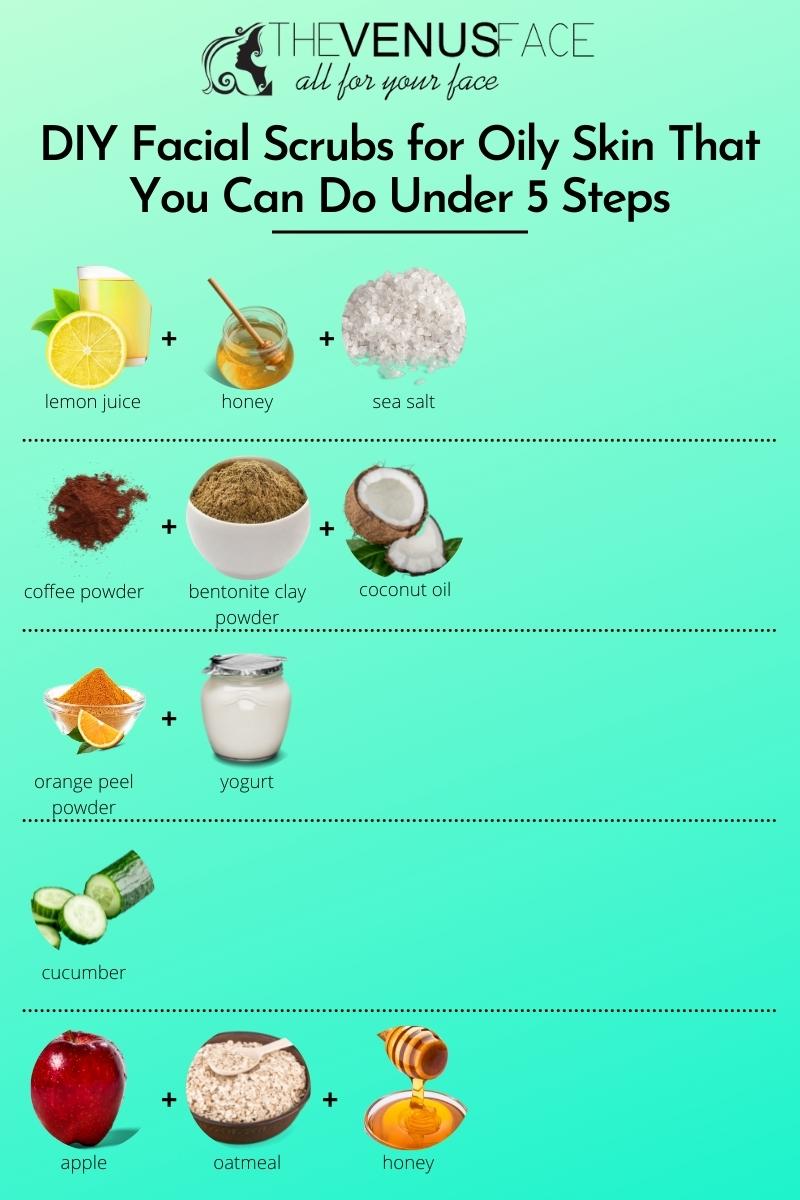 As an Amazon Associate I earn from qualifying purchases
Homemade face scrub for oily skin with sea salt, lemon & honey
Sea salt cleanses and opens up the skin pores, increases blood flow, corrects greasy skin, and hydrates the tissues. Your skin will be softer as a result of this treatment.
Lemon juice has a natural brightening effect on your skin, as its citric acid acts as an astringent to help tone and control greasy skin.
One of nature's most revered skin remedies, honey is an antibacterial and antiseptic that provide relief for oily and acne-prone skin.
Ingredients:
How to make:
In a bowl, add 2 two tablespoons of lemon juice
Next, add 2 two tablespoons of honey
Then, add 1 tablespoon of sea salt.
Finally, stir the mixture until well-blended
Before applying this facial scrub, wash your face with water first. Allow the mixture on your face for around 10 minutes before washing it off with warm water.
Homemade scrub for oily skin with coffee
Coffee is an excellent exfoliator and helps in stimulating blood flow, which reduces acne and even cellulite and stretch marks. Important coffee face pack benefits are that its rich antioxidants kill dead cells and remove impurities, making skin smoother and brighter looking. More: How Often Should You Exfoliate Your Face if You Have Oily Skin?
Coffee is not only a great way to start your day, but also one of the most excellent exfoliators. It can be used as an acne treatment, removing impurities from the body while stimulating blood flow for better circulation of healthy cells.
The antioxidants in coffee can help decrease inflammation and unsightly redness if you have acne. Coffee's antioxidants and caffeine make it a powerful anti-inflammatory agent.
Ingredients:
How to make:
In a bowl, add 1 teaspoon of coffee powder
Next, add 1 teaspoon of bentonite clay powder
Stir until well-blended
Continue adding 1 teaspoon of coconut oil
Finally, stir the mixture thoroughly
Massage this scrub on your face for around 5-10 minutes. Then wash your face off with water.
DIY face scrub for oily skin with orange peel and yogurt
Orange peel contains vitamin C, which helps clean and treat greasy skin. Also, vitamin C promotes collagen and elastin formation, both of which aid in the tightening of the skin. Furthermore, the antibacterial properties help prevent and treat acne while also fading scars.
Yogurt is particularly beneficial for those with oily skin or those prone to breakouts because its zinc content regulates oil production and works as a mild astringent. It also carries anti-bacterial and anti-fungal properties.
Yogurt is great for those with oily skin or breakouts because the zinc in it regulates oil production and acts as an astringent to clean up your pores. Besides that, yogurt also has antibacterial & antifungal properties that help to prevent and treat your acne.
Ingredients:
How to make:
In a bowl, add 1 tablespoon of orange peel powder
Next, add 1 tablespoon of yogurt
Stir the mixture well
Pour a small amount into your hand and massage it on your face for 5-10 minutes. Then wash your face off with water.
DIY face exfoliator for oily skin with cucumber
Cucumbers are a great way to cleanse your skin and tighten pores. Cucumber's mild astringency may help reduce breakouts, which will decrease the chance for acne-causing bacteria or dirt particles lodged deep in those pesky pustules!
Ingredients:
How to make:
Peel a cucumber
Next, use a blender to crush the cucumber. If you don't have a blender, you can use a grate to grate it.
Finally, pour the mixture into a jar. Store it in a refrigerator.
Wash your face with warm water before applying this mixture, after that wash your face again with cold water. You can use this scrub 2 times a week.
Homemade exfoliator for oily skin with oatmeal and apple
Oatmeal has been used for centuries as a natural means of absorbing excessive sebum and reducing shine. The best way to use this exfoliant is by masking your face with it! Oatmeals' absorbent nature quickly pulls up any excess oils from around pores, leaving you looking clean without being greasy at all – just smooth matte skin that will last all day long thanks to its moisturizing properties.
The benefits of apples are endless. One way they can help you is by getting rid of bacteria and excess oil from your skin, which will result in a rosy complexion! Apples also work well for lightening up oily complexions as well as soothing them after too many hours at the office or school desk (if that's what got ya!).
Ingredients:
How to make:
First, take half of an apple, peel it, then grate it. You can use a blender instead of a grater.
In a bowl, add the crushed apple
Then, add 1 tablespoon of oatmeal
Next, add 1 tablespoon of honey
Finally, stir the mixture well
For a minute or two, use this exfoliator gently on your skin. You can use this scrub 1 once a week.
Final thought
There are a variety of homemade face scrubs for oily skin you can make at home. In this article, we have provided instructions on how to create different types of facial scrub with various ingredients. There is a variety of ingredients that will work well depending on your preference- oranges, yogurt, or even apples! We hope these recipes help provide relief from the excess oils associated with an "oily" complexion as well as reduce breakouts without being too harsh or drying out your skin. Now that you know how to exfoliate oily skin, what are you waiting for? Give it a try and let us know your thoughts!