Learn how to do homemade toners for oily skin within 5 steps!
Toner, as the name implies, is a lotion, tonic, or wash used to cleanse and shrink pores on the face. It also moisturizes, protects, and rejuvenates the skin.
Tones are beneficial for oily skin since they pierce the pores and offer a more thorough cleaning as well as help to balance your skin's PH level. Furthermore, toners can be used to remove any excess oil, which is a major cause of acne. It also mattifies the skin and offers us non-greasy skin.
This article guides you on how to make homemade toners for oily skin at home. DIY toners are not necessarily difficult to make, in fact, they are very easy, cheap, and effective. It's simple to get the components required to produce your own toners, as they're all over the store.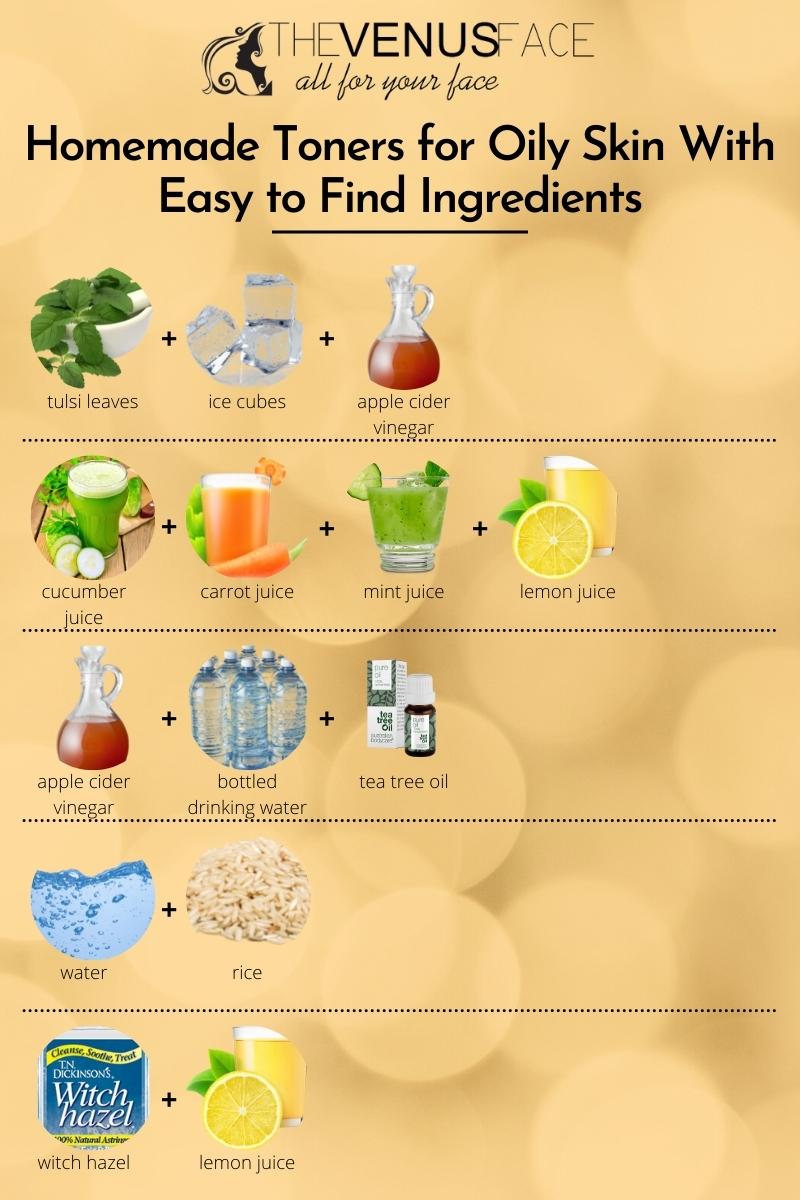 As an Amazon Associate I earn from qualifying purchases
DIY toner for oily skin with apple cider vinegar and tulsi leaves
Apple cider vinegar, which is made up of acetic acid and alpha hydroxy acid, has anti-inflammatory effects. This indicates that apple cider vinegar can exfoliate your skin, remove any extra oils, and unclog blocked pores. It also can return your skin's pH levels to normal.
Tulsi leaves' antifungal, anti-inflammatory, and antibacterial properties help to cleanse the blood and eliminate pollutants and germs from the skin.
Ingredients:
How to make:
Add tulsi leaves in a vessel, pour in some water, then heat water in the vessel. Let it simmer for about 15 minutes over low heat
Now place another bowl inside the vessel so that the distilled water gets collected in the bowl
Then, put the pot's lid on with some ice cubes on top of the lid to quicken the process
Just let the water simmer for 15 minutes more
After that, turn off the heat, and let it cool down
You'll notice water collected in the bowl if you take off the pot's lid, which is tulsi-distilled-purified water. Carefully take the bowl out of the vessel.
Finally, in a jar, mix 50ml of apple cider vinegar and 150ml of tulsi-distilled-purified water. Store the jar in a cool place.
After washing your face, apply a small amount of this toner directly to a cotton pad and wipe away any excess oil. In just a week, you'll notice a difference and an improvement in your skin. It is recommended to use this toner every morning and evening.
DIY face toner for oily acne prone skin with cucumber, carrot, mint & lemon
These vegetables are very healthy for oily skin.
Dead skin cells and oily skin can clog pores, causing acne. Cucumbers — which are slightly astringent — may help cleanse the skin and shrink pores. Besides that, you might have noticed that your skincare products contain vitamin A in the form of retinoids and tretinoin. If you're suffering from oily skin, carrots are a great way to reduce it because they offer tons of Vitamin A!
And mint is a powerful ingredient that can be used to fight acne. Mint contains salicylic acid and vitamin A, which will dry up your skin's moisture while also cleaning out pores for a clearer-looking complexion! Lemon juice, on the other hand, is a natural beauty essential, it has been proven to brighten and tighten skin, as well as control oily conditions thanks to its citric acid.
Ingredients:
Cucumber juice
Carrot juice
Mint juice
Lemon juice
How to make:
In a bowl, add 4 teaspoons of cucumber juice
Continue adding 2 teaspoons of carrot juice
Next, add 1 teaspoon of mint juice
Finally, add 1 teaspoon of lemon juice
Stir the mixture well
Pour the mixture into an ice tray, store in the freezer
When it gets frozen, take 1 ice cube and rub it on your face
Because this toner can be stored in the freezer, you can make a large quantity for future use.
DIY facial toner for oily skin with tea tree oil
Tea tree oil is a great skincare remedy for blemished, oily, or acne-prone skin, which is why it's often regarded as the finest natural treatment for acne. Tea tree oil is a type of natural antiseptic that can combat oily skin.
Ingredients:
How to make: 
In an empty spray bottle, add 100ml apple cider vinegar
Next, add 100ml filter water. You can use bottled drinking water.
After that, add around 10 drops of tea tree oil
Put the cap on, shake it well
Use this toner twice a day, after waking up and before going to bed.
Homemade facial toner for oily skin with rice water
Rice water is an ancient natural remedy for many skin problems including oiliness. Those with oily or greasy complexions can rinse their faces in rice-based solutions because it not only helps reduce the problem but also has astringent effects which help to protect your face from breakouts and acne as well.
Ingredients:
How to make:
Add a handful of rice into a bowl
Continue adding 1 large cup of water to the bowl
Now use your hand to mash/crush the rice carefully; after a while, you can see that the water become cloudy. It is rice water. Try to mash the rice as thoroughly as possible.
Finally, pour that rice water into a jar, store it in a fridge (you just need the rice water only, you can cook the mashed rice for a meal)
This toner can be used at night, just use it to wash your face before going to bed.
Homemade toner for oily skin with witch hazel & lemon juice
Witch hazel is a remedy that can be used for those suffering from acne. It works by removing excess oil, and this helps to clear up your complexion as well. Witch hazel contains astringents to tighten, reduce pores size.
Ingredients:
How to make:
In an empty spray bottle, add 1 cup of witch hazel
Continue adding 5-10 drops of lemon juice
Finally, put the cap on the bottle, shake it well
You can store this toner in a cool place. It is recommended to use this toner twice a day.
Final thought
So, we've explored a few different recipes for making your own toners with ingredients that may be more suitable for oily skin.
While there are several toners available at the store, it's fun to make your own. Whether you want a natural recipe or one with some added benefits from essential oils, there are plenty of options available!
If you have any questions about these DIY facial toner ideas or how they can help improve the appearance and health of your complexion, feel free to leave a comment.
We hope you've found some recipes for homemade toners that will work well with your skin type!