Is vitamin C good for oily skin? Yes, vitamin C offers many benefits to the skin. Studies have shown that applying vitamin C to the skin results in a decrease in the appearance of fine lines and wrinkles. However, those with sensitive skin should still proceed with caution when using this ingredient as it could cause irritation if used incorrectly.
Vitamin C is required for the growth, development, and repair of all body tissues. It's involved in a variety of bodily processes, including the formation of collagen, iron absorption, immune system function, wound healing, and cartilage maintenance.
In skincare, it is known to be a potent antioxidant and can generally help to reduce the signs of aging. It also has some sun-protective benefits, which protect your skin by blocking UVA/UVB sun rays.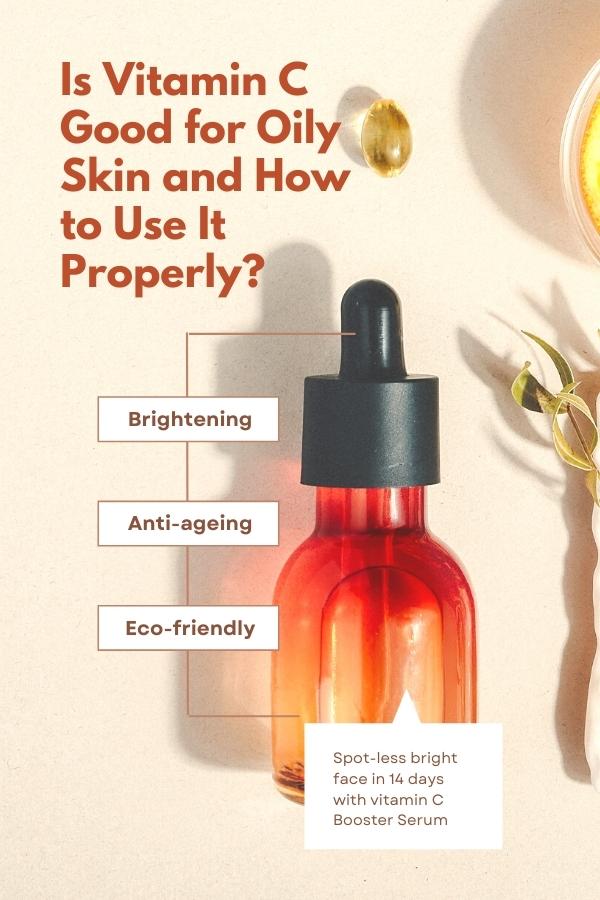 As an Amazon Associate, I earn from qualifying purchases
Is vitamin C serum good for oily skin?
Yes, it is. Vitamin C is a potent antioxidant that can benefit severely damaged, oily acne-prone skin. It aids in the treatment of acne inflammation and damaged skin while also enhancing skin texture and health. Using it daily can help control excess oil and help reduce, and potentially even heal acne. Normally it takes a couple of months to see results. One should also use an oil-free sunscreen when using a vitamin C serum to protect the skin from sun damage and promote collagen production in the skin.
Best vitamin C serums for oily skin
More: List of Best Serums for Oily Skin
How to use vitamin C serum for oily skin?
Vitamin C serum is usually packed in a dropper bottle that will dispense an exact dosage, this makes it easy to control the amount of serum applied. Here is a step by step to apply the serum to the skin:
Wash your face thoroughly with a cleanser designed for oily skin
(Optional) Use an astringent to remove any excess oil and dirt
Apply the vitamin C serum on the face, 5-7 drops should be enough. Use your finger to massage the serum in a circular motion.
Allow 5-10 minutes for the serum to be absorbed into the skin
Now that you have applied the serum. The next step is to continue applying other skincare or makeup products as usual. Note: remember to patch test the serum on your hand before applying it all over your face.
When to use vitamin C serum for oily skin?
The ideal time for applying is in the morning, before applying sunscreen or makeup. Some people prefer to use it at night because they feel that vitamin C will work better on their skin when not exposed to sunlight and pollution. Generally, vitamin C products should be used in the morning before going out for the day, when UV radiation is at its peak. However, there is really no rule against using these products at night. If you want to apply before going to bed, you are free to do so.
More: Why Is My Skin So Oily When I Wake Up?
How often should I use a Vitamin C serum?
Many beauty bloggers recommend using a vitamin C serum twice daily, once in the morning and again just before bedtime. Although some people have reported success with using a vitamin C treatment only once or three times per week, most dermatologists agree that you need to build up your skin's tolerance over time in order for any benefits of vitamin C serums to be realized. Alternatively, if you have very sensitive skin, try starting every other day and gradually increasing the frequency.
Can vitamin C cause oily skin?
Not if you use it correctly. Vitamin C products are actually good for oily skin. Just remember to read and follow the instructions and you will be good to go.
More: Is Vitamin E Good for Greasy Skin?
DIY remedies for oily skin that are high in vitamin C
This blog presents many homemade recipes for oily skin that you may want to check. Here are some recipes that contain vitamin C:
More: Best CC Creams for Greasy Skin Picked by Cosmetologists
Final thought
Oily skin is a common skin type that can be frustrating to deal with, especially when you're trying to find the right skincare products. Thankfully, vitamin C offers many benefits for oily skin and can help control excess oil while also reducing the appearance of wrinkles and acne. In this article, we've outlined how to use vitamin C serum for oily skin and shared some tips on how to get the most out of this potent antioxidant. So if you're looking for an all-in-one solution to your oily skin woes, give vitamin C a try!
References: