Learn 7 DIY moisturizers for oily skin recipes and 9 essential oils.
It is essential to take care of your skin. If you have oily skin, there are certain precautions that you should be taking in order to make sure that your skin is clean and moisturized.
Many people think it's unnecessary to use moisturizer if you have oily skin, but that isn't true. You can still need hydration even though your face might be oozing! For example, a lavender lotion will soothe and replenish what gets lost with sweat or other factors leading up too quickly turning into an all-over greasy mess (oily).
Sure you can always order a store-bought moisturizer; however, it is much more fun and interesting to take a few minutes and make one yourself. Besides that, making your own DIY moisturizer for oily skin has many benefits such as avoiding all of the chemicals and extra things that can be found in store-bought moisturizers, you get to decide how it will smell, and you know exactly what is going into your skin.
In this post, you'll discover how to make your own homemade moisturizers for oily skin with ingredients that can easily be found in any supermarket.
More: Greatest microcurrent machines for every skin type.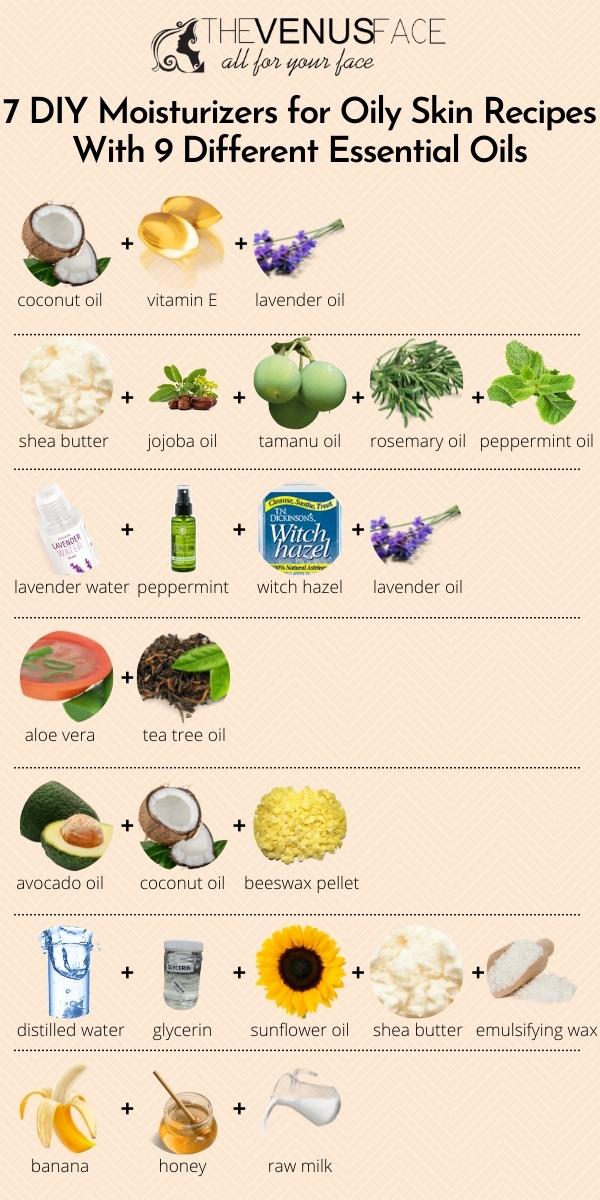 As an Amazon Associate I earn from qualifying purchases
DIY face moisturizer for oily skin with coconut oil
Coconut oil is one of the godsend ingredients to get rid of bacteria causing acne thanks to its lauric acid. It can also be applied directly to your skin to eradicate the bacteria and increase moisture for the skin.
Ingredients:
How to make:
In a small jar, add half a cup of coconut oil
Continue adding 1 teaspoon of liquid vitamin E
Then, add 5-7 drops of lavender essential oil
Put the cap back on the jar. Shake it well.
Store this moisturizer in a cool place.
Use it on your face after waking up and before going to bed to help keep your skin moist and healthy. 
DIY facial moisturizer for oily skin with jojoba oil & shea butter
There are a number of benefits to using jojoba oil. It can help prevent acne, which is a major concern for many people with oily skin. People who have clogged pores find that jojoba oil helps to keep them from being overworked and ultimately having a positive impact on their skin. Jojoba oil also has a moisturizing effect that provides comfort and soothes the skin.
Talking about shea butter, it offers many benefits for oily skin, includes: dissolving stale oil on the surface of the skin, preventing future outbreaks of oily skin by controlling sebum production, and moisturizing dry patches on the skin.
Therefore, a jojoba-oil-and-shea-butter-based moisturizer is a fantastic concept.
Ingredients:
How to make:
In a small jar, add 1 ounce of shea butter
Continue to add 3 ounces of jojoba oil.
Now place the small jar into a bowl
Pour hot water into the bowl, don't let the water get inside the jar.
While the jar is still in the hot water, stir the mixture thoroughly until well-blended
Next, remove the jar from the bowl
Then, add 1 ounce of tamanu oil, 5 drops of rosemary oil, and 3 drops of peppermint oil
Stir the mixture well.
Finally, store this moisturizer in a cool place
As usual, it's best to apply it twice a day, after waking up and before going to bed. Ideally, use a cleanser/face wash before applying this lotion to get the most out of it.
Homemade face moisturizer for oily skin with lavender oil, witch hazel, and peppermint
The lavender essential oil is good for the skin because it has antibacterial properties that can reduce acne-forming bacteria. It also reduces redness and inflammation, which are often caused by acne. Moreover, it can help to eliminate dirt and other debris from your pores while also clearing your skin.
Many individuals have oily skin by nature; however, an accumulation of excessive oil might produce a shiny look, clogged pores, and acne. Witch hazel can help remove extra oil from the skin, which is why it's beneficial for people with acne.
Ingredients:
How to make:
In an empty spray bottle, add 2 tablespoons of lavender water
Continue to add 1 tablespoon of peppermint water
Next, add 1 tablespoon witch hazel
After that, add 4 to 9 drops of lavender oil
Put the cap back on. Shake it well. Store in a cool place.
Make certain you use the entire bottle within five months because after six months, it loses its effectiveness and might germinate bacteria.
Homemade aloe vera moisturizer for oily skin with tea tree oil
Aloe vera and tea tree oil are excellent for treating oily skin.
Aloe vera is a natural remedy for all sorts of skin issues, but it really shines in the treatment of oily complexion. When ingested or applied topically to your face; Aloe will help cleanse pores while also regulating sebum production with its astringent properties that tighten and tone overall appearance! And tea tree oil's antiseptic qualities might be responsible for its ability to treat oily skin.
Now we are going to make a moisturizer using these 2 ingredients.
Ingredients:
How to make:
In a jar, add 1 tablespoon of aloe vera gel
After that, continue to add 6-9 drops of tea tree essential oil
Stir the mixture until well-blended. Store in a cool place
As easy as that!  It only takes 5 minutes to make the ingredients for this DIY moisturizer! As always, make sure to clean your face using a cleanser/face wash before applying this moisturizer. This organic face moisturizer is good for 7-8 days if kept in an airtight container.
DIY oily skin moisturizer with avocado oil & coconut oil
Avocado oil may be used as a moisturizer without leaving an oily residue if used correctly. It can also be applied to the skin and left on for brief periods of time before being washed with warm water. Avocado oil has anti-inflammatory properties that may help to decrease redness and inflammation caused by acne.
Now we are going to combine these 2 oils into 1 moisturizer recipe.
Ingredients:
How to make:
Add one-third of a cup of avocado oil into a glass jar
Continue to add 2 tablespoons of coconut oil and 2 tablespoons of beeswax pellets into the jar.
Now pour some water into a pot, place the pot on a stove, then put the glass jar into the pot.
Next, turn the heat on (medium heat). You can see that the mixture is melting. Stir the mixture well.
Turn the heat off. Carefully remove the jar from the hot water.
Allow it 30-45 minutes for cooling down. Then pour the mixture from the glass jar into another jar.
Finally, put the cap back on and store the moisturizer in a cool and dry place.
Congratulation! Now you have just made your own moisturizer using all organic ingredients and without preservatives. So make sure to use it within 7 days, twice a day, after waking up and before going to bed. Using a cleanser before applying is recommended.
Natural homemade moisturizer for oily skin with sunflower oil
Sunflower oil is a great option for people with oily skin. It won't clog your pores and actually helps balance the natural oils in order to keep things looking healthy! Mature or mature-looking skins will benefit from sunflowers' moisturizing properties as well, including protecting against future damage caused by environmental stressors like UV rays exposure – even if you're not acne-prone this product should be on every dermatologist's shelf because it does more than just treat surface symptoms.
Ingredients:
How to make:
First, add 100 grams of distilled water and 3 grams of glycerin into a bowl
Next, add 21 grams of sunflower oil, 7.5 grams of shea butter, and 9 grams of emulsifying wax into another bowl
Now put both 2 bowls into the microwave for around 60 seconds until the mixture is totally melted
Take out 2 bowls, then pour the mixture from 1 bowl to another bowl
Use a cylinder to stir the mixture again
After that, add 2.25 ml of preservative into the mixture
Then, use the cylinder again to make everything is well-blended
Finally, pour the mixture into a small container, store it in a cool place
This recipe is more complicated than others; however, it's worth a try because it's absolutely natural and will balance your skin well.
Homemade oil-free moisturizer for oily skin with banana
The main component in this homemade moisturizer for oily skin is bananas. Bananas contain a lot of vitamin C and other useful compounds that help maintain the health of your skin.
Besides that, honey is a natural, treasured skin remedy. Honey has antibacterial and antiseptic properties, making it suitable for oily and acne-prone skin. Honey is also a natural humectant, which means it helps retain the skin's moisture without creating an oily feel.
And it has fantastic natural skin-brightening and moisturizing qualities in milk.
These 3 components work together to provide your skin with a stunning, youthful radiance. So we are going to combine bananas, honey, and milk in 1 single moisturizer recipe for oily skin.
Ingredients:
How to make:
First, put 1 banana into a bowl, then use a spoon to mash it until it forms a paste.
Continue to add 1 teaspoon of honey and 2 tablespoons of raw milk
Stir the mixture well until well-blended
You can apply this lotion for around 30 minutes, gently massage your face while doing so. Then wash your face off with water.
Final thought
There are a lot of natural ingredients that you can use as moisturizers for oily skin. Not only will these DIY products be much cheaper than store-bought versions, but they're also generally healthier and less harsh on your skin because of the chemicals typically used in commercial cosmetics.
That's it! You now know several different ways on how to make moisturizer with natural ingredients which are easily found in your kitchen. Try making any one of these recipes at home and see if it helps relieve some of the irritation caused by oils building up on your face! You'll feel better knowing exactly what's going into each product, too. And you will be able to see the difference in just a few weeks!