18 best primers for oily skin are elected based on real customer ratings and reviews. Only best sellers are recommended to you.
There is nothing more frustrating than going through the hassle of putting on a full face of makeup, only to have it melt off your face within an hour. If you're like me and suffer from oily skin, then you know how annoying this can be. However, there are some amazing products out there that can help with minimizing the look of your pores and keeping your makeup looking fresh all day long! Here's the list of best primers for oily skin.
Requirements to be considered as the best primers for oily skin
To be titled as Best Primer For Oily Skin, the products must comply with all of the requirements below:
Average customer ratings: 4.0 or higher
Average positive reviews: 80% or higher
To keep updated, only recent reviews are accepted
Old reviews are NOT taken into consideration
Only products reviewed by oily-skin customers are taken into consideration
To reduce fake reviews, we put more weight on Verified-Purchase reviews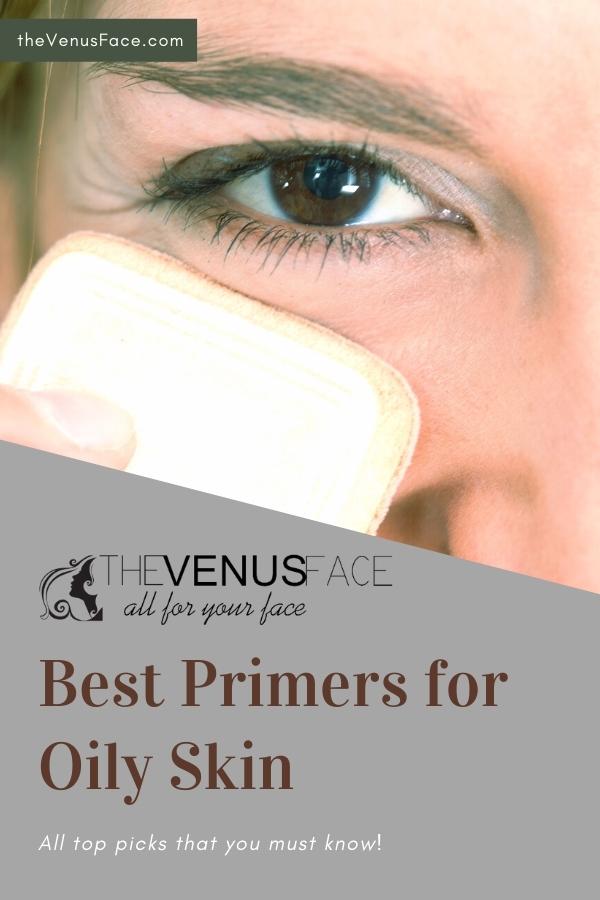 As an Amazon Associate, I earn from qualifying purchases
Best mattifying primers for oily skin
First Aid Beauty Hello FAB Coconut Skin Smoothie Priming Moisturizer
Whether you're looking for a primer or moisturizer, you'll love this thing. This cream contains coconut water and quinoa protein for soothing benefits-plus ultra-fine micro-pearls to make skin looks fresh, radiant, and healthy with every application. Apply this rich formula on your face before the foundation and see the difference: Your foundation will go on smoothly while staying in place once set up! And even though it's meant to be used as a primer for makeup purposes only, some customers swear to applying it throughout their day for added hydration. It leaves behind that refreshing summertime vacation glow we all long to see again when walking outside on a cold winter day!
More: Best blushes for oily skin according to customers
e.l.f. Mineral Infused Face Primer
This primer is infused with natural minerals to smoothly and evenly glide over your skin, promoting a soft and luminous finish. This primer's velvety texture will help blend away any dry patches on the surface of your face for a smooth and even look underneath makeup. So, if you're looking for that perfect canvas to paint on your full, glamorous makeup this day or night – use this silky-smooth formula as an essential step to achieving that flawless look!
Becca Becca Backlight Priming Filter
Ok, this primer is a ball of fresh air. It really transforms your skin by blurring imperfections and imparting a beatific radiance. The velvety formula goes on seamlessly under any foundation for the perfect finish. I had one client that said it reminded her of going to church as a little girl because she would see the pastor's face lit up from pure joy…well what better way to bless others than with this stuff?
StriVectin Line BlurFector Instant Wrinkle Blurring Primer
In a hurry? Want poreless, flawless skin with only one easy step? Then this primer is the answer! Deep wrinkles and lines are never an issue again when you put on this light-diffusing primer before your moisturizer or foundation. With intense coverage that lasts all day long, your foundation will glide on without any creasing or settling into those pesky facial lines. Dramatically blurs away deepened wrinkles for a youthful appearance within minutes of application! Put it to work for you now and have flawless makeup-ready skin in as little as five seconds!
Peter Thomas Roth Skin to Die For No-Filter Mattifying Primer
If Peter Thomas Roth was a person, then he would be like an artist's easel. He can create beauty that will last you all day with this mattifying primer. Say goodbye to oily skin thanks to this genius invention of AuraSpheres & Gransil EP-9 – everything your face needs to stay fresh all day! This product is also ideal for those not blessed with naturally flawless skin because its silky texture makes it easy to use without being too heavy or greasy. In just a few swipes, your pores will be smaller and less noticeable!
L'Oreal Paris Infallible Matte-Lock Mattifying Primer
This lightweight primer smooths over skin to adjust its texture so any foundation applied will effortlessly glide on ultra-smooth. It also boosts the staying power of your matte foundation, almost eliminating setting it with powder or adding more throughout the day. Wear this base for hours without getting any visible makeup transfer happening because our standard formulation contains no oils that might slip off onto your clothes. The result is a clean, professional application that lasts all day long with just an occasional quick touch-up. For those prone to breakouts or shiny skin, you'll love how well this keeps shine at bay while giving you a pleasant velvety finish when worn alone or beneath compacts and liquid foundations.
Best primers for oily skin and large pores
Smashbox Photo Finish Minimize Pores Primer
Smooth, shine-free skin all day long. Minimize the appearance of pores just day one— no matter your skin type! This product is an oil-free primer that instantly minimizes imperfections and leaves a soft matte finish on your face for hours of wear. Undertones are muted to minimize conspicuousness while also adding more depth to highlight your natural beauty. An extremely lightweight formula, this primer will give you the flawless finish you need in seconds so you can get on with doing what's most important—impacting change in people's lives!
Benefit Cosmetics the POREfessional Primer
The POREfessional Primer is perfect for simplifying your daily routine. In just a few seconds, the problem of large pores and fine lines has been minimized! The translucent formula helps smooth your skin so even your favorite makeup looks professionally done. A simple way to help you achieve a flawless look within minutes is by minimizing the appearance of pores in just a few seconds. Comes with Vitamin E, known to protect the skin from self-aging, giving you that vibrant glow! A key component in getting that enviable "no-makeup" look is having Photoshop-ready complexions when you step out the house–and what better way than with this silky primer?
Brandt Pores No More Pore Refiner Primer
This is not your average primer. The easy-to-spread formula instantly manages shine and eliminates pores, leaving skin smoother than ever before. Start your makeup routine with this one-step wonder for flawlessly blended coverage that lasts all day long. Say goodbye to oily skin! The product comes in elegant tube packaging with a lightweight cream texture that feels like silk when you apply it to your face; ensuring seamless makeup application every time because the lightweight formula won't clog pores or cause breakouts like heavier primers can do when applied too close to sensitive areas like eyelid creases (hello wrinkles!).
Mally Beauty Evercolor Poreless Face Defender
As a cosmetologist, I know makeup is supposed to make you look amazing and youthful. But when it doesn't go on evenly or make you look like an icky gray blob? That's not desirable either. Luckily, I have the perfect solution to help hide any imperfections while still giving you that "flawless" appearance you desire! This primer is literally the only product you need for your skin this season. This remarkable technology yields an utterly sheer, lightweight formula that helps reduce the appearance of pores, fine lines, and shine so that your makeup will last all day without running or flaking off into tiny grains of dust.
NYX Professional Makeup Pore Filler Blurring Primer
Bye-bye pores, hello matte foundation! The matte foundation has always been in trend but never works well on oily skin because it clogs your pores. Introducing NYX PORE FILLER BLURRING PRIMER for an oilier complexion that keeps the complexion smooth and without visible pores giving you a flawless base to work with – as if you had some photoshop magic worked on your face. Don't worry about those rough patches of dry skin creating their own unwanted shine; this primer keeps everything at bay and helps set your makeup for prolonged wear.
Elf+ Glow Primer Stick
This stick primer has the power to take your skin from drab to fab. It's formulated with coconut and shea butter for nourishment, which oils up your face so it feels soft to the touch. The subtle shimmer powder creates a gleaming effect on your complexion that's always in vogue. The primer stick is perfect for delivering an instant glow under any look-from medium to full coverage. It also works great as an eye brightener or lip plumper for those times you feel like getting creative!
Best oil-free primers for oily skin
Smashbox The Original Photo Finish Smooth & Blur Primer
In a world where cell phone cameras are in everyone's pockets, you're still likely going to be photographed every day. So, when your skin is at its best and your makeup flawless, you can take any opportunity with a cool head because you know the icing on the cake really is the cherry on top! Especially if it means not having to run around in search of a mirror for final touches because who has time for that? Get yourself primed and ready with this primer. This transparent primer gel instantly smoothes out your complexion while filling in pores, meaning there'll be no unwelcome spotlight from imperfections whatsoever.
Glo Skin Beauty Tinted Primer
Glo Skin Beauty Tinted Primer is the one product your makeup bag is missing. Gliding on smoothly with its silky texture, it provides essential mineral sun protection to block both UVA and UVB rays while providing sheer radiance or all-day coverage right before applying any foundation. Oily skin types are recommended, including sensitive skin types that need a little extra care in order not to create irritation or breakouts. This primer includes SPF 30+, allowing you to feel protected all day long even during outdoor activities—especially important considering our increased high risk for burning in recent years due to climate change issues.
More: List of best concealers for oily skin for a flawless makeup
Cover FX Blurring Primer + Pore Minimizer
Smoothing your skin and reducing the look of fine lines and pores has never been easier with Cover FX Blurring Primer + Pore Minimizer. Lavender brushstrokes combined with added Vitamin E, protect against free radicals and hydrate skin so your makeup goes on more easily while this silky primer blurs away pores with a soft-focus effect. Simply apply it alone or over makeup for an instant retouching balm to go from camera-ready in seconds!
Lancome La Base Pro Perfecting Makeup Primer
No products found.
You can't create a flawless look without giving your skin a better fighting chance. Kick dullness to the curb and protect with La Base Pro Primer from Lancome, which delivers beautifully complexion-enhancing coverage in all-seeing environments. It creates an invisible veil that is less dense than silicon or oil-based formulas, so you'll never have to worry about caking on the makeup when it comes off naturally instead of in clumps after a long day out in the sun.
Hourglass Veil Mineral Primer
Sure, don't we all love a great look that lasts? No one wants to deal with a foundation that balls up after two hours or those pesky pores and wrinkles that show through. But not anymore! With this mineral primer by Hourglass Veil, you can keep your makeup looking fresh for as long as 8 hours. It conceals redness (even rosacea) and minimizes the look of skin imperfections so no more need to worry about taking care of your skin before applying makeup. Now you can just enjoy the process and know it will turn out flawless every single time – even high-definition photos!
Wet n Wild Photo Focus Matte Face Primer
Don't you hate the struggle to find a makeup primer that doesn't make your skin breakout, clog pores, or cause excess oils? Get ready for that perfect "picture-ready" look with this brand new matte primer. The matte formula goes on light and provides an even base for makeup application – without all the shine. Oil-free formula helps reduce shine and provides a flawless finish while extending makeup wear by preventing cracking, fading, or creasing. A lightweight but super powerful formula containing Aloe Vera gel and Vitamin E creates everything you need in one bottle – minus the breakouts associated with other primers.
Final thought
There are so many different primers for oily skin on the market these days that it can be hard to know which product is best. We've put together a list of top 15 favorite primers for oily skin, so you don't have to waste your time trying out products until you find one that really suits your needs. From smoothing primer-like pore reducers and mattifying moisturizers, there are some great options in this roundup! Try them all 1 by 1 until you find the perfect match for your complexion type.
F.A.Q
What is the best matte primer for oily skin?
Check this list for some of the best matter primers for oily skin rated by thousands of customers on the most reputable e-commerce platform.
Is matte primer good for oily skin?
Yes, matte primer is good for oily skin. Some can help to control oil and keep your face from shining.
What can I use instead of primer for oily skin?
There are a few different things that you can use as an alternative to primer for oily skin. You can use a tinted moisturizer, a foundation, or a CC cream. Just make sure the products are designed for oily skin.
What is the best primer for oily skin and large pores?
This list contains some of the best primers for oily skin and large pores on the market. Generally, you may want the primer to be either oil-free, water-based, or non-comedogenic.
What is the best drugstore primer for oily skin?
This blog post lists off some of the best drugstore primers for oily skin on the market. Most of them are under $20 but still deliver decent results, you can check them out.