Learn how to stretch 4c hair in this blog post.
Stretching natural hair is a process of temporarily lengthening your strands by manipulating their curl pattern. If your goal is to achieve bone-straight hair, you'll need to use heat – either with a flat iron or by blow-drying your hair straight. However, if you're just looking for a little extra length and volume, there are several stretching methods that can be done without heat. In this blog post, we'll share some of our favorite ways to stretch natural hair, both with and without heat.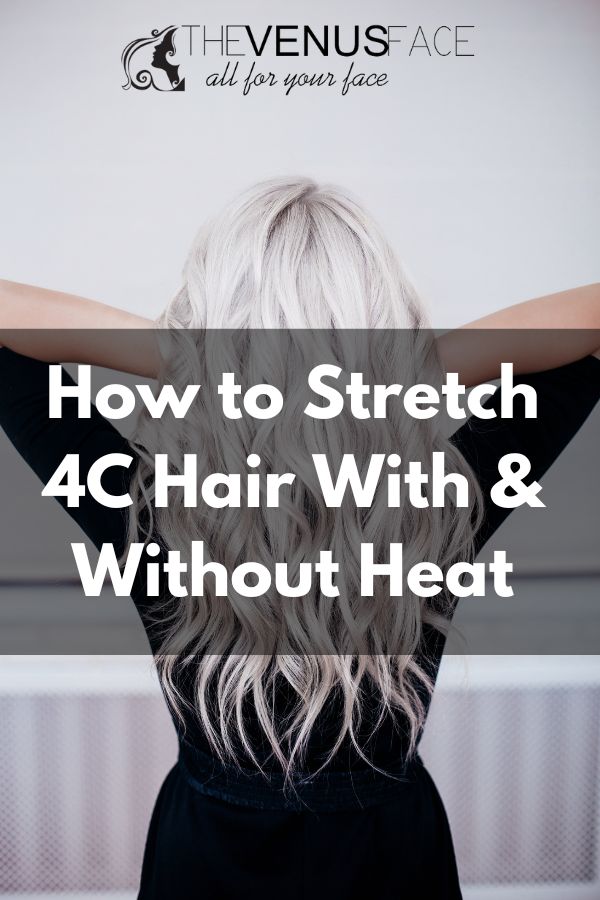 How to stretch 4c hair without heat
If you're looking to stretch your natural hair without heat, there are a few different methods you can try.
Banding method
One of the most popular methods for stretching 4c hair is known as banding. This method involves using small elastics to divide the hair into sections, which are then stretched and secured with clips. The advantage of this method is that it can be done on wet or dry hair, and it is gentle enough to be used on a regular basis.
To stretch 4c hair using the banding method, start by dividing the hair into four sections. Then, take a small elastic and wrap it around the base of each section. Clip the sections in place, and then use a wide-tooth comb to gently pull the hair taught. Leave the sections in place for at least 30 minutes, then remove the elastics and clip. Repeat this process on a weekly basis to maintain healthy, stretched 4c hair.
African threading
Another great way to stretch 4c hair without heat is by using African threading. It is a gentle and effective way to stretch out tightly curled hair, without the use of heat or chemicals. The method involves sectioning the hair and then winding thread around each section. This helps to loosen the curl pattern and make the hair more manageable. African threading can be done at home, or by a professional stylist. For best results, it is important to use a high-quality thread that is designed for 4c hair. The number of times the hair is wound will depend on the desired level of straightness. African threading can be done once a week, or as often as needed, to achieve the desired results.
Use curlformers
One way to achieve stretched 4c hair is by using curlformers. Curlformers are available in a variety of sizes, so you can choose the size that best suits your needs. When using curlformers, it's important to start with clean, damp hair. Once your hair is damp, section it off into small subsections and then carefully roll each subsection onto a curler. Once all of your hair is in curlformers, allow your hair to air dry or sit under a hooded dryer. Once your hair is dry, carefully remove the curlformers and enjoy your new look!
Twist and re-twist method
To stretch your 4c hair without heat, you can try the twist and re-twist method. Take large sections of hair and twist them while you're shampooing and conditioning. After you rinse, take out one twist at a time and open it up. Then, apply your products and re-twist the twist every 2-3 hours. Do this until your hair is completely dry. You should see the desired results of stretched 4c hair.
More: List of best shampoos and conditioners for black hair
Bantu knots methods
The method is simple: divide damp, detangled hair into sections, twist each section around itself to form a small knot, and secure the knot with a bobby pin. Once all of the knots are in place, allow the hair to air dry or use a diffuser on low heat. When the knots are completely dry, carefully remove the bobby pins and gently unwrap the knots. You should be left with springy, stretched-out 4c hair. Bantu knots are a great way to achieve flattering, fun styles like two-strand twists and braid-outs. And best of all, they can be done at home with just a few simple tools. So if you're looking for a quick and easy way to stretch your 4c hair, give Bantu knots a try!
Flexi Rods method
Flexi rods are one of the great ways to achieve defined, long-lasting curls on 4c hair. To stretch your hair with Flexi rods, start by shampooing and conditioning your hair. Then, apply a leave-in conditioner or curl cream to help protect your hair from heat damage. Next, divide your hair into sections and roll each section around a Flexi rod. Be sure to wrap your hair around the rod in a clockwise direction to avoid tangles. Once all of your hair is rolled, sit under a hooded dryer or allow your hair to air-dry overnight. When you remove the flex rods, you should have beautiful, healthy-looking curls that will last for days.
Use Jumbo rollers
Jumbo rollers are one of the best ways to achieve long-lasting 4c hair without heat. This method is ideal for those who have low porosity 4c hair. To use this method, you will need to purchase jumbo rollers that are at least 1.5 inches in diameter. You will also need a curl activator gel or cream and a satin scarf or bonnet.
Start by washing your hair with a clarifying shampoo and follow up with a deep conditioner. Once your hair is damp, apply the curl activator gel or cream from root to tip. Next, section your hair into small subsections and carefully wrap each section around a jumbo roller. Be sure to secure the roller with a clip or pin. Repeat this process until all of your hair is wrapped in jumbo rollers.
Allow your hair to air dry or sit under a hooded dryer for about 30 minutes. Once your hair is dry, remove the jumbo rollers and style as usual. You will notice that your 4c hair will be stretched, defined, and frizz-free!
How to stretch 4c hair with heat
If you are like most people, your hair is tightly coiled and very fragile. It's difficult to style and often looks dry and brittle. You may have even been told by a stylist that you have "kinky hair" and should just learn to live with it.
But there is good news. You can stretch your kinky hair using heat without damaging it. Here's how:
Heat protection first
Start with clean, damp hair. Wet your hair down with a spray bottle filled with water. Then, apply a generous amount of heat-protectant to your hair, focusing on the ends. Instead of using a heat-protectant, you can also use a natural oil like coconut oil or a leave-in conditioner. Then use a wide-toothed comb to detangle your hair, being careful not to pull or tug too hard.
Choose your hot tools
After your hair is detangled and protected, you can choose your hot tool. You can use a flat iron or even a blow dryer with a diffuser attachment. If you have very kinky hair, it's best to start with a lower heat setting and gradually increase the heat until you find one that works for your hair type. There are 2 most popular hot tools when it comes to stretching 4c hair with heat:
Blow dryer: Set your blow dryer to the moderate heat setting and hold it about 6 inches away from your hair. Use your finger to stretch out your hair as you dry it.
Take care of your 4c hair after stretching with heat
Now that you've stretched your hair with heat, it's important to take care of it so that it remains healthy and strong. There are some basic rules of thumb you should follow:
Moisturize often: Moisturize your hair every day with a leave-in conditioner or hair moisturizer.
Seal in the moisture: After moisturizing your hair, use an oil to seal in the moisture. This will help prevent your hair from drying out.
Deep condition regularly: Deep condition your hair at least once a week to keep it hydrated and healthy.
Avoid heat damage: Try to avoid using hot tools too often, as this can lead to heat damage. If you do use them, be sure to use a heat protectant.
Be gentle: Be gentle with your hair when brushing or combing it. Avoid yanking or pulling on your hair, as this can cause breakage.
Final thoughts
Now you know how to stretch 4c hair with and without heat. Remember to take care of your hair after stretching it so that it remains healthy and strong. With a little patience and practice, you'll be able to achieve the style you want.