Alrighty, picture this: it's morning, the sun is barely awake, and you're facing a jungle of curls that make Tarzan's vine-swinging look like child's play. Yep, you've got curly hair, and let's be real, it's got more personality than a whole cast of characters in a telenovela. But here's the plot twist – your trusty diffuser has pulled a disappearing act that even Houdini would applaud. Panic? Nah, not today! Because we're about to embark on a quest that involves hairdryers, cunning strategies, and just a dash of magic. Welcome to the curly hair chronicles: "How to Dry Curly Hair Without a Diffuser"!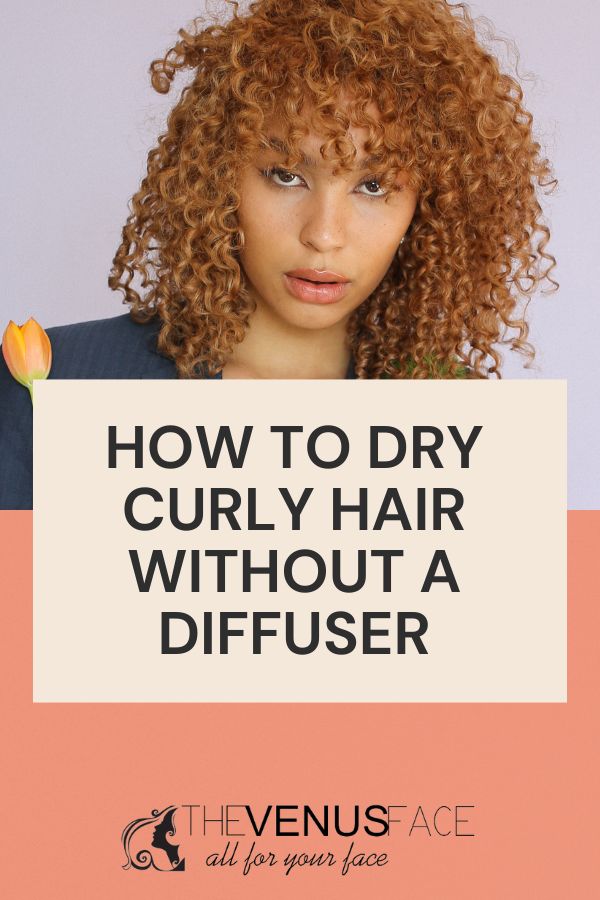 3 steps to dry curly hair without a diffuser
1. Start with clean hair
Before drying, make sure that you wash your hair with a hydrating curl shampoo and conditioner, then use a curl-defining cream or gel as you're styling to protect from heat damage. Not only will this help ensure that your blowout is as smooth and frizz-free as possible, but by removing any product buildup from previous days, you can help keep your curls bouncy and vibrant for days!
2. Apply a heat protectant to your hair
The second step in this process for effortless hair success is applying a heat-protectant product before you use any heat tools. Heat protectants provide protection from the heat as well as prep your hair for styling. Heat tools like diffusers can cause severe heat damage if used without this crucial step! Make sure to spray some product onto both your ends and roots before you go near those hot tools, and beauties, and let your bouncy curls take shape without worry.
3. Use a low heat setting on your hair dryer
After you have added a heat protectant it's time to power up the hairdryer. Set the temperature to low and direct the nozzle downwards (or away from your scalp) to start the drying process! Let your natural curls show off their brilliance with this method as you make sure each part of your hair gets enough air. And when done properly, you'll be rocking those luscious locks in no time! It's a simple way to get gorgeous results that will last all day long
More: List of Best Hair Dryers for Black Hair
5 other ways to dry curly hair without a diffuser
1. Use a microfiber towel
Curls are a beautiful and unique hairstyle but can be hard to maintain with traditional drying methods. Thankfully, the creative minds behind beauty have created a fantastic solution: the microfiber towel! Microfiber fabrics possess amazing absorbent ability — they absorb more than just water, and they help reduce drying time while protecting your precious curly locks from over-drying and damage caused by hot air. Plus, with a reliable microfiber towel, you no longer need to invest in extra material such as a diffuser; its strong yet gentle fibers dry your hair quickly without flattening any natural bounce and body. For curls that make everyone else green with envy, stock up on microfiber towels for the ultimate secret weapon!
2. Use a hooded dryer
If you want to achieve the perfect curly look without any damage, a hooded dryer is your go-to source! This hair-drying technique uses a bonnet-like dome to surround your head and dry your curls with hot air. The enclosed warmth helps hold each curl together, giving you an even more defined and voluminous hairdo. Unique compared to a regular blow dryer, the hooded dryer allows for heat to be evenly distributed throughout the entire head of hair while avoiding direct heat exposure to just one particular area — this way, you can get full coverage without overheating your locks! Plus, no use of a diffuser is necessary! Rocking those bouncy and smooth curls has never been easier!
3. Use an old t-shirt
For curly-haired babes looking for a fresh way to style, the t-shirt drying method is one of the easiest and most cost-effective ways to add definition to those beautiful spirals. By flipping your freshly washed hair over, wrapping it in a cotton t-shirt, and then compressing it with your hands, you can create an enhanced curl definition without the need for an extra diffuser tool. Plus, t-shirts provide just the right amount of fabric coverage so you don't have to worry about dripping excess water all over the place! With this clever trick, you'll be able to show off those lovely curls on any budget.
4. Using a fan
With wavy, curly, and coily hair, a fan is my favorite tool to dry my mane. Rather than using a diffuser, with its bulky shape and inconvenient settings, I opt to simply tilt my head and maneuver the fan directly at my curls. This allows me to control the blast of air so that I can get just the right amount of heat on specific sections of my hair. Not only is this drying technique extremely effective, but the combination of movement from tilting my head and intensity from the fan is enough to manipulate each individual curl into its desired form – thank you very much! Fans for the win!
5. Let it air dry
Air-drying your curls is the key to happy hair! Forgo the diffuser and let nature work its magic. Air drying will keep your curls bouncy and springy without sacrificing their curl definition. It's not just about making sure you don't damage your precious locks – air drying helps to maximize the beauty of your natural curls. Consider using a wide-toothed comb or pulling your hair up into a loose bun while it's drying to get that perfectly tousled look. With a few simple styling tricks and some patience, you'll be able to easily create the head-turning style of your dreams – all without a diffuser!
Final thoughts
Curly girls, rejoice! You don't need a diffuser to dry your hair. In fact, there are several ways to dry curly hair without a diffuser that will leave your curls looking their best. Try one of these methods the next time you wash your hair and see how well they work for you.