4c hair is an absolute gift! Nothing beats the versatility and texture of this gorgeous hair type. Curls ranging from baby-fine to thick coils give you endless styling possibilities, so you can keep up with all the latest trends without ever getting bored. It can be undeniably difficult to manage, requiring extreme care and commitment; however, with a good maintenance routine and a selection of quality products, it's possible to create divine hairstyles that make heads turn in awe. 4c hair is undoubtedly worth the extra effort! In this blog post, we will answer some of the most frequently asked about 4c hair, so you can feel confident in achieving your desired looks.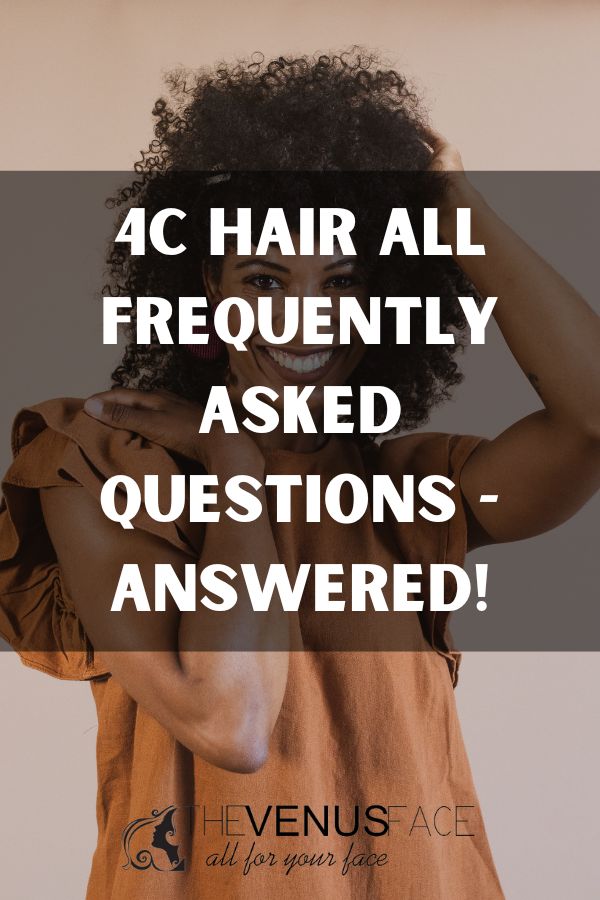 10 frequently asked questions about 4c hair
1. How often should you wash 4c hair?
We all know that our 4c hair should be properly taken care of and kept clean, but you might not realize just how important it is to wash your hair on a regular basis. It's super easy to fall into the trap of only washing your hair once a month or every few months. However, if you're looking to keep your 4c hair healthy, bouncy, and hydrated then committing to at least one major shampoo session every two weeks is the way to go! Not only will this ensure any build-up from styling products gets removed in time, but it also helps promote new growth from follicles that would otherwise stay dormant forever! So let your gorgeous curls be the envy of everyone around and commit to washing those beauties frequently for the best results.
More: How to Pre-poo 4C Hair in 6 Easy Steps
2. How often should you deep condition 4c hair?
4c hair definitely needs a little extra TLC compared to other textures, and deep conditioning every two weeks is essential to maintain vitality and a healthy best look. Taking the time to make yourself feel beautiful again is so important because, with the right deep conditioner, you can restore your 4c hair's unique bounce and shine. It's kind of like hitting reset on our scalp each time we give it a deep conditioning treatment. Taking care of our locks should not be feared – embrace it as a ritual for self-care!
3. How often to use leave-in conditioner 4c hair?
4c hair is gorgeously voluminous and full of life, and the key to keeping it that way is moisture. Keep your curls happy by using a leave-in conditioner three times a week, focusing on the ends of your hair. Leave-in conditioners are specifically designed to stay in longer than regular conditioners, and their added staying power allows you to deposit extra hydration on your 4c tresses and give those gorgeous coils some extra love!
4. How long does 4c hair grow in a month?
4c hair is popularly known for its unique texture, with each strand having a tight zig-zag pattern. Unfortunately, this curl type barely reaches more than 0.5 inches of growth per month – the same rate as any other hair type! But because of its kinkier structure and coarser nature, 4c hair appears to grow much slower than other curls types of the same length. That's because, unlike smoother hair textures where individual strands stand out more easily, the tangled coils in 4c hairs tend to blend together, making it look shorter than it actually is. Ultimately, it may take some extra time and patience to reach your desired length, but you can find solace in knowing that you have gorgeous locks!
More: How to Grow 4C Hair to Waist Length W/ 11 Tips
5. How fast does 4c hair grow?
With 4c hair, you can expect your hair to grow an average of 4 to 6 inches per year! That's about half an inch a month, making it the perfect length for chunky twists, Bantu knots, and wash-and-go's. Investing in these protective styles will make more time to add her growth-friendly care tips into your routine. That includes using natural oils and avoiding stretching or braiding your strands too tightly. With enough patience and dedication, you'll soon unlock your true hair potential—from the roots all the way to the tips!
6. How often to moisturize 4c hair?
4c hair is beautiful and needs to be taken care of! Moisturizing is essential in making sure that this precious hair type stays healthy and moisturized. You should aim to moisturize your 4c hair at least once a week – but twice a week is even better. Doing it every two days ensures that your hair stays hydrated and you can show off its fabulousness! Everyone will wonder how you manage to keep your mane so healthy and amazing. Moisturizing regularly will also help protect us against breakage, resulting in our natural locks being even more luxurious than ever before!
More: How to Moisturize 4C Hair: The Complete Guide
7. How often should you oil your scalp of 4c hair?
The state of your 4c hair is very important, not only aesthetically speaking but also in ensuring that your scalp stays hydrated and healthy. That's why it's crucial to oil the scalp at least once every three days. Of course, this time range might fluctuate according to the climate and how dry your particular scalp is more prone to be. It's ultimately up to you to make decisions in regard to your own hair care routine; so make sure you check it out often and add some oils to it whenever necessary!
More: How to Hydrate 4C Hair W/ 13 Methods
8. How long does 4c hair take to loc?
4c hair is gorgeous and fabulous, making it the perfect choice for anyone looking to loc their hair. However, people considering 4c should be aware that locing this type of hair takes some time, usually between three and six months! And while the process can take a few months to complete, the wait is worth it! The resulting look is stunning and undeniably unique. In addition to being a beautiful hairstyle option, having locs offers many other benefits including reduced styling time. So if you're dreaming of 4c locks, don't be discouraged by the required waiting period – your efforts will be rewarded with breathtakingly chic results!
More: 70 Butterfly Locs With Color Photos for Haircut Inspiration
9. How often should you steam 4c hair?
If you're all about maintaining gorgeous 4c hair, steaming is a must! Steaming can help keep your curls hydrated and healthy, so committing to one session per week for 25 minutes should become part of your hair-care routine. This awesome method can open up the cuticles of your strands, allowing moisture to penetrate deeper – that means bouncy curls and even less frizz. Plus, it'll make styling more manageable. So, if you want to look effortlessly glamorous every week, then let's steam that mane!
10. How often should you co-wash 4c hair?
Co-washing your 4c hair is a great way to keep it hydrated and healthy. Doing it two times per month should keep your natural afro looking its best, without any added stress or damage to the hair. For optimal results, alternate co-washing with shampoo washing – also twice a month. This will help create balance in your hair care routine, ensuring that your stylish curls can showcase their full potential each and every day!
More: How to Co-wash 4C Hair in 5 Steps
Final thoughts
Now that you know the answers to 10 frequently asked questions about 4C hair, it's time to put this information into action! Experiment with the different tips and tricks we shared until you find what works best for your own hair. Be patient – Rome wasn't built in a day! And above all else, have fun with your curls. They are unique and beautiful, so embrace them. What is your favorite way to style 4C hair?