In this article, we will give you some tips on how to exfoliate under the eyes safely and effectively.
Skin exfoliation is an important part of maintaining healthy skin. Exfoliating removes dead skin cells and other debris from the surface of the skin, revealing the fresh, healthy cells beneath. This process can also help to unclog pores and reduce the appearance of fine lines and wrinkles.  Needless to say, exfoliating is essential for achieving and maintaining clear, youthful skin. If it is easy to exfoliate most of the parts on your skin, under-eyes exfoliation is a bit tricky. The skin around your eyes is much thinner and more delicate than the rest of your face. Therefore, you need to take extra care while exfoliating your under-eyes.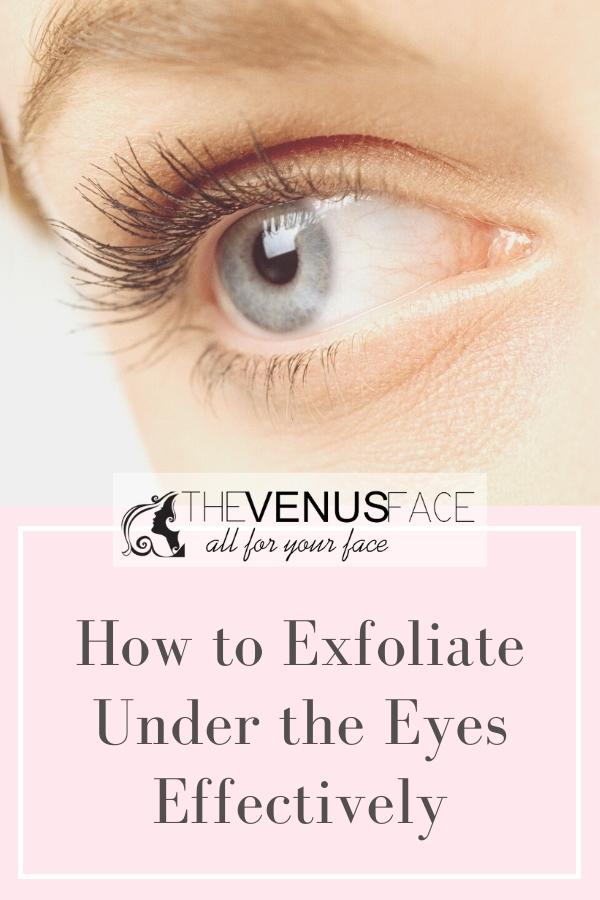 As an Amazon Associate, I earn from qualifying purchases.
Should you exfoliate under the eyes?
Yes, you should. Just like the rest of your skin, the skin around your eyes needs to be exfoliated on a regular basis. Exfoliation helps to remove dead skin cells, unclog pores, and brighten the skin. As we age, our cell turnover rate slows down. This means that dead skin cells can accumulate on the surface of the skin, leading to a dull, lackluster appearance. Exfoliation can help to improve the appearance of your under-eyes by revealing the brighter, healthier skin beneath.
Besides that, dark circles and puffiness under the eyes can also be improved by exfoliating the area. When the skin is congested, it can cause fluids to accumulate under the eyes, leading to puffiness and darkness. Exfoliation can help to decongest the area and improve the appearance of dark circles.
How to exfoliate under the eyes?
Since the under-eye skin is so delicate and sensitive, it is not recommended to use any DIY or homemade exfoliating products, because one mistake could cause serious irritation, and believe it or not, you really don't want any skin issues around your eyes.
Instead, you should only use store-bought eye creams or gels designed for under-eye exfoliation. With that being said, the process of exfoliating under-eyes skin becomes very simple: just follow the instruction on the packaging. Basically, the process of using under-eye masks or creams:
Clean your face with a gentle cleanser and remove any makeup.
Apply the under-eye cream or gel evenly around both eyes.
Leave the product on for the recommended amount of time, usually 5 to 10 minutes.
Rinse your face with lukewarm water.
Pat your skin dry with a clean towel.
(Optional) Apply a moisturizer to keep your skin hydrated.
10 best under-eye exfoliators
OCuSOFT Lid Scrub Original
No products found.
OCuSOFT Lid Scrub Original is a daily eyelid hygiene product that removes cosmetics, debris and pollen. It's recommended by doctors for eyelid cleansing to remove oil, debris and desquamated skin which may lead to eye irritation. It's also effective in removing oil and debris associated with dry eyes, promoting contact lens wearer comfort.
Paulas Choice Skin Perfecting 2% BHA Liquid Exfoliant Salicylic Acid
This Paulas Choice exfoliator is your solution to achieving radiant and youthful-looking skin! Formulated with beta-hydroxy acid (BHA), this powerful exfoliant helps to unclog and diminish enlarged pores, while also gently exfoliating dead skin cells to smooth wrinkles and even out skin tone. Additionally, its unique formula combats redness, wrinkles, aging, enlarged pores, and blackheads, making it the perfect choice for those seeking an all-in-one anti-aging solution. With regular use, you'll notice a significant improvement in the texture of your skin for a more radiant and even-toned complexion.
LA PURE 24K Gold Eye Mask Minimize Puffy Eyes & Dark Circles
This luxurious eye mask is infused with pure 24k gold, collagen, hyaluronic acid, and grape seed extract to help expel harmful toxins, reduce wrinkles, dark circles, and puffiness around your eyes, and add shine to dull skin.
The 24k gold in this eye mask helps increase blood circulation and improve cellular metabolism, while the collagen stimulates and regenerates skin cells. The hyaluronic acid provides long-lasting hydration to the delicate skin around your eyes. The grape seed extract is a powerful natural antioxidant that helps protect your skin from damage caused by free radicals.
Le Gushe Collagen Eye Zone Gel Mask
If you're looking for an incredible under-eye gel mask that will help to hydrate, moisturize and protect your skin, then look no further than the Le Gushe Collagen Eye Zone Gel Mask!
This amazing product contains hyaluronic acid, which is a powerful hydrating and moisture-binding agent that will help to keep your skin looking and feeling its best. The collagen in the gel mask will also help to plump up your skin and prevent the formation of wrinkles, while the 24k nano gold helps to protect your skin from sagging.
The gel mask formula is perfect for reducing puffiness and eliminating dark circles under your eyes. And because it contains only natural ingredients, it's the perfect choice
Avenova Eyelid and Eyelash for Everyday Use
Avenova sprays unique formula of 0.01% hypochlorous acid onto the eyelids and lashes, which safely and effectively eliminates 99.9% of bacteria, treats styles, and relieves chronic eye conditions like dry eye, blepharitis, chalazion, and contact lens intolerance – all without any harsh bleach or detergents. The glass bottle Avenova comes in also prevents plastic leaching.
Avenova is FDA-cleared and clinically proven to be the most effective lid and lash cleanser available without a prescription. It's easy to see why: just one or two quick sprays of Avenova onto your eyelids and lashes help kill bacteria and viruses that can cause infections.
Mizon Snail Repair Intensive Gold Eye Gel Patch
Mizon Snail Repair Intensive Gold Eye Gel Patch is a unique and innovative product that helps reduce the appearance of wrinkles, dark circles, and puffy eyes. These under-eye masks are made with snail slime, peptides, and 24k gold, which help to hydrate and revitalize your skin. The highly adhesive hydrogel patch quickly melts into the skin for a dual effect, hydrating and restoring elasticity.
Suprance Green Tea Matcha Firming Eye Mask
Sight isn't the only sense that improves with age; sometimes our skin does too. But don't worry, you've got a solution – the Suprance Green Tea Matcha Firming Eye Mask! This all-natural mask is perfect for restoring youth and beauty to tired, aging skin. The hyaluronic acid, hydrolyzed collagen, Vitamin E, and green extract work together to moisturize and protect your skin, while the antioxidant properties of green tea help fight free radicals. So go ahead and give your eyes some TLC with the Suprance Eye Mask!
TULA Skin Care Rose Glow & Get It Cooling & Brightening Eye Balm
Looking for a natural way to achieve a dewy glow and reduce the appearance of fine lines and dark circles around your eyes? Look no further than TULA Eye Balm! This unique formula is powered by probiotic extracts, rosehip oil, and hydrating rosewater to instantly hydrate and brighten the delicate eye area. Caffeine helps to reduce the look of dark circles, while aloe, apple, and watermelon provide deep hydration for a refreshed, youthful appearance.
More: Get your face glow with top bronzers for oily skin.
CeraVe Eye Repair Cream
We all want to wake up looking refreshed and well-rested. But sometimes, no matter how much sleep we get, our under eyes can betray us. Dark circles and puffiness can make us look exhausted, and can be difficult to cover up with concealer.
This CeraVe Eye Repair Cream is a brightening cream that helps reduce the appearance of dark circles and puffiness. Formulated with Hyaluronic Acid to help retain skin's moisture and Niacinamide to help soothe skin, this non-greasy cream leaves under eyes looking hydrated, smooth, brightened, and more awake.
R.A.V Eye Spa
This luxurious eye treatment is formulated with a blend of powerful ingredients to reduce the appearance of dark circles, puffiness, fine lines, and wrinkles. Green tea extract has been shown to have anti-aging properties, improve sagging skin, and diminish age spots and fine lines. Chamomile and silk tree extract work together to nourish and calm the skin. Hyaluronic acid, glycerin, and collagen provide intense hydration for a plumper, more youthful appearance. If you're looking for an effective way to improve the look of your eyes, the R.A.V Eye Spa is the perfect solution.
How often should you exfoliate your under-eyes?
If you want to exfoliate your under-eyes on a regular basis, we recommend that you do so no more than once or twice a week. Exfoliating too often can damage the delicate skin around your eyes.
More: How Often Should You Exfoliate Your Face if You Have Oily Skin?
Final thought
Achieving a youthful and refreshed appearance around your eyes can be easy with the right product. Whether you're looking for an eye cream, gel patch, or mask, there are many options available to suit your needs. Now you know how to exfoliate under the eyes. We hope that this article has helped you find the perfect solution for you. Thanks for reading!