Is olive oil good for oily skin? Learn more in this post.
Oily skin is a common skin type that is caused by an overproduction of sebum, which is the oil that our skin produces to keep it hydrated. For people with oily skin, sebum accumulates on the surface of the skin, leading to a shiny appearance and an increased risk of acne breakouts. While oily skin can be a challenge to deal with, there are a number of things that you can do to manage it.
There are many methods to treat oily skin, some people use medicine while others simply change their diet. And then there are treatments involved in the use of natural oils such as coconut, jojoba, rosehip…
Olive oil is known as healthy food we can use for cooking with many benefits for health. So, how is olive oil good for oily skin?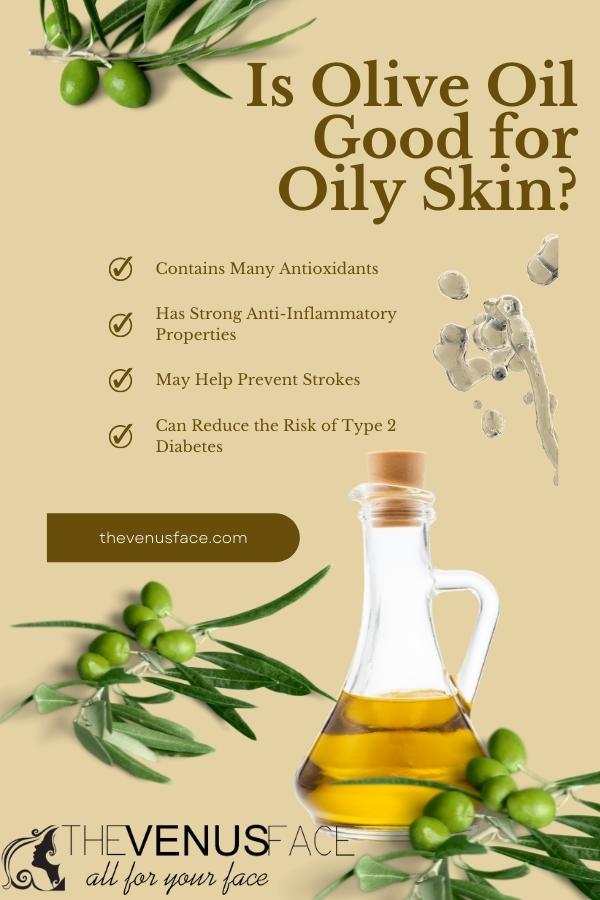 Can we use olive oil for oily skin?
Yes, you can. Olive oil has a comedogenic rating of 2, which means it's unlikely to clog pores. Besides that, it gives many benefits to the overall health of the skin, making it a good treatment for people with oily skin.
Best olive oil for skin
Olive oil benefits for skin
This oil offers many advantages for the skin if used correctly, including:
Moisturizing the skin
Olive oil's main benefit is to moisturize the skin by reducing water loss. This is very helpful since the main reason for oily skin is sebaceous glands are overactive, so the skin produces more sebum. Moisturizing should help balance oil production.
Preventing skin aging
Olive oil is a great choice for those who want to take care of their skin and prevent the appearance of wrinkles and fine lines thanks to its rich in vitamins E, D, K, and A. Moreover, it helps increase collagen production and antioxidant activity, which is essential to protect the skin from free radicals.
Reducing acne
Everyone hates acne, unfortunately, oily skin people cannot escape from it. However, olive oil may help reduce acne and oiliness, it has antibacterial properties which help kill the bacteria causing acne. That makes it an ideal choice for those who want to treat their acne problems naturally.
Removing makeup
Olive oil is a great way to remove waterproof mascara and eyeliner. It is also rich in antioxidants and hydrating squalene, which helps to moisturize the delicate skin around the eyes and nourish eyelashes. However, olive oil cannot remove makeup from the skin surface on its own—a surfactant is needed for that.
How to use olive oil for oily skin
There are many ways to use olive oils for skin, including:
Olive oil face wash for oily skin
This homemade remedy help cleanse, moisturize and kill bacteria that cause acne. It requires only 3 ingredients, including:
Castile soap
Honey
Olive oil
You can read this post to know the step-by-step instruction: DIY facial cleanser for oily skin with castile soap.
Olive oil face mask for oily skin
This recipe requires more ingredients, thus offering more benefits. There are 5 ingredients:
Olive oil
Raw honey
Grated orange zest
Vitamin E oil capsule
Egg white (for oily skin)
How to make:
In a small bowl, add 1 tablespoon of olive oil
Next, add 1 teaspoon of raw honey
Then, add 1/2 teaspoon of grated orange zest
After that, use a needle to poke a hole into the vitamin E capsule and squeeze the oil into the mixture.
Continue adding 1 egg white into the mixture
Finally, stir the mixture well
For storage, pour the mixture into an airtight container and store it in the fridge. You can store it for around 5 days.
How to use:
Preparing your face by washing it with a cleanser
Use a makeup brush to apply the mixture to your face
Leave it for 20 minutes and then rinse off with warm water
Finally, wash your face again with cool water
The additional ingredients give you the compound effect which will deliver a surprising result for your skin.
Final thought
Olive oil is a healthy food that can be used for cooking with many benefits for health. It also has great skin properties, making it an excellent treatment for people with oily skin due to its moisturizing and anti-aging effects. With the help of our recipe guide on how to use olive oils correctly, you should have all the information you need in order to reduce your acne while treating your oily skin naturally!
More: Best Face Mists for Oily Skin to Complete Your Makeup
F.A.Q
Does olive oil clog pores?
Olive oil has a comedogenic rating of 2, which means that it is moderately likely to clog pores. However, this does not mean that olive oil should be avoided altogether. In fact, it's recommended to mix olive oil, use it as an ingredient in your skincare routine, or as a massage oil. When used correctly, olive oil can help improve skin health.
More: Tightening pores with microcurrent devices
Green tea serum or olive oil serum for oily skin, which is better?
Green tea serum is more suitable since it has stronger antiseptic properties of the green tea, which is great for acne-prone skin and for killing acne-causing bacteria. This effect is similar to tea tree oil.
Coconut vs olive oil for oily skin, which is better?
Coconut oil is better for oily skin since it is more readily absorbed and less greasy than olive oil. If you apply coconut oil to your skin, you can feel it dry after a few minutes, this is because coconut oil gets absorbed into your skin. In contrast, when you applied olive oil to your face, it will take a long time before it is fully absorbed and leaves a greasy texture.
Is an olive oil and sugar scrub good for oily skin?
Yes, it is. Honey and brown sugar exfoliate the skin, removing any peels that might develop over acne in persons with oily skin. To learn more about face scrub recipes, you can read this post.
Castor oil vs olive oil for oily skin, which is better?
Castor oil is not suitable for oily skin since it is thicker than olive oil, therefore it may not be as easily absorbed by the skin. Besides that, it has a higher viscosity so it may make your face greasy.
References: https://www.realsimple.com/beauty-fashion/skincare/castor-oil-uses