Does oily skin age better? Read on.
Oily skin is a common problem that can lead to breakouts and blemishes if not treated correctly. It is often associated with excess sebum production.
The sebaceous glands are responsible for producing this oily substance. When normal levels of sebum are produced, there is no issue with having greasy skin because it simply glides across your face giving you that shine we all want to achieve but when your body produces too much oil you'll start to look like a disco ball in no time! For some people, this problem can be even worse than their dry skin counterparts, at least with dry skin you don't have that shiny problem!
However, greasy skin does not always mean it's bad. In fact, oily skin has certain advantages for your skin.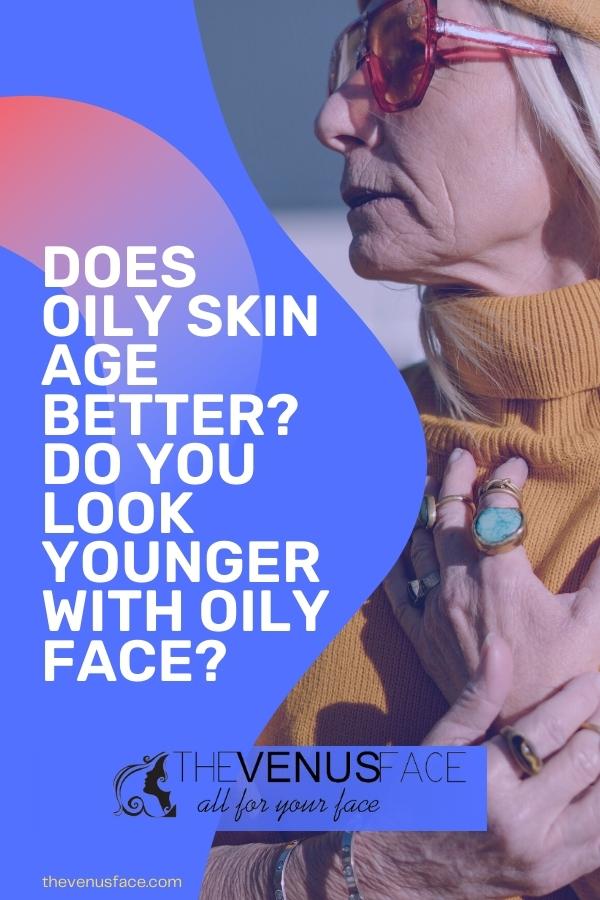 Do you age better with oily skin?
Yes. Many studies showed that people with oily skin tend to age slower than those with dry skin. Experts say that the secret is that it produces more collagen. The more collagen, the less likely skin is to sag and wrinkle as quickly.
Youthful skin also contains a lot of water, which gives skin cells a plump, smooth appearance. Because people with greasy skin have a larger amount of sebum in their pores that hold water into the skin, thus their skin is kept moistured more than those with dry skin. That is why people can see wrinkles and creases on the face faster on those with dry skin than those with greasy skin.
More: Water benefits for oily skin
Does oily skin prevent wrinkles?
Not exactly. Nothing can prevent wrinkles since they are caused by the loss of collagen and elastin over time, which will happen when you age.
However, oily skin does help in slowing down the process because it has a thicker dermis, which means they have more collagen and elastin. In the end, this will lead to plumper, firmer skin with fewer fine lines and wrinkles.
Fine lines and wrinkles are more noticeable in dry skin than in greasy skin, since dry skin is thinner.
More: Can Oily Skin Use Dry Skin Products?
Does oily skin age slower?
Talking about the appearance, yes it does. Oily skin has larger pores and is thicker than dry skin, which means it offers more cushion to the skin, which means wrinkles and fine lines will be less noticeable.
In terms of aging, it ages at the same rate as dry skin. It's only when the sebum production is slowed down that there will be a drastic difference in signs of aging compared to people with normal sebum production.
More: Why Is My Oily Skin Suddenly Dry?
Do people with oily faces look younger?
Yes, it seems. Since wrinkles and fine lines are less noticeable, people appear to have smoother and younger-looking skin on the face. Therefore, you shouldn't feel bad about your greasy face, at least you know that it is always better than dry skin when it comes to aging.
Does oily skin go away with age?
Yes and no. The greasy oil is caused by an overproduction of sebum, which is due to the increased activity in the sebaceous glands. However, it's hard to predict how sebaceous glands behave as you age since their activity can vary from person to person, as well as different parts of the body. Just because you see the oil disappear on some people when they are aging, doesn't mean it should happen to you. In fact, there are many factors that affect the production of sebum, such as hormones and genetics.
Some people may continue producing large amounts of sebum even after hitting 40-50 years old. These are typically those with greasy skin who have spent most of their lives taking care of it. Some might experience dryness or flaking as they age, which might result in smaller pores and less sebum produced.
In short, it's hard to conclude anything about the correlation between age and greasy skin.
Final thought
Oily skin is not always a bad thing- in fact, it has certain advantages over dry skin. People with greasy skin tend to age slower than those with dry skin, and their skin appears smoother and younger-looking. Oiliness may go away with age for some people, while others may continue producing large amounts of sebum even after hitting 40 or 50 years old. In short, there is no one answer to the question of whether oiliness goes away with age. So don't feel bad about your skin, just love yourself the way you are. Fun fact: using microcurrent regularly helps maintain youthful skin.
More:
References: http://elifesciences.org/articles/26526