Looking for ideas for human hair wigs for black women? This review shows some of the on-trend wigs and reputable online stores with great discount coupons.
Top Reputable Online Wig Stores
According to a survey of customer ratings and reviews, the 2 online stores that are receiving positive feedback are Hothair and VogueWigs. With an expansive variety of human hair lace and full wigs, there are a lot of options for wig wearers to choose.
Online Store: VogueWigs.com
Location: USA
Shipping Area: Worldwide
Payment method: Paypal and Credit Card
Returns: 10 business days guaranteed
VogueWigs in particular has a range of other styles, fitting for all occasions. Their African American wigs are offered in long, short, and wavy bobs, and various other cuts and textures. VogueWigs is great for African American women seeking versatility in their styles. Some wigs have a distinctly, sleek and straight appearance, rather than a natural, thicker texture. Whereas, other human hair wigs on this site are designed to mimic the quality and texture of African American hair. This site features wigs for both young women, and even grey-tinted, short wigs for mature buyers. Many of these wigs offer color combinations, highlights, and layers as well.
Online Store: Hothair.co.uk
Location: UK
Shipping Area: Worldwide
Payment method: Credit Card
Returns: 14 business days guaranteed
The dazzling collection on Hothair features Raquel Welch's personal brand, with celebrity-inspired styles. These wigs have a noticeably glamorous, celebrity quality that sets them apart.
What Types Of Human Hair Wigs Should You Wear?
Human hair wigs are generally sold in the following varieties. From full wigs, half wigs, lace front wigs, u-part wigs, and full lace wigs, women have many options to choose from. Additional options include banged wigs and natural part wigs that mimic the effects of natural hair. Natural wigs are also growing in relative importance on the web. For example, VogueWigs sells a number of naturally styled wigs, in tight Bohemian curls, water wave patterns, short-cropped afro styles, and pixie cut wigs as well.
Hothair sells a host of snazzy pixie wigs for edgy, mature women seeking light and easy fix to their hair woes. These natural looks are perfect for the everyday minimalist looking for a painless hairstyle.
More: List of Best Detanglers For Matted African American Hair
Half wigs
Half wigs are also ideal for African American women. They offer a natural alternative to full wigs and banged wigs as well. Half wigs are generally designed to blend with the wearer's natural hair. They usually comprise a wig cap, hair, and often, combs and reinforcements, to secure the wig in place. These wigs are manufactured to sit directly behind the hairline. Once the wig is set in place, the wearer removes a portion of hair from the front of the hairline. This hair is then styled to overlap the remaining wig. This creates a beautiful, natural appearance unrivaled in authenticity.
Full wigs
Full wigs have the longest legacy in the wig world. While many have abandoned this trend in search of lace front wigs, full wigs still reign supreme. Of course, full wig manufacturers have grown savvier over the years. Many such wigs contain a natural parting space, which mimics the human scalp. This is ideal for those who desire a natural look, as opposed to a wiggy look. Some wigs even allow the wearer to create their own part.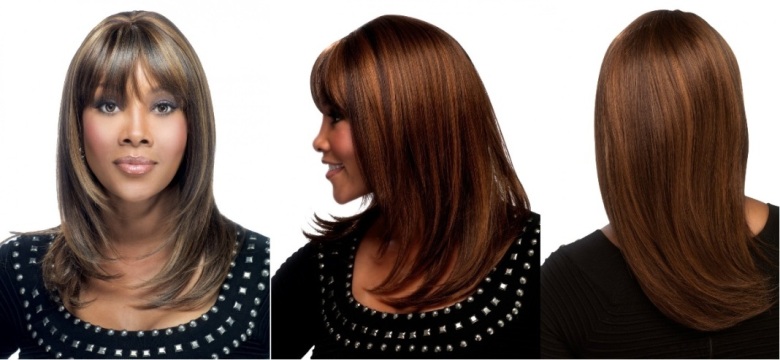 Lace front wigs
Lace front wigs have shattered wig traditions of the past. When manufacturers first introduced the lace front wig, women raved about their natural, blendable, lace wig fibers, designed to meld themselves into the skin tone, providing and natural luxurious appeal. The beauty of a lace front wig is that the hairline appears to grow directly from the wearer's natural scalp. So, this is one of the most popular categories for African American wigs. These wigs can be purchased as bobs, long, straight, curly, and natural styles as well. Both voguewigs.com and hothair.co.uk have a range of human hair options to choose from. Their lace front wigs can be adhered to and glued on, or they can be worn as is. Some lace front wigs require that you cut and remove the lace material, while others offer pre-cut lace instead. Lace front wigs are either sold as partial wigs or full wigs in most cases. Partial wigs comprise lace in the front of the wig hairline, while full wigs comprise lace around the wig.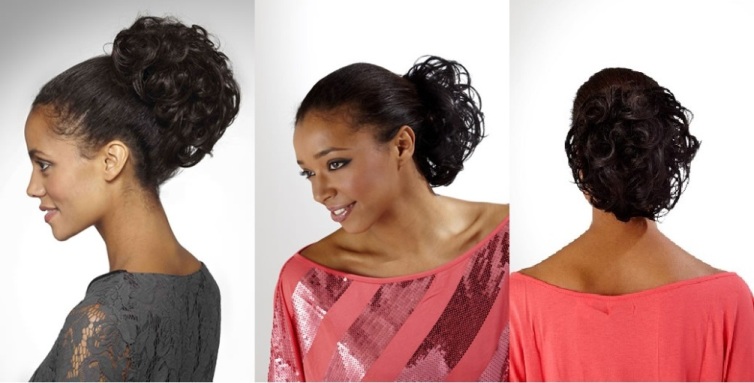 U-part wig, clip in wig, or invisible part wig
A new, but equally popular wig model, is known as the u-part wig, clip-in wig, or invisible part wig. These products are among the most natural wigs on the market. Equipped with a split u-part, these wigs clip directly into the hair. The wearer can then overlap their hair with the wig itself. These wigs create a seamless blend between your hair and the wig hair.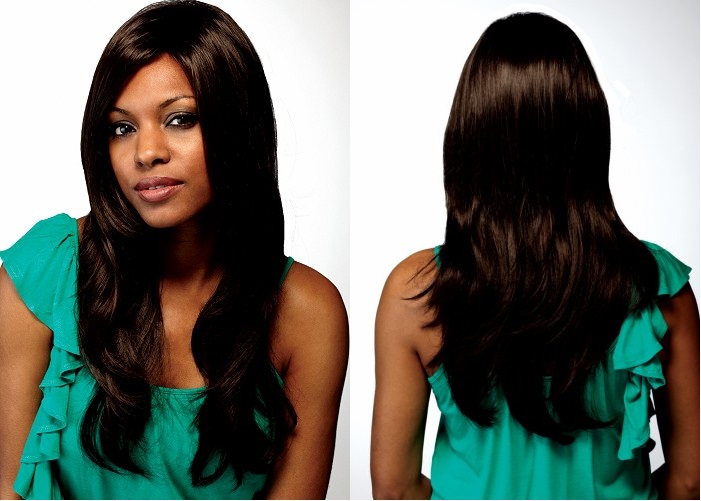 Did You Know?
Why do African-American women wear wigs?
Many African American women are born with beautiful, thickly-textured hair that requires care and attention. While coarser than average, African American hair is quite often more sensitive than average hair. The constant upkeep is daunting to some, who prefer to style their hair on the go.
The frequent application of heat, products, and oils can be exhausting in most cases. Some African American hair reacts adversely to sunlight, water, and other conditions as well. Furthermore, the prospect of using a chemical relaxer is aggravating to most. For this reason, many women have turned to wigs to cure their lingering frustrations.
More: List of best hair dryers for black women (pros, cons & review)
About human hair wigs
The online market is brimming with wigs in myriad lengths and styles. From solid and mixed colors to different constructions and textures, modern wigs are made to suit any lifestyle. Human hair wigs have ascended in popularity in recent years. Some wigs are used as protective styles to shield African American hair. With a protective wig, a woman can safeguard growing hair from harsh chemical conditions.
Human hair wigs are sold in many varieties, grades and qualities as well. For example, human hair synthetic blends are a safe and affordable alternative to traditional, human hair wigs. Whereas, basic human hair wigs comprise a quality blend of human hair strands. However, remi hair is a higher, finer grade of human hair, which often prices higher on the market.
Many human hair wigs can be dyed, colored, and flat ironed safely. The beauty of these wigs is they lack the typical, shiny, mannequin-like appeal of synthetic wigs. For African American women seeking a natural, lush appearance, human hair wigs are perfect.
More: List of Best Hair Straighteners For Men Reviews (w/ Pros & Cons)