Is Multani Mitti good for oily skin? Read to learn more.
Oily skin is one of the most common skin types, and it is characterized by excessive sebum production. Sebum is an oily substance that helps to keep the skin moisturized, but when there is too much of it, it can lead to clogged pores and acne breakouts. Oily skin is often shiny, thick, and velvety to the touch. It may also be prone to blackheads, whiteheads, and other types of blemishes. People with oily skin often have to contend with a greasy feeling throughout the day, and they may need to wash their face several times a day to control shine.
Although it can be frustrating to deal with, there are some simple tips that can help manage oily skin. The most common way is using store-bought products, such as astringents and face powders.
One home remedy that has been traditionally used to treat oily skin is Multani mitti, which is also known as Fuller's earth.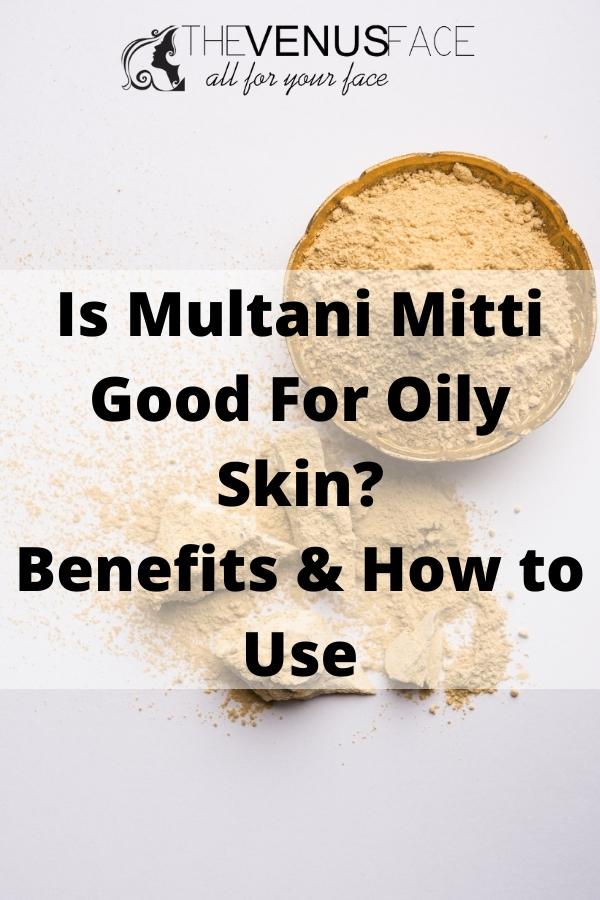 Does Multani mitti help oily skin?
Yes, it does. Multani mitti is a type of clay that helps to absorb excess oil from the skin. It is inexpensive and can be bought easily from most stores or online. This substance has been used for centuries in India and Pakistan for its beauty benefits.
Multani mitti benefits for the skin
There are many benefits of using Multani mitti for the skin
Absorbing sebum
This is the most common benefit of using Multani mitti. It helps to absorb excess sebum from the skin, which can prevent clogged pores and breakouts. The effect is really strong, to the point that some people use it as a natural alternative to store-bought astringents.
Cleansing
Another benefit of Multani mitti is that it can help to cleanse the skin. It pulls impurities and dirt from the pores, which can help to prevent acne. This exfoliating effect also removes dead skin cells, revealing brighter and more radiant skin.
Treating acne
Multani mitti can also be used to treat existing acne. It helps to dry out pimples and reduce redness and inflammation. You can make a spot treatment by mixing Multani mitti with water and applying it directly to blemishes.
Reducing pore size
Multani mitti can also help to reduce the size of pores. Pores can become enlarged due to excess sebum production, but using this substance can help to shrink them back down to their normal size.
Brightening skin
If you have dull skin, using Multani mitti can help to brighten it up. This is because the clay helps to remove dead skin cells from the surface of the skin. As a result, your complexion will look more even and radiant.
How to use Multani mitti for oily skin
There are several DIY recipes that you can use to make a Multani mitti mask for oily skin.
DIY night cream for oily skin with multani mitti
Nighttime skincare routine is very important, and this cream will help you get rid of excess sebum while you sleep.
Ingredients:
Multani mitti powder
Rose water
Aloe vera gel
Vitamin E oil
Glycerin
How to make: To learn the recipe in detail please read this post.
Homemade face pack for oily skin with multani mitti
Ingredient:
Multani mitti
Sandalwood powder
Besan (gram flour)
Milk
How to make:
In a bowl, add 1 tablespoon of multani mitti
Next, add 1 teaspoon of besan (or gram flour)
Then, add 1 teaspoon of sandalwood powder
After that, add 2 tablespoons of cold milk
Finally, stir the mixture well
How to use:
First, wash your face with lukewarm water, then apply the mixture to your face evenly. Leave it on for 30-40 minutes, then wash it off with water. You can use this face mask 1-2 times a week for best results.
Final thought
Multani mitti is a clay that has been used for centuries in India and Pakistan to help reduce the appearance of blemishes, acne, blackheads, whiteheads, enlarged pores. It does this by absorbing excess sebum from your skin which can cause breakouts.  It also helps cleanse the skin and pull impurities out of your pores. With many benefits for the skin, you may want to consider adding Multani mitti to your beauty routine. As a rule of thumb, always remember to do a patch test before using any new product on your skin.
F.A.Q
Can we use Multani mitti daily for oily skin?
Yes, you can. Multani mitti is a natural product and is gentle on the skin. You can use it daily if you have oily skin.
Which is best for oily skin Multani mitti or besan?
Both are good for oily skin. However, Multani mitti is better at absorbing excess sebum. You don't have to choose one over the other, there are many recipes that use both ingredients.