In the quest for efficient heating solutions, unconventional methods are often explored. One such curiosity revolves around the idea of using a blow dryer as a means to heat a room. While blow dryers are primarily designed for drying and styling hair, their ability to emit hot air has led some individuals to wonder whether they could potentially warm up a space. This topic delves into the question of whether a blow dryer can truly heat a room, examining the science behind its operation and the practical considerations involved. By exploring the limitations and possibilities of this unconventional heating method, we can gain a better understanding of its effectiveness and viability as an alternative source of warmth.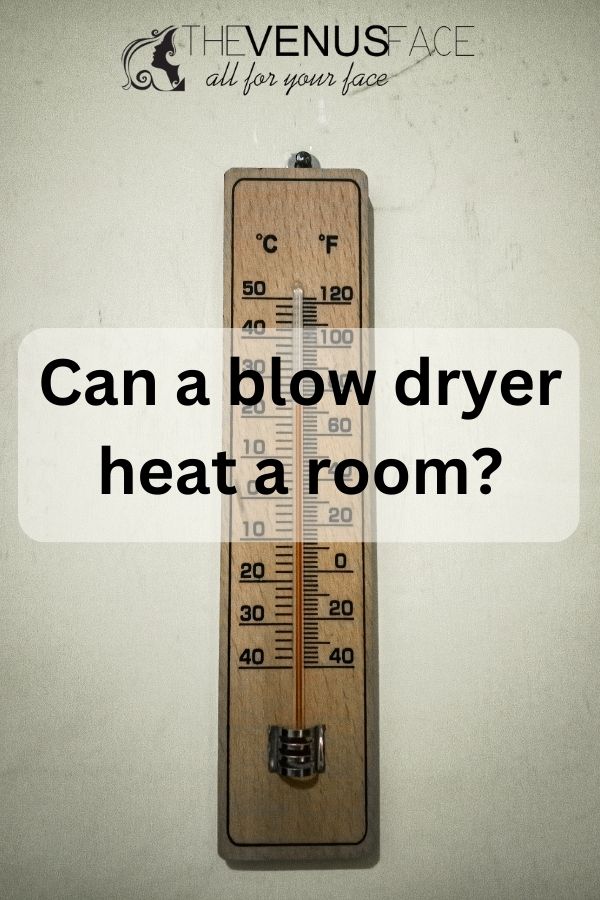 Can a blow dryer heat a room?
No, a hair dryer is not designed to effectively heat a room. Hair dryers are designed for personal use, primarily to dry and style hair. While they do produce warm air, the amount of heat generated is relatively low, and the airflow is focused in a small area. Therefore, using a hair dryer to heat a room would not be efficient or practical.
To warm up a room, there are more effective methods you can consider:
Utilize natural sunlight: During the day, open the blinds or curtains on south-facing windows in the Northern Hemisphere (or north-facing windows in the Southern Hemisphere) to allow sunlight to enter and warm up the room. Close the blinds or curtains at night to retain the heat.
Layer clothing: Wearing layers of clothing, including coats, jackets, and sweatpants, can provide personal warmth without relying on heating appliances.
Use hot water bottles: Placing a hot water bottle in your bed can help warm it up before you get in, providing a cozy sleeping environment.
More: What to Do if Your Blow Dryer Gets Wet?
How much heat does a hair dryer put out?
A hair dryer typically emits hot air to aid in the process of drying and styling hair. The temperature at which a hair dryer operates can vary depending on several factors, including the brand, model, and heat settings used.
The average temperature range of a hair dryer typically falls between 80 to 140 degrees Fahrenheit (approximately 27 to 60 degrees Celsius). However, it's important to note that the exact maximum temperature can vary based on the manufacturer and the heat setting chosen. Higher heat settings can reach temperatures closer to 140 degrees Fahrenheit, while lower settings may be around 80 degrees Fahrenheit. It is worth mentioning that some high-end hair dryers can have a maximum heat output of up to 205 degrees Fahrenheit (96 degrees Celsius), although it is not recommended to use hair dryers at such high temperatures frequently.
The primary purpose of a hair dryer is to dry and style hair efficiently. While it does emit heat, the amount of heat produced is generally lower than that of other heat-styling tools such as flat irons or curling irons, which can reach temperatures as high as 450 degrees Fahrenheit (232 degrees Celsius). Therefore, the heat output of a hair dryer is considered to be significantly milder in comparison.
It's important to exercise caution when using a hair dryer to prevent potential damage to the hair. Excessive heat can lead to dryness, split ends, breakage, and overall hair damage. Therefore, it is recommended to use a hair dryer at lower heat settings whenever possible, especially for individuals with fine or fragile hair. Additionally, using heat protectant sprays can provide an extra layer of protection for the hair when using any heat styling tool.
In conclusion, while a hair dryer can produce hot air, its heat output is generally within a range of 80 to 140 degrees Fahrenheit (27 to 60 degrees Celsius). It is crucial to use a hair dryer responsibly and select appropriate heat settings to minimize the risk of hair damage.
More: Can a Hair Dryer Kill Ticks?
Conclusion
While a hair dryer can produce heat, it is not an efficient or practical solution for heating an entire room. Hair dryers are designed for personal use and are equipped with a small heating element and a fan to blow hot air directly onto a targeted area. While this can provide temporary warmth in close proximity, the amount of heat generated is limited, and the hair dryer is not designed to distribute heat evenly throughout a room.
To effectively heat a room, it is advisable to use dedicated heating devices such as electric heaters, radiators, or central heating systems. These appliances are specifically designed to generate and distribute heat across a larger space, providing consistent warmth and comfort. Additionally, using a hair dryer as a long-term heating solution can be both impractical and potentially hazardous due to its limited capacity, high energy consumption, and risk of overheating.
Therefore, while a hair dryer may offer a brief respite from the cold in a small area, it is not a suitable or efficient option for heating a room. It is always advisable to use proper heating equipment designed for the purpose to ensure safety, efficiency, and comfort in heating larger spaces.