In today's day and age, having a short haircut isn't the end all be all. Now, with the availability of sew-in hair extensions at your local beauty supply shop, you can choose to have long hair OR short hair, depending on the day of the week or even your mood!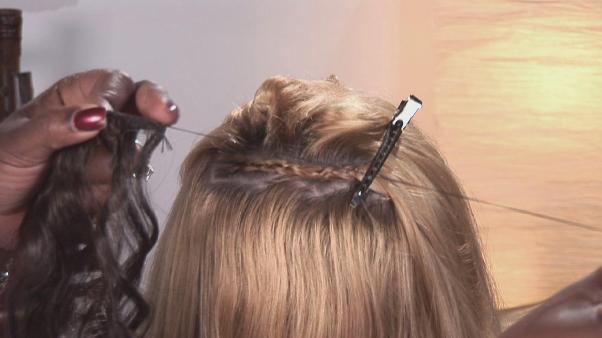 History of Sew-In Hair Extensions
While beauty enhancements and modifications for women's hair have been around for hundreds of centuries, it wasn't until 1951 that the method of sewing, or weaving in faux hair became a commonplace thing for women to do. At first, sew-in hair extensions were made out of synthetic hair, but as time progressed, they became interchangeable with either real human hair, horsehair, or still the same synthetic material that has proved to be true and tried over the decades.
Price of Sew-in Hair Extensions
The price of sew-in hair extensions can vary based on the look and feel that you desire for yourself. Real hair extensions tend to typically cost quite a bit more, horsehair is in the median range, and a completely synthetic hair is going to be one of the cheapest options. Whichever type of extension you choose to go with also depends on how much care you're willing to put into them. If you're a busier person, you may want to go with completely synthetic as they don't require as much washing and drying as real human hair or horsehair. All of these are still wonderful options and create beautiful styles for anyone.
Is Sew Hair Extension Simple to Apply?     
While there is no doubt that you can certainly learn anything that you put your mind to, the art of sewing in hair extensions is something that we recommend leaving to beauty professionals. There are plenty of wonderful tutorials out there, but due to the possible price of hair extensions, you definitely don't want to invest in something and not be able to do it properly. This is a technique that is taught in most beauty schools, and you can take heart knowing that your favorite beautician will be able to successfully sew in any length of hair extension for you.
However, if you do choose to do them on your own, please note that you will need a few different types of supplies and a lot of patience!
More:
Conclusively…
Sew-in hair extensions are a beautiful and practical way to change up your look on a whim. You can swim, shower, and conduct your usual daily activities with them, and the only one who will know is you and whoever you choose to tell! They come in a variety of colors, styles, and lengths, so they can go with just about any type of attire for literally any kind of event you can think of—even a selfie session at home! Sew-in hair extensions are the perfect addition for any woman engaging in virtually any type of lifestyle!